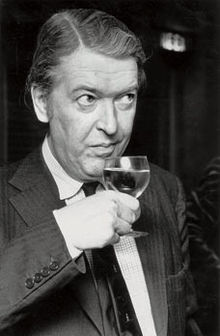 "No pleasure is worth giving up for the sake of two more years in a geriatric home." – Kingsley Amis.

Novelist, poet, critic, and teacher, Kingsley Amis, was educated at the City of London School and at St. John's College, Oxford, where his education was interrupted by service during World War II as a lieutenant in the Royal Corps of Signals.

Amis's bibliography includes more than 40 books, including twenty novels, multiple volumes of poetry and collected essays. He is best remembered for his first novel, Lucky Jim (1954), which was so popular that the descriptive "Lucky Jim" came to be a household expression in 1950s Great Britain, particularly after the 1957 release of the movie of the same name. "Lucky" Jim Dixon epitomized a new and rising social group of men in post-World War II Britain - men of lower/working class backgrounds who, by dint of scholarship, rose out of their former place in the hierarchy to challenge the social order.

Amis's second novel, That Uncertain Feeling (1955) had a similar antihero - thus firmly labeling him as one of the "Angry Young Men" - a journalist catch-phrase used to describe a number of British writers from the mid-1950s, including Philip Larkin, John Osborne and Harold Pinter.

Amis married Hilary Bardwell in 1948, having three children, including novelist Martin Amis. In 1965, he and Hilary divorced and he married novelist Elizabeth Jane Howard (who was formerly married to British ornithologist and conservationist Peter Scott, who was the only son of Robert Falcon "Scott of the Antarctic").

Amis was knighted in 1990, and died in 1995 of a suspected stroke. He was 73.
This quote & biography originally ran in an issue of BookBrowse's membership magazine. Full Membership Features & Benefits.