BookBrowse:
The biography of Marie Colvin, one of the greatest war reporters of her generation, who was killed in Syria in 2012.
International journalist Marie Colvin pushed the limits in her work and her personal life. Widely acknowledged as one of her generation's top journalists, she reported from some of the toughest conflict zones on the planet. Colvin was killed in action reporting from Homs, Syria in 2012. As readers, we know that her story will end tragically, yet Marie Colvin's heroic journey from the beginning of her life still provides page-turning suspense. It's only fitting that another journalist, Lindsey Hilsum, honors Colvin with this fascinating, detailed, 400-page biography.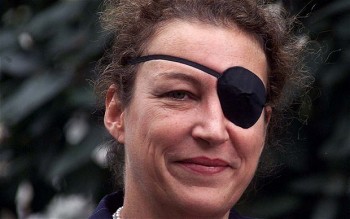 Hilsum writes with clarity and precise attention to details. She had access to Colvin's personal journals and interviewed Colvin's numerous friends, colleagues, editors, former husbands and lovers, and family members. Hilsum's narrative is punctuated with excerpts from Covin's dispatches while on assignment for The Sunday Times.

Born in 1956, Colvin grew up in New York, spent a year as a high school exchange student in Brazil, then became one of the first wave of women admitted to undergraduate studies at Yale. There, she made lifelong friends and published her first piece in a campus journal. Coming of age in the 1970s, Marie tuned into the countercultural tendencies of the times. She carved her own identity with strong appetites for partying, drinking, sailing, and loving, which endured her entire lifetime.

In Extremis provides insight into the life of a remarkable woman against the backdrop of human history. By age 30, Colvin was Paris Bureau Chief for the wire service UPI. She later lived in Jerusalem but eventually made London her home base. She was known for using first-person eyewitness accounts and interviews with ordinary people behind the scenes of active wars, but she also summoned all the tricks of her trade and raw ambition to land interviews with Libya's notorious Muammar Gaddafi. Her first published interview with Gaddafi, in 1986, propelled her career. She soon left UPI and moved to The Sunday Times, where editorial demands for originality and long-form reporting suited Colvin's personal style.

Colvin cultivated friendships and contacts all over the globe. She befriended Yasser Arafat, leader of the PLO (Palestinian Liberation Organization) and interviewed him many times between their first meeting in 1987, through the Palestine/Israel peace talks, upon his award of the Nobel Prize, and until his death in 2004. She covered Libya beginning in 1987, up through the rise of the Arab Spring, Libya's civil war, and the death of Ghaddafi in 2011. These were dangerous times for journalists – in Libya and in other places – reporters, photographers, and film crews often crossed borders undercover or by devious routes requiring tactical assistance from citizens or soldiers. Hilsum thoroughly recounts timelines of complex historical events, how they evolved, and why Marie Colvin was motivated to report. Hilsum reflects: "She was the champion of bearing witness so that even if no one stopped the wars, they could never say they had not known what was happening."

During her career, Colvin covered events in Lebanon, Kosovo, East Timor, Chechnya, Iraq, Afghanistan, Sri Lanka, Palestine, Libya, Tunisia (Arab Spring), and in her final piece in 2012 reported from a clandestine Baba Amr Media Center during the Syrian government's military siege of civilians in the city of Homs.

Personally, Colvin was known for parties and socializing, a rambunctious laugh, and a sense of fashion. She wore posh lingerie beneath an androgynous flak jacket and trousers while on assignment; and credited a designer-down-jacket with saving her life on a snow-encrusted mountain trek escaping from Chechnya. After losing an eye to shrapnel while reporting from Sri Lanka in April, 2001, she wore an eye patch, which added to her legendary image. Yet, after Sri Lanka, she began to doubt herself. "When I looked in the mirror I saw a different person…I'd lived a life where I stayed one step ahead of my nightmares. Now something had happened to me that was irrevocable." She suffered PTSD, which is a side effect not only for active combatants but also for civilians and journalists in violent situations.

Colvin's career advanced during an era of rapidly evolving media technology. She came of age dictating stories from a landline or typing them into a bulky telex machine. Before the early 2000s (when digital photography became the norm) photographers had relied on physical film, often smuggled from hot zones, to be published. Colvin adapted to new media: laptop computers, internet, and cell phones. The field of journalism shifted from daily print and prime-time network news that dominated the 1980s into a 24/7 always-on flow delivered by internet, satellite, and the limitless possibilities of social media.

I'm thankful that a real book about the life and times of Marie Colvin is available, complete with photographs and a detailed index. This biography will appeal to those who love true adventure, contemporary journalism, female heroes, and behind-the-scenes dynamics of global history in the making.
This review was originally published in The BookBrowse Review in November 2018, and has been updated for the January 2020 edition. Click here to go to this issue.
This review is available to non-members for a limited time. For full access become a member today.
Membership Advantages
Reviews
"Beyond the Book" articles
Free books to read and review (US only)
Find books by time period, setting & theme
Read-alike suggestions by book and author
Book club discussions
and much more!
Just $39 for a year or $12 for 3 months