BookBrowse:
Patrick Ness turns the familiar tale of Moby Dick upside down and tells a story all its own with epic triumph and devastating fate.
Patrick Ness has developed a reputation for experimental literature executed well, and his latest, And the Ocean Was Our Sky, is no exception. Once again breaking genre boundaries, Ness's allegorical novel toys with readers' perceptions while provoking their moral compasses with regards to themes of vengeance, good versus evil, and the destructive power of hatred. But most powerfully, the narrative asks us to consider what devils we build for ourselves through blind, inherited hatred of the other, and what then it takes to overcome them, what the costs of moving beyond diametric violence might be.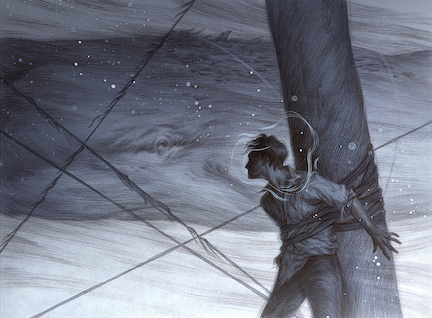 Framed by an epigraph from Herman Melville's Moby-Dick: "Towards thee I roll, thou all-destroying but unconquering whale; to the last I grapple with thee; from hell's heart I stab at thee; for hate's sake I spit my last breath at thee"; and beginning with three words...

Subscribers Only
BookBrowse's reviews and "beyond the book" articles are part of the many benefits of membership and, thus, are generally only available to subscribers, including individual members and patrons of libraries that subscribe.
Join Today
Member Login
Library Patrons