BookBrowse:
Patrick Ness turns the familiar tale of Moby Dick upside down and tells a story all its own with epic triumph and devastating fate.
Patrick Ness has developed a reputation for experimental literature executed well, and his latest, And the Ocean Was Our Sky, is no exception. Once again breaking genre boundaries, Ness's allegorical novel toys with readers' perceptions while provoking their moral compasses with regards to themes of vengeance, good versus evil, and the destructive power of hatred. But most powerfully, the narrative asks us to consider what devils we build for ourselves through blind, inherited hatred of the other, and what then it takes to overcome them, what the costs of moving beyond diametric violence might be.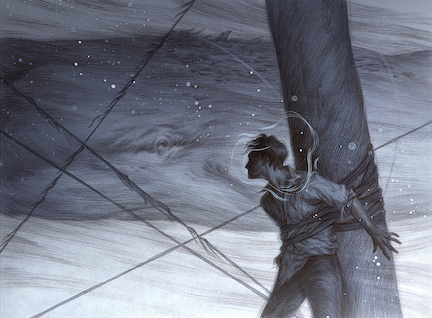 Framed by an epigraph from Herman Melville's Moby-Dick: "Towards thee I roll, thou all-destroying but unconquering whale; to the last I grapple with thee; from hell's heart I stab at thee; for hate's sake I spit my last breath at thee"; and beginning with three words: "Call me Bathsheba," the text of Ness's novel harkens back to one of the most famous first lines in English literature – "Call me Ishmael." From that point forward, readers are alerted, at least partially, to the depths of narrative they are about to traverse. And I say traverse, not read, because And the Ocean Was Our Sky is, at its heart, a story about a journey – between species, into hells, and in pursuit of prophecy and destiny leading only to more questions.

Bathsheba's pod is adept at hunting men, fighting them as part of a long war waged between whales and humans. Using their harpoons to sink ships, they fend off these encroachers from their world, protecting their families from what they see as a dire threat to their advanced ways of existing. But some men are worse than others, and as Bathsheba's pod pursues their enemies, they one day find a devil of mythical proportions, Toby Wick. Bathsheba thinks she knows what her role in her pod is: to follow her Captain's orders in her quest to destroy the greatest evil the ocean has ever known. But when her Captain takes a young man named Demetrius captive, and Bathsheba realizes that she can communicate with him, she finds herself questioning more and more the purpose of her hunt, and the dichotomies her life fits into. As Bathsheba ponders, in retrospect, the space between what she is told by her captain and what she thinks for herself, the space between what she thought she might become and what she is expected to be, her world becomes subverted. Her journey to orient herself within the events of her past, to make sense of what happened, and, to stop it from happening again resonate in the present. The text closes with a plea for a new story, for a remembrance of what might be, and what is real. The final lines, set apart from the rest of the prose bring home the direct address of the narrator to the reader, a final subversion, breaking a fourth wall and surpassing the boundaries of the text and into the reader's direct consciousness.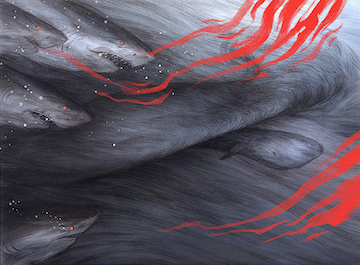 More powerful even than the text, perhaps, are Rovina Cai's stunning and textured illustrations. Whether viewed digitally or in the hard copy, Cai's illustrations, in fact, surpass the narrative capacity of the text while also better orienting the reader within it. Ness's story and setting subvert the reader, literally. Up is down, down is up. The sky is the Abyss, the depths of the oceans are the sublime heights to be achieved. Within this subversion – before the reader even encounters any text – the illustrations help to navigate this new world. The limited use of color, the reliance on shadow, and the very selective use of red embed another layer into the narrative, especially considering how and where the illustrations are spaced within the pages of the text. Ness's experimentation will not work for everyone, but Cai's illustrations might bridge a gap, bringing more people into the tale and carrying them through.

All in all, And the Ocean Was our Sky is a challenge that should be engaged with by all readers. Like its source material, it is sure to spark conversation and remain of its time and context while being endlessly transposable and interpretable, and only gain from multiple and multifarious readings.
Illustrations reproduced with the permission of Rovina Cai
This review first ran in the November 14, 2018 issue of BookBrowse Recommends.
This review is available to non-members for a limited time. For full access become a member today.
Membership Advantages
Reviews
"Beyond the Book" articles
Free books to read and review (US only)
Find books by time period, setting & theme
Read-alike suggestions by book and author
Book club discussions
and much more!
Just $45 for 12 months or $15 for 3 months.