BookBrowse:
Renoir's Dancer tells the tale of an ambitious, headstrong woman fighting to find a professional voice in a male-dominated world.
When we view great works of art, we're naturally drawn to ask how the artist conveyed emotions and messages and made certain aesthetic choices. Sometimes we also wonder about the people, if any, depicted: were they even real or did they exist only in the artist's imagination? In her eloquent new biography, Catherine Hewitt breaks down this wall to show readers the exceptional and tumultuous life of the model and artist Suzanne Valadon. Valadon, whose first name was Marie-Clémentine before she changed it to Suzanne as a teen, was a model for many Impressionist paintings, most famously for Renoir's Dance in the City and Dance at Bougival.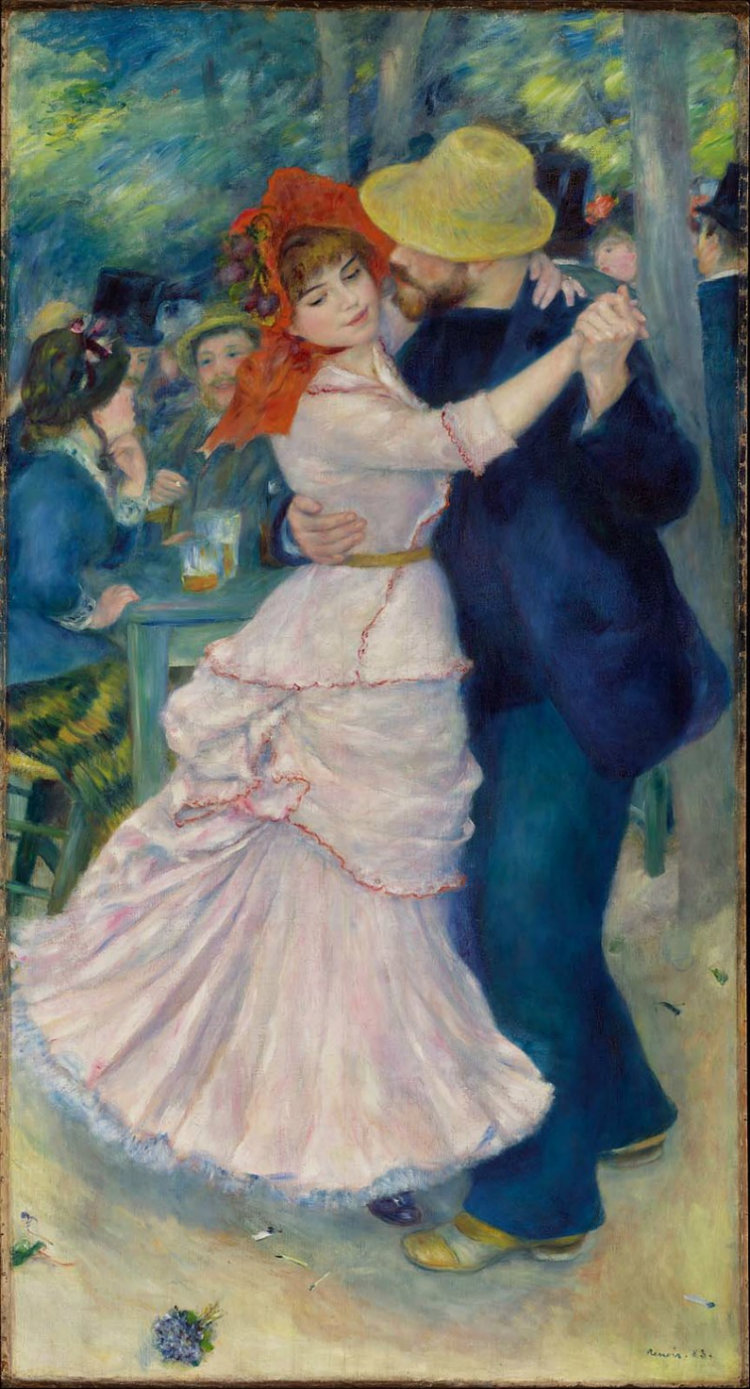 click for bigger image of Dance at Bougival
The story begins in the 1850s with Valadon's mother, Madeleine, in the rural French town of Bessines. After giving birth out of wedlock, Madeleine moved to Paris in 1870 in search of work. The narrative then focuses on Valadon's childhood spent roaming the Montmartre neighborhood and defying authority—school, the Church, and her mother.

A headstrong, uncontrollable, yet beautiful young woman, in her late teens, Valadon became a model for the vibrant community of Impressionists who helped make Montmartre the epicenter of creative, bohemian culture in Belle Époque Paris (see Beyond the Book). Valadon was friends with a dizzying array of famous artists, from Henri Toulouse-Latrec to Vincent van Gogh to Pablo Picasso, and the characters woven throughout her life give the reader a veritable who's-who of European art history. In 1882, she modeled for Pierre-Auguste Renoir, then the most famous of the painters she worked for. Within only a few years of those portraits, however, Valadon's focus shifted to creating her own artwork. Through this she enjoyed a moderate degree of success and her modeling career soon faded away.

Even though Valadon was famously the model for Renoir's Dance in the City and Dance at Bougival, it was really Edgar Degas who had the greatest impact on her artistic life. Valadon became a protégé of the famous painter in the 1880s, and in 1894, with Degas' help, she exhibited five drawings in the illustrious Salon de la Société Nationale des Beaux-Arts. As Hewitt writes, it was "an extraordinary coup" for a lower-class woman with no formal training, to display her artwork alongside that of famous male painters. From this time onward Valadon pursued painting and drawing relentlessly, despite many rejections by the mainstream art community of her sharp lines and use of bold colors, which were deemed insufficiently feminine.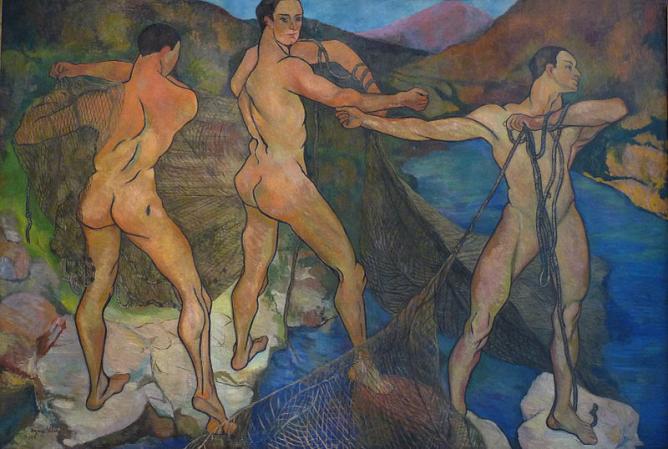 click for bigger image of Casting The Net by Suzanne Valedon
Valadon's life was inextricably linked with that of her own illegitimate child, Maurice Utrillo, who would surpass his mother's fame in the art world. Suffering from mental illness and severe alcoholism, Utrillo required constant supervision. For Valadon, caring for her son became as much of a full-time job as painting, and the strain contributed to two failed marriages. Hewitt's account covers in minute detail the raging fights, heartbreaks, passionate affairs, and financial vagaries that Valadon experienced up to her death in 1938. Although Utrillo was the better-known artist, Hewitt works admirably to keep Valadon at the center of the narrative.

Throughout all the drama, the reader sees the monumental changes that took place between 1865 and 1938, the years of Valadon's birth and death. Her life began in early-modern France, and as she grew and changed so too did the art world, France, and Europe as a whole. Industrialization in all its forms happened simultaneously with Valadon's triumphs and trials, and Europe on the eve of World War II was a very different place than it had been during the Second Empire in the mid-nineteenth century. The fascinating evolution of the world taking place around Valadon gives the book continual momentum, even when marital battles or Utrillo's trips to asylums run into one another.

Relatedly, the change in women's place in the art world animates this book, with Valadon an unsung but key figure in that transformation. Hewitt summarizes: "Other artists showed what viewers wanted to see. Suzanne showed them what was true." By not conforming to male expectations of female-created art—a muted color palette, nurturing mothers, cheerful children—Valadon broke barriers for women to create and, crucially, to make a living from the art that expressed their intentions and feelings, not only what men wanted to see from them.

At times in the latter part of the book, however, Hewitt's detailed descriptions get mired in minutiae, and the reader can get lost in Utrillo's run-ins with the law and the screaming matches that filled Valadon's later years. The particular episodes became so frequent that describing each one stops contributing to the narrative.

Despite this shortcoming, Renoir's Dancer is a captivatingly detailed study of an artist who should be better known for her contributions to the art world, beyond just the pretty face painted by others.


This review is from the March 7, 2018 issue of BookBrowse Recommends. Click here to go to this issue.
This review is available to non-members for a limited time. For full access become a member today.
Membership Advantages
Reviews
"Beyond the Book" backstories
Free books to read and review (US only)
Find books by time period, setting & theme
Read-alike suggestions by book and author
Book club discussions
and much more!
Just $12 for 3 months or $39 for a year