BookBrowse:
Wiley Cash brings to life the heartbreak and bravery of the now forgotten struggle of the labor movement in early twentieth-century America.
A hundred years ago or so, farming land west of Charlotte, North Carolina was given over to giant textile mills. The town of Gastonia was called the "City of Spindles" and mills were nearby in McAdamville and Bessemer City. There, inside Bessemer's American Mill No. 2 - and inside Wiley Cash's novel The Last Ballad - labored Ella May Wiggins: "sunken, wide-set dark eyes," grim mouth, all of 28-years old. Ella worked twelve-hour shifts six days a week, reaching around machines that might clip off a finger or a hand.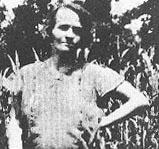 At sixteen, Ella had left the Tennessee mountains after timber logging gave out and her folks died. She intended to board a train and join her brother up north, but she met a grifter named John Wiggins who seduced her. Pregnant, she followed him into Carolina mill country. John drank and gambled while Ella bore one child, then another, and another. By the time she'd had four – or five, counting the dead baby – the Wiggins family, white and poor, had made it to Bessemer City. But then John took off for parts unknown, and so Ella went to work in the mill. She and her four children moved into a company cabin in nearby Stumptown, where every neighbor was African-American. Ella kept body and soul together for her children, tending the mechanical spinners, making certain the hank clock ticked away so she'd get paid. And so it went - until a young organizer for the National Textile Workers Union arrived, a northerner named Sophia Blevin, who convinced Ella to join the cause.

Ella's a fascinating woman, as interpreted by Wiley. She's strong and independent, thoughtful and compassionate. She formed her own character in the forge of poverty, but as she joins the union effort she is forced to reflect "how it [the union] had terrified her, how it had elicited only fear when the one thing she needed was hope." Fear because reactionary ownership and management thought workers were disposable. Fear because the loss of her job would mean her children starving. So she feels compelled to become a union organizer, and her fears grow to include the threat of violence because she lives among African-Americans and, as Cash illuminates and dissects, poor white union members blocked reasoned efforts to include African-Americans, to move women toward equality, and to accept integration of races. Poor white men were their own worst enemy, something Ella sees up close. Then the irrational hatred becomes the fuel for mob violence.

There are other memorable characters in The Last Ballad. Violet, Ella's neighbor, is her best friend. Violet's mother often keeps Ella's children, and feeds them when Ella cannot or is absent. Hampton, a former sleeping car porter turned communist party member, comes south to help organize black workers. Ella, despite her provincialism, treats Hampton as an equal, but Hampton has reason to fear the south – bloody reasons. Kate, a mill owner's wife in a nearby town, sees beyond race and class, but finds herself trapped in the swamp of resentment. Kate's husband, a progressive owner in some respects, becomes caught up in the reactionary opposition of upper class whites, who see a communist behind every mill machine.

There are glimpses of historic figures throughout: Hampton shares much in common with A. Philip Randolph, a union pioneer and civil rights leader; a woman from one of the isolated, insular mill owning families offers an anecdote about Abraham Lincoln, a reflection that the antebellum ideal still poisons some southerners; and through Ella, who possesses a haunting singing voice and natural ability with words, there's an homage to Woody Guthrie and the origins of folk music.

Cash is southern, and he knows the south well, from dirt roads to piney woods, and he shines a compassionate light in both shacks and mansions. He's masterful at weaving disparate plot threads into a coherent, poignant, wise, and sensitive story. The best of southern literature probes its version of the classic Fall - Adam and Eve's expulsion from the Garden of Eden -which centers around slavery and its corruption of society. Here Cash goes beyond, and those who've marveled at his first two novels will marvel at the depth of pathos he mines from the struggles of Ella May, a hard-worn, hill-country woman, who only wanted to feed her children.
This review was originally published in The BookBrowse Review in November 2017, and has been updated for the May 2018 edition. Click here to go to this issue.
This review is available to non-members for a limited time. For full access become a member today.
Membership Advantages
Reviews
"Beyond the Book" articles
Free books to read and review (US only)
Find books by time period, setting & theme
Read-alike suggestions by book and author
Book club discussions
and much more!
Just $45 for 12 months or $15 for 3 months.