BookBrowse:
Wiley Cash brings to life the heartbreak and bravery of the now forgotten struggle of the labor movement in early twentieth-century America.
A hundred years ago or so, farming land west of Charlotte, North Carolina was given over to giant textile mills. The town of Gastonia was called the "City of Spindles" and mills were nearby in McAdamville and Bessemer City. There, inside Bessemer's American Mill No. 2 - and inside Wiley Cash's novel The Last Ballad - labored Ella May Wiggins: "sunken, wide-set dark eyes," grim mouth, all of 28-years old. Ella worked twelve-hour shifts six days a week, reaching around machines that might clip off a finger or a hand.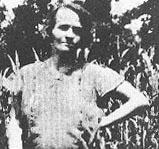 At sixteen, Ella had left the Tennessee mountains after timber logging gave out and her folks died. She intended to board a train and join her brother up north, but she met a grifter named John Wiggins who seduced her. Pregnant, she followed him into Carolina mill country. John drank and gambled while Ella bore one child, then another, and another. By the time she'...

Subscribers Only
BookBrowse's reviews and "beyond the book" articles are part of the many benefits of membership and, thus, are generally only available to subscribers, including individual members and patrons of libraries that subscribe.
Join Today
Member Login
Library Patrons