BookBrowse:
The search for an elusive creature deep in the jungles of southeast Asia raises larger questions about nature and environmentalism.
"A thing of beauty is a joy forever," the poet John Keats famously wrote. "It will never pass into nothingness." Behind that idea lies a real puzzle: much that is beautiful is also ephemeral, doomed to disappear. Many once-beloved "things of beauty" are now long gone, existing only in one's memory. Even amid the seeming permanence of nature, seasons change, the metamorphosis of landscapes proceeds. And of course the march of civilization often tramples nature in its advance. Can the litany of near-extinct species, for example – Bengal tigers, African elephants…each a thing of beauty surely – be a joy forever if the existence of these natural wonders should cease entirely? Wouldn't that joy turn to sorrow, a lament for the permanence of their loss rather than their beauty?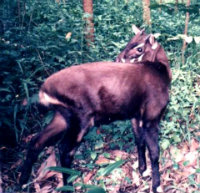 Such lofty questions acquire a pragmatic urgency in William deBuys' The Last Unicorn, a travelogue-in-diary-format about the quest to find a creature called a saola (pronounced: sow-la, and meaning "spindle horns" in Vietnamese), an antelope-like mammal recognized by two parallel horns with sharp ends, found on both males and females. First documented by scientists in 1992, evidence of its continued existence in the wild has been as wispy and uncertain as the landscape it is believed to inhabit (an isolated mountain range between Laos and Vietnam). Often called the Asian unicorn, the saola is more talked about by local hunters and farmers than actually seen.

The Last Unicorn tells the story of a 2011 expedition undertaken by deBuys and well-respected conservationist William Robichaud, aided by a team of local guides drawn from Laotian villages along the trail to Nakai—Nam Theun, the primeval forest that, in name only, is a protected wildlife refuge straddling the mountainous Laos-Vietnamese border. Less than a handful of saola have been documented living there in the past two decades, and deBuys and his fellow trekkers face the very real prospect that they might be chasing a creature that no longer exists. As the author of six previous books and a finalist for the Pulitzer Prize in general non-fiction, deBuys brings to his work a seasoned conservationist's grim realism while still retaining a boyish enthusiasm for his current adventure.

The Last Unicorn offers the vivid scene-setting one expects from an experienced travel writer, but deBuys sees more in the landscape than mere flora and fauna, finding the pathos, humor, and meaning in a journey that left him seriously physically depleted (he was far and away the oldest member of the expedition). The joys of The Last Unicorn – its thoroughness of detail, cleverness of metaphor, and abundant good humor – compensate for the heartbreaking tale of the landscape's rape at the sullied hands of a trading network that values tigers for the powder that can be ground from their genitals, or rare golden turtles for their blood, peddled as a miracle of medical quackery. But deBuys' self deprecation – from his awkward climbing skills engendering barely muffled laughter among his experienced guides to the anecdote of his public inebriation after sampling way too much of local spirits at the hut of a Laotian village elder – gives the narrative an unexpected buoyancy.

Despite the arduousness of the journey, which took place in February and March of 2011, deBuys kept a closely observed record of what transpired. His renderings of the natural landscape are as bracing as a mountain zephyr: We're in a landscape where "glorious yellow sunlight drizzles down," illuminating "a cohort of purplish butterflies carpeting the limestone." DeBuys struggles to cross algae-smeared boulders awash in rust-colored rivers, his aides far more nimble, by age and familiarity, leaving him feeling like "a cart horse among Lipizzaners."

And then there's the saola, whose ghostly presence hovers over the narrative like the canopy of the Nakai—Nam Theun. The connection to the mythical creature in the title seems increasingly well founded as we venture further into the forest — and into uncertainty. deBuys is hopeful but not naïve about his quarry, acknowledging it might no longer exist. But like Saint George, the legendary dragon slayer of medieval lore who was protected by his faith, deBuys rushes deeper into the mist, ever more persuaded of the spiritual value of his travels:
We are entranced by beautiful creatures not just because they give pleasure and inspire awe but because they carry a charge like an ionized particle. Beauty excites and glows. Put a horse in an empty meadow, and the meadow becomes animate. Put a saola, even a saola you cannot see, in a forest, and the forest, as though it held a unicorn, acquires an energy that cannot be named. It becomes numinous; it gains the pull of gravity, the weight of water, the float of a feather.
The Last Unicorn is an enthralling and sobering account of a modern-day quest with a mythic underpinning, a tale filled with grace and eloquence and despair. Is there any hope for the gentle saola? DeBuys provides his own answer at the very end. As Keats said later in his poem about the permanence of beauty, "We have imagined for the mighty dead/all lovely tales that we have heard or read/an endless fountain of immortal drink/ pouring unto us from the heaven's brink." The Last Unicorn deals movingly with a brink that is much less celestial but more consequential – for the creatures of the world, and for ourselves.


Picture of saola by Silviculture
This review was originally published in The BookBrowse Review in April 2015, and has been updated for the December 2015 edition. Click here to go to this issue.
This review is available to non-members for a limited time. For full access become a member today.
Membership Advantages
Reviews
"Beyond the Book" articles
Free books to read and review (US only)
Find books by time period, setting & theme
Read-alike suggestions by book and author
Book club discussions
and much more!
Just $12 for 3 months or $39 for a year.