BookBrowse:
Medical and literary mystery meet in Goetz's fascinating history of tuberculosis.
The Remedy is not only a history of attempts to isolate the cause of tuberculosis and develop a cure for it, but also a dual biography of Dr. Robert Koch, the microbiologist who proved the bacterial origin of TB; and of Arthur Conan Doyle, creator of Sherlock Holmes and a medical man in his own right. Goetz's book is more than the sum of its parts: it reveals the scientific inquisitiveness of an era, and portrays the modern shift from superstition to hard science. As Goetz succinctly remarks, Koch and Doyle "shared a trajectory from the nineteenth century of leeches and cod-liver oil to the twentieth century of microscopes and antibiotics."

Born in a mining village in central Germany, Koch trained as a doctor during the 1870s Franco-Prussian War. Alongside his community practice, Koch kept a lab where he researched anthrax, which killed sheep but also people: it was one of the first zoonotic diseases (transmitted from animals to humans) to receive scientific attention. Koch injected samples of anthrax into rabbits and mice to create a cell culture, thus proving the disease had been caused by bacteria. His research would lead to the hugely influential germ theory of contagious diseases. Moreover, he was an early adopter of the microscope, and one of the first to use white mice as a lab subject.

Koch's work on an anthrax vaccination would lead him into a bitter rivalry with celebrated French scientist Louis Pasteur. Their public feud mirrored the hostilities between France and Germany – wartime enemies a decade earlier. In March 1882, Koch announced that TB was caused by bacteria, and eight years later he proclaimed a remedy. Here is where Doyle comes into the picture. He had studied medicine in Edinburgh under surgeons Joseph Bell and Joseph Lister, early pioneers of antiseptic methods. In June 1882, Doyle opened his first medical practice in Southsea, near Portsmouth on the south coast of England. In his spare time he wrote short stories imitating Sir Walter Scott or Edgar Allan Poe, but in his professional capacity he was celebrated for an essay explaining the Koch-Pasteur research for laymen.

When news came of a TB cure in 1890, Doyle rushed to Berlin to attend a demonstration. To everyone's surprise, Koch's "remedy" was a mistake. Tuberculin was a good diagnostic for TB, but not a cure; the body swiftly developed resistance, and trials showed a low success rate. Doyle's was one of the first debunking voices. Meanwhile, aside from this exciting interlude, Doyle's medical star was fading. He had intended to specialize in ophthalmology and moved to South London to open a practice, but business was not booming. At age 33 he gave up medicine and turned to writing full-time.

The first Sherlock Holmes story, A Study in Scarlet, published November 1887, in Beeton's Christmas Annual, (now the most expensive collector's magazine), had made little impact, but gradually Holmes gained popularity. The first chapter of The Sign of Four is entitled "The Science of Deduction." That science was already a fad in literature (witness the works of H. G. Wells) worked to Doyle's advantage. Working backwards from solutions, he crafted intricate plots prefiguring detection techniques like fingerprint analysis. Doyle wearied of his precocious detective, though, and was determined to kill him off. Holmes would not stay dead long, however; he returned to life for The Hound of the Baskervilles in 1901, around the same time Doyle himself was beginning to take an uncharacteristic interest in spiritualism.

The Remedy is well-paced: it reads like mystery or true crime, not like a history book. The link between Koch and Doyle can occasionally feel somewhat tenuous; the author surely makes more metaphorical use of it than their actual historical intersection can support. If his window on the past feels slightly narrow, however, he still makes good on his dual purpose of tracing both the history of TB and the development of the scientific method through medicine and fiction. Goetz follows each thread of his story through to its finale. As Stephen Jay Gould said, "great ideas, like species, do not have 'eureka' moments of sudden formulation in all their subtle complexity; rather, they ooze into existence along tortuous paths lined with blind alleys." Here we see all the moments of discovery alongside all the failures and missteps. Although Koch continued to make false pronouncements about TB, he was awarded a belated Nobel Prize in 1905 for identifying its cause. It was a great irony of Doyle's life that his beloved wife Touie died of TB – thirteen years after her diagnosis, despite extended sanatorium visits. The real cure for TB, the antibiotic streptomycin, would not be discovered until 1946.

Even today drug-resistant TB strains are evolving, and science continues to find bacterial components to many illnesses: diabetes, ulcers, dementia, heart disease, and cervical cancer. Goetz, co-founder of health technology company Iodine and entrepreneur-in-residence at Robert Wood Johnson public health foundation, warns that the "microbiome" is getting stronger. The last lines are rather chilling: "As any microbiologist or infectious disease expert will tell you, if we treat disease as a battle against microbes, we are destined to lose. The bacteria precede us. They outnumber us. And they will outlast us."
Additional Information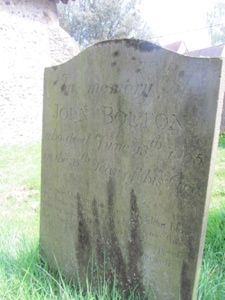 The reviewer found an old gravestone in her local churchyard (St. James the Great in Ruscombe, Berkshire, England) with a poem about the subject's death from consumption:

"The pale Consumption gave the silent blow. / The stroke was fatal, but th'effect came slow: / With wasting pain Death found him sore oppress'd. / Pity'd his sighs and kindly gave him rest." [John Bolton, died June 13th, 1805, aged 35.]
This review was originally published in The BookBrowse Review in May 2014, and has been updated for the April 2015 edition. Click here to go to this issue.
This review is available to non-members for a limited time. For full access become a member today.
Membership Advantages
Reviews
"Beyond the Book" articles
Free books to read and review (US only)
Find books by time period, setting & theme
Read-alike suggestions by book and author
Book club discussions
and much more!
Just $39 for a year or $12 for 3 months