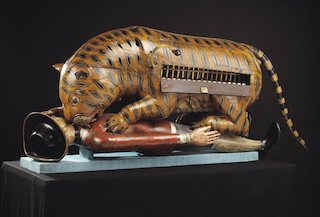 Central to the plot of Loot is the magnificent Tipu's Tiger, the wooden automaton that Abbas, a young Muslim woodcarver, creates in the 1790s in collaboration with the French inventor and clock maker Lucien Du Leze at the request of their ruler, Tipu Sultan.

According to the Mechanical Art and Design Museum (MAD), the word automata (the plural of automaton) is taken from the Greek word αὐτόματα, or "acting of one's own will." An automaton is a moving, mechanical device, usually constructed to look like a human or animal figure, which uses a variety of mechanical systems to give the illusion of autonomous movement. Automata made before the 16th century have not survived, but we know from written designs that early versions existed quite far back in antiquity. Examples have been traced back to the Greeks, the Chinese and the royal courts of the Islamic world.

Although Loot is a work of fiction, and the craftsmen Abbas and ...