Movie Columnist Louella Parsons
This article relates to Big Red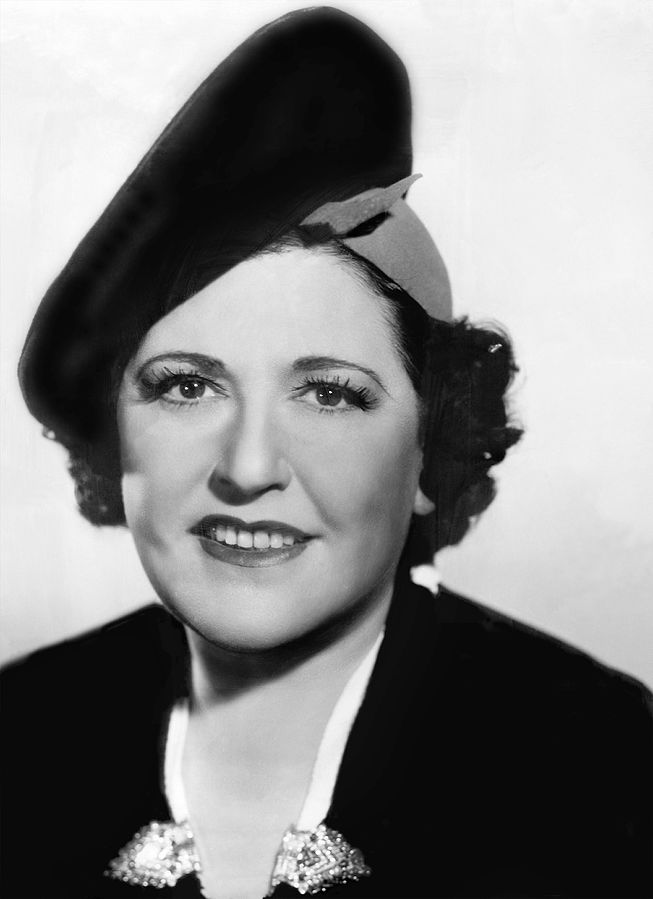 Louella Parsons (1881-1972) was a pioneer newspaperwoman, a famous movie columnist and, for many years, a principal purveyor of Hollywood gossip to the world. Nevertheless, according to Samantha Barbas, author of an extremely thorough biography of Parsons, it was only in 1949 that she first veered into the realm of scandal by revealing Ingrid Bergman's illicit pregnancy to an astonished public.

Upon reading the above, this reviewer wondered what on earth Louella had been doing all that time previously if not scandal-mongering. Yet, hard as it may be to conceive today, it seems that she built the better part of her long and lucrative career gossiping non-scandalously. That is, she spent a few decades persuading her audience that their inordinately prosperous and celebrated idols were also, in their private lives, not too far removed from sainthood.

This fairly surprising fact can enlighten us in at least one way, as far as Jerome Charyn's novel is concerned. Parsons is depicted in Big Red as an antagonist to Hayworth. But it seems unlikely that Louella would have used her column to spread rumors regarding the existence of naked pictures of Hayworth, as Charyn has her do. Equally unlikely would have been any involvement of Louella in the plot to blackmail Hayworth with the same pictures, which the novel presents. We know, in fact, that Hayworth and Parsons were on good terms — so much so that, again in 1949, the latter was the only journalist to be invited to Hayworth's wedding with the Pakistani heir, Aly Khan. Louella's sugary depiction of the "storybook" wedding caused smirks in some snobbish quarters, but the point remains that she probably wouldn't have even been there had she been threatening Hayworth with revelations a few years back.

On the other hand, Charyn's depiction of Louella's relationship with Orson Welles is accurate. Louella had it in for the director after he satirized her employer William Randolph Hearst in Citizen Kane. Indeed, it seems that Welles had sharpened the insult by assuring her, prior to release, that the film had nothing to do with Hearst. Louella proceeded to sing his praises in her column, and, upon discovering the truth, never forgave him. She did all she could to have the film suppressed, and (with some success) to ruin Welles's career. She even contacted the local draft board to demand the reasons for Welles's exemption, a detail that also appears in Big Red.

It should also be noted that, if inaccurate in point of fact, the book's depiction of the Parsons-Hayworth relationship is not unfaithful to the spirit of Louella's methods. At her peak, Louella had the power to make or break a career and few qualms about using it to serve her, or her employer's, interests — as well as to pursue grudges entertained by the two. Blackmail and blacklisting were her weapons of choice.

Nevertheless, there is another side to Louella. The picture that emerges when one looks at her story before she joined Hearst's empire in 1923 and became his whip is more touching. In earlier years, she was a young woman from rural Illinois struggling to make ends meet, obliged to hide her status as a divorced single mother for fear of what people might say. It seems likely that a certain sense of loneliness and insecurity originating from those hard times never left Louella, and it is to Charyn's credit that we sense something of this dual aspect in the novel.

Barbas calls the revelation of Bergman's pregnancy Louella's greatest moment — which is perhaps a little sad.
Louella Parsons in 1939, courtesy of the Lowell Sun
Filed under People, Eras & Events
This article relates to Big Red. It first ran in the September 21, 2022 issue of BookBrowse Recommends.
This review is available to non-members for a limited time. For full access become a member today.
Membership Advantages
Reviews
"Beyond the Book" articles
Free books to read and review (US only)
Find books by time period, setting & theme
Read-alike suggestions by book and author
Book club discussions
and much more!
Just $45 for 12 months or $15 for 3 months.