Sidi Mubarak Bombay
This article relates to River of the Gods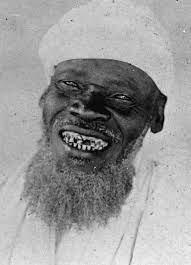 Candice Millard's River of the Gods recounts the harrowing expeditions of Richard Burton and John Speke, two British explorers sent to find the source of the Nile River. Burton's name was well known before these ventures, but Speke became famous for being the first to discover the Nile's headwaters, and both men subsequently gained infamy for their public feud following their journey. However, another man played an equally pivotal role in the success of this expedition — Sidi Mubarak Bombay. Because he was African, his efforts were downplayed, and his name went largely unknown until many years later. This is the case in much of British history: recognition has been focused on the expedition leaders while the locals who guided, fed, sheltered, protected and generally supported those leaders are mentioned in passing if at all.

In 2009, the British Royal Geographical Society (RGS) — the same professional society that sponsored many of the better-known British expeditions of the 19th century — with the Institute of British Geographers (IBG) presented an exhibition titled Hidden Histories of Exploration. Drawing upon more than two million historical documents, the goal of this exhibit was to "make room in our histories for the local partners, guides, porters, fixers, interpreters, traders and officials who made journeys of exploration possible." Acknowledging the dependence of historical explorers on these locals provides them with the recognition they deserve, and highlights the knowledge, work and accomplishments of non-European cultures and people at a time when they were widely considered inferior throughout the Western world.

One such individual recognized in this exhibit was Sidi Mubarak Bombay. Bombay was born in the Yao kingdom in present-day Mozambique in 1820, but as a young boy, he was captured by Arab slavers and sent to India. He remained there until his enslaver died in 1855, and then returned to Africa, serving in the army in Zanzibar until he was recruited as a guide and translator for Burton and Speke's 1857 Nile River expedition. Despite developing close relationships with both British explorers, Bombay's reliability was questioned by Burton after the conclusion of the expedition; Burton refused to believe that Speke had determined the true source of the Nile and was bitter that Bombay had corroborated his rival's theory.

Bombay also accompanied Speke on his third expedition three years later with the goal of confirming the source of the Nile, and later continued his career leading explorers throughout Africa. In 1871, he led American explorer Henry Morton Stanley to missing British explorer David Livingstone, and, while leading British explorer Verney Lovett Cameron in 1873, crossed the entire continent from east to west. It's estimated that Bombay covered approximately 6,000 miles in total and became the most widely traveled man in Africa. In 1876, he was awarded an RGS silver medal for his work with British explorers, a rare accolade for a foreign individual, but the type of medal he received reflected the RGS's view of Bombay as an employee rather than an explorer in his own right. Notably, he was not invited to England to receive his award.

Today, we can recognize the exploitation involved in exploration by imperialist powers and try to make amends for past injustices. The RGS and the IBG have worked towards this goal by increasing public awareness of the complicated relationship between 19th- and 20th-century explorers and those who helped make their expeditions possible. Likewise, River of the Gods highlights the work and accomplishments of Sidi Mubarak Bombay and several other African men who accompanied Burton and Speke. Although taking part in expeditions allowed Bombay to explore the African wilderness, it's undeniable that the British explorers took advantage of his skills, treating him as no more than a simple hired hand despite his pivotal role in numerous journeys. Through her work, Millard joins the RGS and IBG in rectifying a legacy of cultural supremacy and giving one of the world's greatest explorers the recognition he deserves.
Sidi Mubarak Bombay, courtesy of the Royal Geographical Society
Filed under People, Eras & Events
This article relates to River of the Gods. It first ran in the June 22, 2022 issue of BookBrowse Recommends.
This review is available to non-members for a limited time. For full access become a member today.
Membership Advantages
Reviews
"Beyond the Book" articles
Free books to read and review (US only)
Find books by time period, setting & theme
Read-alike suggestions by book and author
Book club discussions
and much more!
Just $39 for 12 months or $12 for 3 months.