Nicolae Ceauşescu (1918-1989)
This article relates to I Must Betray You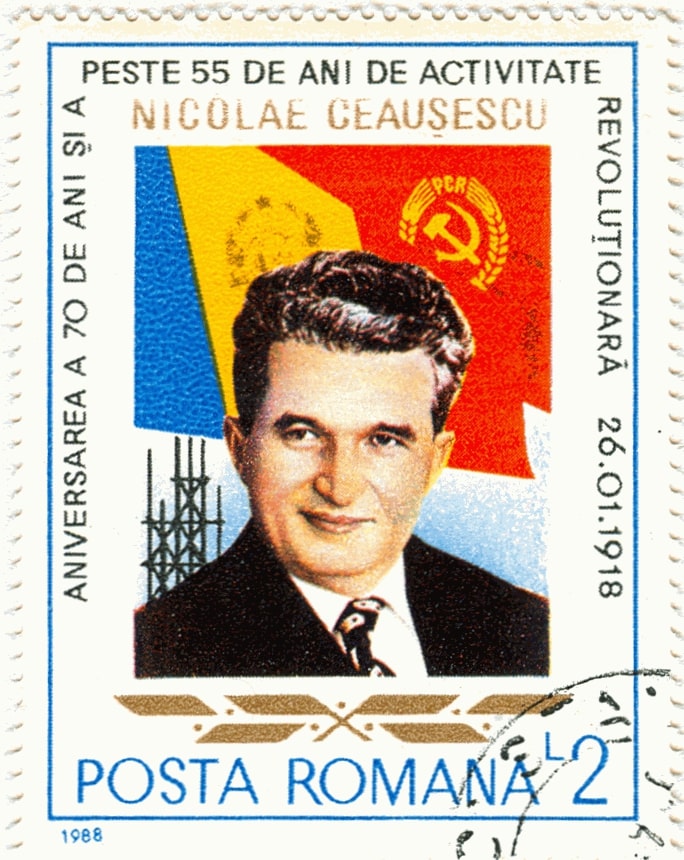 Ruta Sepetys's young adult novel I Must Betray You tells the story of Cristian Florescu, a Romanian teenager living at the pinnacle of the country's communist era in 1989. Cristian is blackmailed into being an informant for the Securitate, the government's secret police, forcing him to grapple with his guilt at betraying those he cares for and his fear of punishment if he fails to provide information. Such was the reality for many Romanians during the final years of communism who worked, willingly or not, to maintain the rule of the country's leader, Nicolae Ceauşescu.

Ceauşescu (pronounced chow-SHESK-oo) was born in southern Romania in 1918. After escaping an abusive household at the age of 11, he ventured to Bucharest, the country's capital, where he found work and ultimately joined the Union of Communist Youth. In the 1930s, it was illegal to be a communist in Romania due to the party's support for the Soviet occupation that had begun near the end of World War II. Consequently, Ceauşescu spent the next few years in and out of prison, during which time he met fellow communist Gheorghe Gheorghiu-Dej.

When the Communist Party overthrew the Romanian monarchy and established a socialist republic in 1947, Gheorghiu-Dej was named the country's leader, and Ceauşescu became the head of the ministry of agriculture. He quickly rose through the ranks, and upon Gheorghiu-Dej's death in 1965, Ceauşescu was elected general secretary of the Communist Party and leader of the country. He soon gained popularity for his liberal views that were in contrast to the Soviet Union, which had ceased occupying Romania in 1958. He relaxed press freedoms, ended Romania's participation in the Warsaw Pact and condemned the Soviet invasion of Czechoslovakia. Additionally, Ceauşescu declared a desire to make Romania a world power and developed friendly relations with many Western nations, a rarity among the Eastern Bloc countries. Ceauşescu visited the US and the UK — Vice President George H.W. Bush referred to him as "the good communist," and he was knighted by Queen Elizabeth II for his independent foreign policies (an honor that was revoked in 1989).

Although Ceauşescu put on a friendly face for other nations, his actions at home had drastic consequences for the Romanian people. To pay off the country's debts, he directed the government to export most of their agricultural and industrial products, leading to extreme product shortages and forcing citizens to wait in line for hours to obtain basic necessities. Heat and electricity were also rationed, even in freezing temperatures. Though most Romanian citizens were struggling to survive, Ceauşescu sought to boost the county's population; he outlawed contraception and abortion and provided financial incentives for women to have more children.

The Securitate's control over the populace increased throughout Ceauşescu's reign, particularly through the recruitment of informants. It's estimated that as many as one in three Romanians was an informant for the Securitate, and the constant fear and lack of trust further broke down the hopeless citizens. It wasn't until the Revolutions of 1989 swept through Eastern Europe that a spark of hope was renewed. Unfortunately, while some other nations gained their freedom without violence, Romania's revolution was marked by bloodshed. Demonstrations began on December 17th in the city of Timişoara; in response, Ceauşescu ordered his security forces to fire upon the protestors. This massacre prompted other demonstrations across the country, including in Bucharest. There, the Securitate battled protestors in the streets, but when the Romanian army joined the citizens, Ceauşescu knew he had lost. He and his wife, Elena, fled Bucharest but were captured hours later.

Nicolae and Elena were put on trial on Christmas Day. The proceedings lasted under an hour, and the pair was found guilty of genocide, subversion of state power, destruction of public property, undermining the Romanian economy, and attempting to leave the country in possession of public funds. Nicolae and Elena Ceauşescu were sentenced to death and immediately marched outside and executed by firing squad.

During his 24-year reign, Nicolae Ceauşescu used isolation, fear and deception to further damage a nation scarred by World War II. Despite only having an elementary education, he managed to deceive many heads of state into believing he was a benevolent leader. The Romanian people knew otherwise, and when the chance for freedom arose, they chose to fight back and end Ceauşescu's rule. Although I Must Betray You features a fictional main character, Cristian's attitude towards the Ceauşescus and his role in the revolution reflect the lived experience of many Romanians.
Stamp commemorating Ceaușescu's 70th birthday, courtesy of Wikimedia Commons
Filed under People, Eras & Events
This "beyond the book article" relates to I Must Betray You. It originally ran in March 2022 and has been updated for the May 2023 paperback edition. Go to magazine.
This review is available to non-members for a limited time. For full access become a member today.
Membership Advantages
Reviews
"Beyond the Book" articles
Free books to read and review (US only)
Find books by time period, setting & theme
Read-alike suggestions by book and author
Book club discussions
and much more!
Just $45 for 12 months or $15 for 3 months.