The Legend of the Sandman
This article relates to Lesser Known Monsters of the 21st Century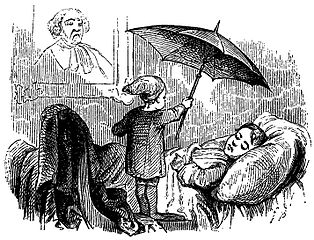 In one story from Kim Fu's collection Lesser Known Monsters of the 21st Century, an insomniac character is visited by the Sandman and subsequently finds it much easier to fall asleep. There is no consensus among experts as to the origin of the Sandman in folklore, as it is believed to be part of a long history of stories passed from generation to generation and from culture to culture. In many versions of the story, the Sandman sprinkles sand into a child's eyes to make them fall asleep. This element is likely borrowed from Scandinavian folklore.

The earliest written work featuring the character is believed to be German Romantic author E.T.A. Hoffmann's short story "Der Sandmann," published in 1816. (Hoffmann is also known for his novella The Nutcracker and the Mouse King, which inspired Tchaikovsky's ballet The Nutcracker.) In "Der Sandmann," a man named Nathanael is tormented by his memories of a story told to him in childhood, about a monster called the Sandman who, according to the Encyclopedia.com plot description, "threw sand into the eyes of children who would not go to bed so that their eyes bled and sprang out of their sockets." Sigmund Freud references "Der Sandmann" in a 1919 essay, arguing that the story's elements of doubles and identity confusion are examples of the odd sensation known as the uncanny. Hans Christian Andersen's 1841 story "Ole Lukøie" is also believed to be a representation of the Sandman. Though the character has a different name, he is still a mythical figure that puts children to sleep (albeit by squirting milk into their eyes rather than sprinkling sand).

From 1989-1996, fantasy author Neil Gaiman wrote a comic book series called The Sandman in which the titular character Dream is something like a god of dreams. He lives in a realm called the Dreaming but frequently visits the waking world. Other characters in the story include Dream's siblings, named Delirium, Destiny, Death, Desire and Despair. A television show based on the comics is set to premiere on Netflix in 2022.

The Sandman has appeared in numerous films as well. Released in 1991, a stop-motion animation film called The Sandman was nominated for an Oscar for Best Animated Short Film. Directed by Paul Berry, the film is loosely based on the Hoffmann short story and revolves around a young boy being visited by a bird-like creature in the night. The bird-man plucks out the child's eyes and takes them to a nest where he feeds them to (presumably his) babies. (The film is nine minutes long and available on YouTube.) A 2017 horror movie called The Sandman revolves around a little girl who can summon a monster from her dreams in real life.

Appearances by the Sandman are common in children's cartoons, with depictions in episodes of Classic Disney Shorts, The Powerpuff Girls and Nickelodeon's The Fairly OddParents. Television shows for adults that have featured a character based on the Sandman include Charmed, Sleepy Hollow and Dr. Who.

Perhaps one of the best-known pop culture references to this character is the 1954 song "Mr. Sandman" by the Chordettes, which has been covered by hundreds of artists (if not thousands), including Marvin Gaye, Emmylou Harris and Bette Midler.

Although there have been numerous depictions across literature and pop culture, Kim Fu's Lesser Known Monsters of the 21st Century offers a distinctive representation, featuring as it does an erotic encounter between a human woman and the Sandman.
Vilhelm Pedersen's drawing for the fairytale "Ole Lukøie" by Hans Christian Andersen
Filed under Cultural Curiosities
This article relates to Lesser Known Monsters of the 21st Century. It first ran in the February 16, 2022 issue of BookBrowse Recommends.
This review is available to non-members for a limited time. For full access become a member today.
Membership Advantages
Reviews
"Beyond the Book" articles
Free books to read and review (US only)
Find books by time period, setting & theme
Read-alike suggestions by book and author
Book club discussions
and much more!
Just $45 for 12 months or $15 for 3 months.