Life in 1980s China
This article relates to The Wedding Party
The world of 1980s China depicted in Liu Xinwu's The Wedding Party was a unique and transitory one. Starting after the end of Mao's Cultural Revolution and leading to the infamous Tiananmen Square Massacre of 1989, this was mostly a decade of quiet change.

After the death of Communist leader Mao Zedong in 1976, Mao's successor Hua Guofeng was at risk of being overthrown by the Gang of Four — a group led by Mao's widow, Jiang Qing. Shortly after Mao's death, Hua had the Gang of Four arrested. However, Hua gradually lost the faith of the people, leaving room for Deng Xiaoping, a political rival of Mao's, to move in.

Deng is known as the "Architect of Modern China." This reputation for change and growth began with him restoring China's post-secondary education system while working as Vice-Premier. From here, Deng's market-economy reforms led to the opening-up of China (as it is known in the West).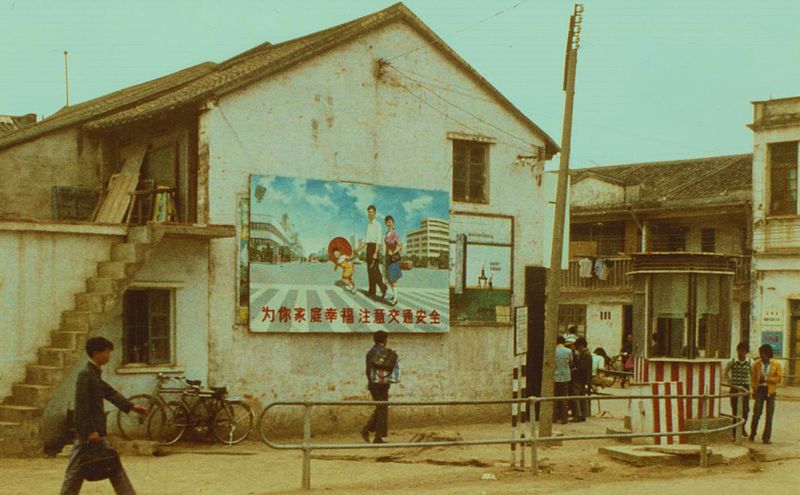 These economic and educational reforms gradually changed China over the course of the '80s, allowing for international trade and travel, as well as for young people to enter university and to seek jobs in the arts and academia, as seen in The Wedding Party.

Frankie Huang, in an article for Goldthread, describes her parents' experiences of 1980s China as "the most hopeful and open time they ever knew in their lives." "For all its lack of material pleasures," Huang writes, "the '80s had no shortage of vibrant culture."

She goes on to describe the hopeful and varied social world we see through the colorful cast of characters in Liu's The Wedding Party: "University entrance exams, previously canceled during the Cultural Revolution, were reinstated. Young people who were sent to work on communal farms returned to cities en masse. Agricultural production skyrocketed after the government opened the market, and imported goods suddenly became available, adding flavor to people's previously monotonous lives."

In terms of how the post-Mao era of Deng's 1980s affected those born into it, George Gao of the Pew Research Center remarks that this generation "are said to be spoiled and privileged, having not lived through food rationing or other hardships like their parents did. They're criticized for being materialistic and rebellious, with unprecedented access to consumer goods and exposure to global pop culture." The gap between those who lived through the Cultural Revolution and those born and raised after it is enormous; far larger than generational gaps are often thought to be.

In his book The Door Opened: 1980s China, British photographer Adrian Bradshaw demonstrates the energy and atmosphere of the period, which he captured during his time in the country. He photographed Muhammad Ali visiting Beijing in 1985, a fashion show featuring clothing by Pierre Cardin, and the construction of modern-day Shanghai which, in his own words, was a "skyline that competes with Manhattan."

The opening-up of China during the 1980s transformed not only the country's economy but also society and everyday life, with many people gaining greater access to higher education, international travel and urban living.
People walking past a Chinese poster depicting a modern family and suggesting economic prosperity, 1982. Photo by Robert Schediwy (CC BY-SA 3.0)
Filed under People, Eras & Events
This article relates to The Wedding Party. It first ran in the January 19, 2022 issue of BookBrowse Recommends.
This review is available to non-members for a limited time. For full access become a member today.
Membership Advantages
Reviews
"Beyond the Book" articles
Free books to read and review (US only)
Find books by time period, setting & theme
Read-alike suggestions by book and author
Book club discussions
and much more!
Just $45 for 12 months or $15 for 3 months.