Eshu: The Yoruba God of Mischief
This article relates to Chronicles from the Land of the Happiest People on Earth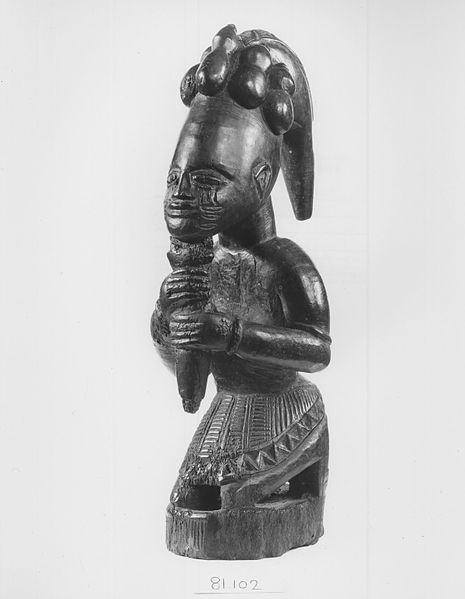 Eshu (also spelled Esu, and also known as Elegba) is a powerful deity in the Ifa religion of the Yoruba people of Western Africa. He is an orisha, a figure that can be a representation of human or divine characteristics or concepts, as well as aspects of nature, such as rivers. A primordial orisha, Eshu represents mischief. However, he is also a mediator and a force for change and growth. In Chronicles from the Land of the Happiest People on Earth, Wole Soyinka refers to Eshu as "the lord of the crossroads," a place with which he is often associated. Crossroads are places of uncertainty and possibilities, which is in keeping with Eshu's multifaceted nature.

Eshu is considered a kind of messenger between gods and men. According to one legend, he is responsible for giving the Yoruba people the art of divination, by tricking the chief god Ifa into giving away his secrets. Eshu is cunning, rebellious and defiant towards authority. Although he is not malevolent, he is known to enjoy stirring up trouble. It is believed that Eshu is responsible for all conflict between orishas and mankind.

Eshu is also responsible for conflict between people. One myth tells the story of how he drove apart two friends by causing them to quarrel. The two men lived in adjoining farms and had such a close relationship that they even dressed alike. One day, Eshu decided to walk the path between the two farms. He wore a hat that was black on one side, and white on the other. To further confuse things, he put his pipe at the back of his head, and hung his club down his back from his shoulder. After Eshu had passed, the two men had an argument — they couldn't agree on the color of his hat, or what direction he had been walking in. Each accused the other of lying, and the argument grew so heated that it drew the attention of the king. Eshu told the king that neither man was a liar, but both were fools, and explained what he had done. This infuriated the king, who sent out his men to attack Eshu, but he easily outran them all, setting fire to lots of houses along the way. As people rushed out of their homes, Eshu offered to take care of their possessions, but instead gave them away to different people, so that everyone's belongings were mixed up in all directions.

While this story shows Eshu's troublemaking nature, it also shows how he encourages critical thinking and the unity of opposing forces. The two men in the story are fools because by stubbornly sticking to their guns, they fail to see the larger picture — the correct answer is somewhere in the middle. Perhaps for this reason, Soyinka has called Eshu "the master dialectician"; in dialectics, the clash of opposing forces is what leads to new, more sophisticated ideas.

However, despite Eshu's complexity, from the 19th century onwards he was often equated with the Christian devil. This was due to a mistranslation. When Christian missionaries translated the Bible into the Yoruba language, they Yorubanized Jesus Christ to Jesu Kristi, but chose to use Eshu as the equivalent for Satan. They were aided in this by a Yoruba man, initially named Ajayi and later baptized as Samuel Ajayi Crowther, who had been taken from his home by slave traders as a young boy. It's possible that the mistranslation was due to Crowther's misunderstanding of Yoruba tradition, as he was uprooted so early from his home.

Since then, the Christian understanding of Eshu has diverged from those who practice traditional Yoruba beliefs, which has led to conflict and confusion. Writer Dele Meiji explains that the disjunction has led many people to believe that those venerating Eshu "are essentially devil worshippers." Campaigns such as #EsuIsNotSatan, as well as public figures like Soyinka, are working to challenge these beliefs and restore Eshu's identity as understood in the Yoruba tradition.
Yorùbá. Kneeling Figure (Eshu-Elegba), late 19th or early 20th century. Wood, h: 11 in. (28.0 cm). Brooklyn Museum, Gift of Dr. and Mrs. Joel Hoffman, 81.102. Creative Commons-BY (Photo: Brooklyn Museum, 81.102_front_bw.jpg)
Filed under Places, Cultures & Identities
This "beyond the book article" relates to Chronicles from the Land of the Happiest People on Earth. It originally ran in October 2021 and has been updated for the August 2022 paperback edition. Go to magazine.
This review is available to non-members for a limited time. For full access become a member today.
Membership Advantages
Reviews
"Beyond the Book" articles
Free books to read and review (US only)
Find books by time period, setting & theme
Read-alike suggestions by book and author
Book club discussions
and much more!
Just $45 for 12 months or $15 for 3 months.