The Bolla in Albanian Folklore
This article relates to Bolla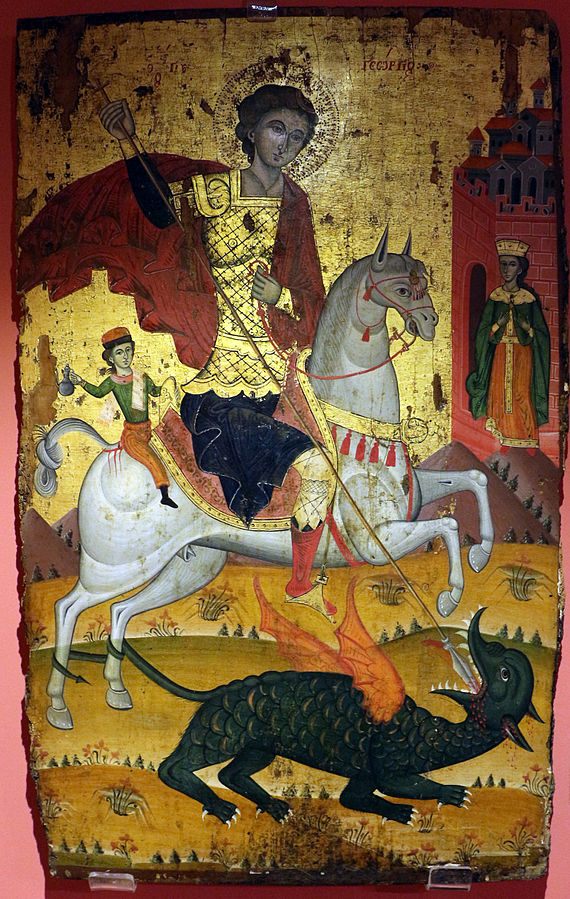 Pajtim Statovci's novel Bolla takes its name from a creature in Albanian folklore. The narrative is interspersed with a reimagined version of this feared monster's origins, with thematic parallels to his characters' lives that enhance the emotional impact of their story while commenting on the importance of storytelling as a means of navigating our lived experiences.

The Bolla's story is one of metamorphosis, isolation and fear. It is usually said to begin its life rather unassumingly as a snake. If, however, this snake goes unseen by human eyes for many years, it will transform into a Bolla — a reclusive, dragon-like creature cursed by St. George to remain blind and hidden away from society for much of the year. This is likely the origin of the belief that for one day a year — St. George's Day (April 23rd) — the Bolla could open its eyes and roam freely, devouring anyone who falls within its sights.

In time, the Bolla will evolve further. Its final form, known as the Kulshedra, is said to be even more fearsome, with 7-12 heads, red hair covering its body, pendulous breasts that drag along the ground, poisonous milk and urine, wings sprouting from its back, and the ability to spit fire. A Kulshedra is always depicted as female, to the extent that its name can also be used as a derogatory term for a "quarrelsome woman" in modern Albanian.

Though the Kulshedra's ultimate fate differs from region to region — as is often the case with folktales, which morph as they are passed from person to person — it is rarely a positive outcome for the creature itself. Most versions of the story describe a fierce battle with the Dragùa, a heroic, semi-human being whose primary goal is to hunt and destroy Kulshedras. Both are heavily associated with the weather, as storms, floods and other natural disasters were once thought to be the result of their violent clashes. In some versions the two remain locked in battle for eternity, while in others the Kulshedra is eventually slain. Interestingly, while the Kulshedra is always female, the Dragùa is always male, suggesting commentary on the friction between opposing forces — not unlike the conflict between Albanians and Serbians in Statovci's novel.

With that said, why did Statovci choose this particular creature to reference throughout his novel? His narrative details the doomed love affair of two men torn apart by the trauma of war and the fear of persecution. Their decision to hide their true selves from society lest they be demonized is not unlike the Bolla's fate, cursed to hide itself away, unseen, having not yet reached its true form. The idea that this isolation drives the Bolla to an even more monstrous state also chimes with the characters' dark sides, which grow as a result of their suppression and suffering. Lastly, the characters' all-too-brief experience of joy during the summer of their affair could be seen as mirroring the Bolla's brief stint of freedom on St. George's Day.

As a visual and thematic motif, incorporating the story of the Bolla works well to enhance the poignancy of Statovci's novel, while shining a light on a fascinating branch of world mythology.
18th century icon of St. George slaying a bolla dragon by the Çetiri brothers
Filed under Places, Cultures & Identities
This "beyond the book article" relates to Bolla. It originally ran in August 2021 and has been updated for the July 2022 paperback edition. Go to magazine.
This review is available to non-members for a limited time. For full access become a member today.
Membership Advantages
Reviews
"Beyond the Book" articles
Free books to read and review (US only)
Find books by time period, setting & theme
Read-alike suggestions by book and author
Book club discussions
and much more!
Just $45 for 12 months or $15 for 3 months.