Artifacts at the National Museum of African American History and Culture
This article relates to All That She Carried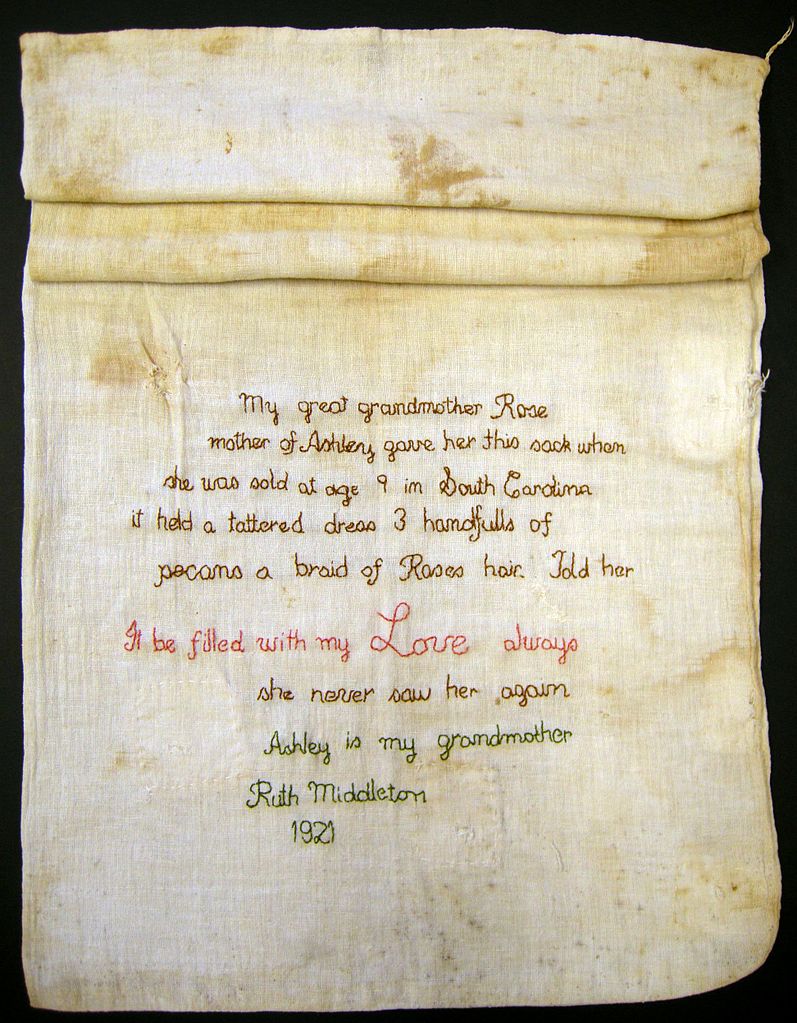 The three-tiered National Museum of African American History and Culture (NMAAHC) in Washington, D.C. embraces the rich history of slaves and their descendants. The museum opened in 2016, displaying thousands of artifacts illustrating the experience of the unfree, and the emancipated, including Ashley's Sack (which will be on display next at the International African American Museum in Charleston, South Carolina), the history of which is covered by Tiya Miles in the book All That She Carried. The achievements of African American scholars, entrepreneurs, scientists, athletes, musicians, writers and politicians, plus the objects that reflected their experience and memory, lined the upper tiers of the Yoruba-inspired building.

Ashley's Sack, one of the most popular exhibits, had a box of Kleenex placed near it. The item given to nine-year-old Ashley by her mother before she was sold brought many to tears, particularly the wording embroidered on it by Ashley's granddaughter, Ruth: "My great grandmother Rose / mother of Ashley gave her this sack when / she was sold at age 9 in South Carolina / it held a tattered dress 3 handfulls of / pecans a braid of Roses hair. Told her / It be filled with my Love always / she never saw her again / Ashley is my grandmother / Ruth Middleton / 1921."

Below are some other items that are currently at the NMAAHC, or have been on display there, and are worthy of mention.

Ankle Shackles (1863): When Africans were kidnapped and loaded onto cargo ships, they were tied down with ankle shackles to hold them in place. There were adult shackles and child shackles.

Joseph Trammell's Certificate of Freedom: A slave, Joseph Trammell, was freed on May 10, 1851, in Loudon County, Virginia. He kept the certificate declaring his freedom in a tin box.

Mae's Millinery Shop: When Ella Fitzgerald, Lena Horne, Eartha Kitt and Marian Anderson needed a hat they went to Mae Reeves, one of the first black business owners in Philadelphia. Her millinery shop was in operation for 53 years.

Lunch Counter Stools, Greensboro, North Carolina: Joseph McNeil, Ezell Blair Jr., David Richmond and Franklin McCain were North Carolina A&T students who changed history. On February 1, 1960, they sat down at a whites-only lunch counter at Woolworth's department store. They were never served, though they waited all day long. The next day and for the entire month of February, African American students, and white allies, joined them. Four months later, Woolworth's lunch counter was desegregated. This started a movement to desegregate libraries, motels and beaches.

Chuck Berry's Cadillac: One of my favorite exhibits at the museum, Chuck Berry's cherry red convertible car was in the film Hail! Hail! Rock 'n' Roll. It proudly shines in the hall that honors musicians.

Muhammad Ali's Headgear: When Ali was training with Angelo Dundee at the 5th Street Gym in Miami Beach, he wore headgear that is now part of the Sports gallery in the NMAAHC.

Pete Souza's Photograph: White House photographer Pete Souza snapped an iconic photo. Five-year-old Jacob Philadelphia visited the Oval Office when Barack Obama was President in 2009. Jacob wanted to touch Obama's hair, fascinated that the president's hair was just like his. That someone who looked like Jacob was the President of the United States fascinated little Jacob.

Harriet Tubman's Shawl: Queen Victoria gave Harriet Tubman a shawl around 1897, as an honor to her incredible legacy of resistance and freedom.

Dolls, Kenneth and Mamie Clark Study: Psychologists Kenneth and Mamie Clark's landmark 1940s study about the impact and effect of segregation is a piercing exhibit. The Clarks asked black children to choose from a white doll or a black doll the one they favored the most. All chose the white doll and assigned positive characteristics to it, and assigned negative stereotypes to the black doll and themselves. The Clarks' research illustrated how segregation damaged the self-esteem of black students and was instrumental testimony in the Brown v. Board of Education Supreme Court case that desegregated public schools.

Glass Shards, 16th Street Baptist Church: White supremacists planted a bomb at 16th Street Baptist Church in Birmingham Alabama, killing Addie Mae Collins, Cynthia Wesley, Carole Robertson and Denise McNair, who were at Sunday school. Pieces of glass collected from the gutter outside the church make up the display. The artifact represents mourning, grief, childhood lost and terrorist acts against innocent African Americans post-Civil War.

When tragedy, degradation and enslavement shape a history, artifacts are pivotal in understanding what happened, and why it happened. But they are also fundamental to memories in a way a passage in a textbook is not. They are pieces of a past that cannot be forgotten, dismissed, rewritten or misunderstood. Tiya Miles describes Ashley's Sack as "a container, carrier, textile, art piece, and record of past events." Whether it is Ashley's Sack or Harriet Tubman's shawl, artifacts contextualize an era, identify a moment and bring disparate people together.
Ashley's Sack, courtesy of Middleton Place Foundation (CC BY-SA 4.0)
Filed under Places, Cultures & Identities
This article relates to All That She Carried. It first ran in the August 4, 2021 issue of BookBrowse Recommends.
This review is available to non-members for a limited time. For full access become a member today.
Membership Advantages
Reviews
"Beyond the Book" articles
Free books to read and review (US only)
Find books by time period, setting & theme
Read-alike suggestions by book and author
Book club discussions
and much more!
Just $45 for 12 months or $15 for 3 months.