Sagebrush Steppe and the Gunnison Sage-Grouse
This article relates to Site Fidelity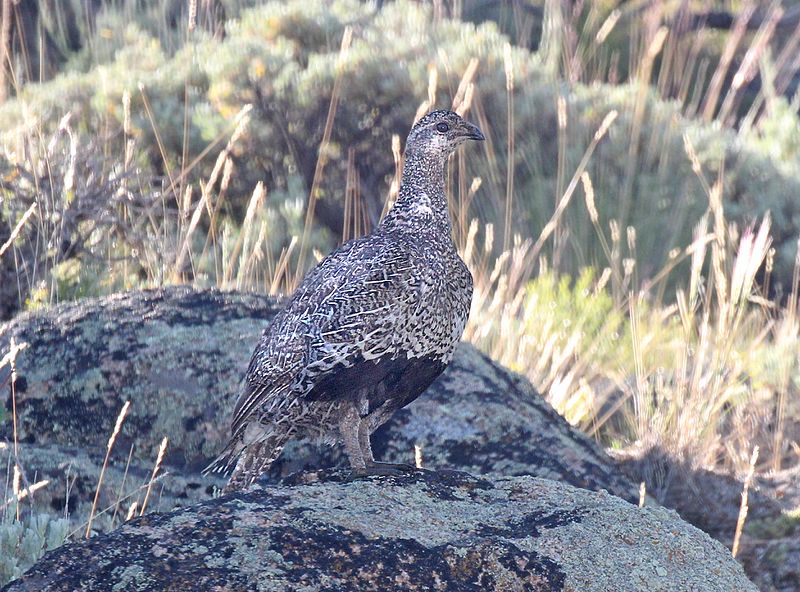 The Gunnison sage-grouse, integral to the story "Ledgers" in Claire Boyles' Site Fidelity, are dependent on their natural habitat, the sagebrush steppe of the Western United States. A steppe is a grassland region that does not receive enough rain to support trees. The semi-arid climate means that only shrubs and short grasses can grow. The temperature varies dramatically between summer and winter, as well as between day and night, much like in deserts. The world's largest swathe of grassland is the Eurasian steppe, which stretches from Hungary to China, but smaller areas of steppe can be found around the world. Globally, many steppes have been lost to agriculture and pasture, which can lead to erosion and degradation of the soil.

Sagebrush steppe, steppe on which sagebrush is prevalent along with other grass types, occurs mostly in the Intermountain West of the United States — between the Cascade Range and the Sierra Nevada to the west and the Rocky Mountains to the east. About half of this land is publicly owned. Types of sagebrush that occur on the steppe include low sagebrush, three-tip sagebrush and big sagebrush, the most common. Some of the other main grasses, shrubs and wildflowers found on the sagebrush steppe are listed here, with representative photographs.

A priority habitat for about 250 vertebrate species as well as more than 200 species of insects, the sagebrush steppe is ecologically valuable. In particular, it is essential to the survival of sage-grouse and pronghorn, both of which eat sagebrush. Other common birds and mammals include Brewer's sparrows, golden eagles, horned larks, marsh hawks, sage thrashers, black-tailed jackrabbits, Ord's kangaroo rats and Townsend's ground squirrels. Bighorn sheep, elk and mule deer range across the sagebrush steppe in the winter.

Many forces threaten the continued existence of sagebrush steppe, such as overgrazing by livestock and feral horses, mining/drilling for minerals and oil, and recreational off-highway vehicles. Introduced grass species reduce the plant diversity and increase the overall fire risk, as do the higher temperatures and drought conditions brought about by climate change. The National Wildlife Federation warns: "Nearly 60 percent of all sagebrush habitats could be lost if climate change pollution continues on a path of 'business as usual.'"

This would be disastrous for the Gunnison sage-grouse. The birds, which were recognized as a separate species from the greater sage-grouse in 2000, have eight population centers in southwest Colorado and Utah, south of the Colorado River, and are estimated to number just 5,000, earning them "threatened" status under the Endangered Species Act. The crow-sized grouse are mottled gray and brown; males have a black head and throat and a white breast, with two yellow air sacs that inflate during courtship displays in March to May (see video footage here). They nest on the ground between April and July and require sagebrush for food as well as for year-round cover.

"I study endangered species that love their land so much they'll die without it," Norah, the ornithologist narrator, declares in "Ledgers." Site Fidelity, rooted in this special, threatened region, is marked by the beleaguered hope that humans will fight environmental hazards and coexist with other species.
Gunnison sage-grouse, south of Gunnison, Colorado in 2015. Photo by Alan Schmierer
Filed under Nature and the Environment
This article relates to Site Fidelity. It first ran in the August 4, 2021 issue of BookBrowse Recommends.
This review is available to non-members for a limited time. For full access become a member today.
Membership Advantages
Reviews
"Beyond the Book" articles
Free books to read and review (US only)
Find books by time period, setting & theme
Read-alike suggestions by book and author
Book club discussions
and much more!
Just $45 for 12 months or $15 for 3 months.