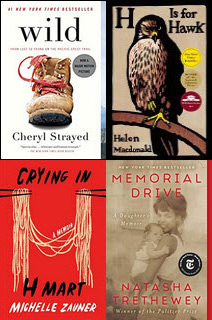 Carol Smith's Crossing the River recounts the death of her young son, Christopher, in combination with stories of other people who have experienced loss. In an interview with Hippocampus Magazine, Smith recalls memoirs about grief that have been influential for her. Below are some of the books she mentions, along with other significant memoirs of grief and loss.

Wild: From Lost to Found on the Pacific Crest Trail by Cheryl Strayed tells the story of the author's 1,100-mile journey hiking from the Mojave Desert to Washington State, a trip taken to deal with the grief of her mother's death. The book follows the obstacles that Strayed faced along the way as well as how the time on the trail helped her heal.

H Is for Hawk is another account of grappling with grief through an encounter with nature. Falconer Helen Macdonald writes about coping with her father's sudden death through training a deadly predatory bird, the goshawk.

Memorial Drive is the harrowing story of how ...