The 1929 Women's War in Nigeria
This article relates to Walking on Cowrie Shells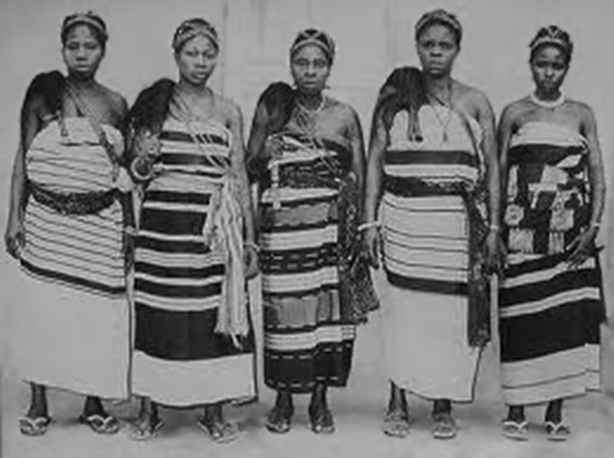 In a story called "The Statistician's Wife" in Walking on Cowrie Shells, a Nigerian woman tells her white husband, "In 1929, ten thousand Igbo women started ogu umunwanyi, the Women's War. When men do wrong, we 'sit on you.' It's part of our tradition, how we protest."

Her description is accurate, but she is simplifying the historical event as a means of teasing her husband. The reality was much more complicated. British colonization of Nigeria began around the middle of the 19th century, and the Women's War was primarily a rebellion against colonial rule and the oppression of women.

In 1914, the British governor of southern Nigeria, Lord Frederick Lugard, placed the colony under the authority of local leaders called Warrant Chiefs. Prior to colonial rule, Nigerian women were not equal to men, but they had rights and privileges. They worked, with particularly prominent positions in trade, and had some level of autonomy. Women in elite families took part in politics. Ordinary women often met in groups to discuss village issues and matters of trade. If a problem developed in which the men in the village objected to what the women decided during their meetings, the women would often initiate a protest commonly referred to as "sitting on a man." This involved going to a man's house and causing a general ruckus. According to historian Judith Van Allen, it could include "dancing, singing scurrilous songs which detailed the women's grievances against him and often called his manhood into question, banging on his hut with the pestles women used for pounding yams, and perhaps demolishing his hut and roughing him up a bit." Women also engaged in general strikes. In one instance described by Van Allen, an entire village of women refused to cook for their families until the men cleared the paths around the marketplace of debris.

During colonization, however, women's rights were diminished, and the Warrant Chiefs became a particular focus of women's ire and rebellion because they represented British authority, they were often corrupt, and they forced women into marriage. By 1929, tensions were already high in the region due to hikes in taxes and a fall in the price of palm oil, the sale of which was the primary source of income for many Nigerians. Women organized a protest of these taxes, sending invitations miles around passed from one village to the next. An estimated total of 10,000 women attended the protest in Oloko. They wanted specific assurance that women would not be taxed, and the Warrant Chief capitulated to their demands. However, feeling undermined by the situation, he abducted a few of the protesters. This further infuriated the crowd, which stayed put and continued their protest until the British were forced to intervene and remove the Warrant Chief from power.

News of the victory traveled throughout the region and led to additional protests, generally motivated by hatred of the Warrant Chiefs, and using the same tactics the women had honed in their smaller scale "sitting on a man" exercises of collective action. Protesters set fire to British administrative buildings in the southeastern city of Aba (the Women's War is also called the "Aba Women's Riots" for this reason). The British responded by sending troops to quash the uprising, resulting in multiple violent clashes that left at least 50 women dead and 50 more wounded. It is estimated that at least 25,000 women took part in the protests.

The women won some significant victories. They were given assurances by the British that they would not be taxed. Many of the hated Warrant chiefs quit, and in 1933 the British retired this system of governance in Nigeria permanently, replacing it with a more communal system involving multiple judges who were elected by the people. However, Van Allen points out that the reforms that occurred as a result of the war also further limited women's rights. For instance, vigilante forms of justice, referred to in the reforms as "self-help," such as sitting on a man were outlawed. This prevented women from using their collective power, and it is just one example of many of how British colonization seriously undermined longstanding cultural institutions and norms in Nigeria.
Women of Aba, Nigeria in the early 20th century, published in Native Administration in Nigeria by Margery Perham
Filed under People, Eras & Events
This article relates to Walking on Cowrie Shells. It first ran in the July 14, 2021 issue of BookBrowse Recommends.
This review is available to non-members for a limited time. For full access become a member today.
Membership Advantages
Reviews
"Beyond the Book" articles
Free books to read and review (US only)
Find books by time period, setting & theme
Read-alike suggestions by book and author
Book club discussions
and much more!
Just $12 for 3 months or $39 for a year.