A History of the Vegas Showgirl
This article relates to Paradise, Nevada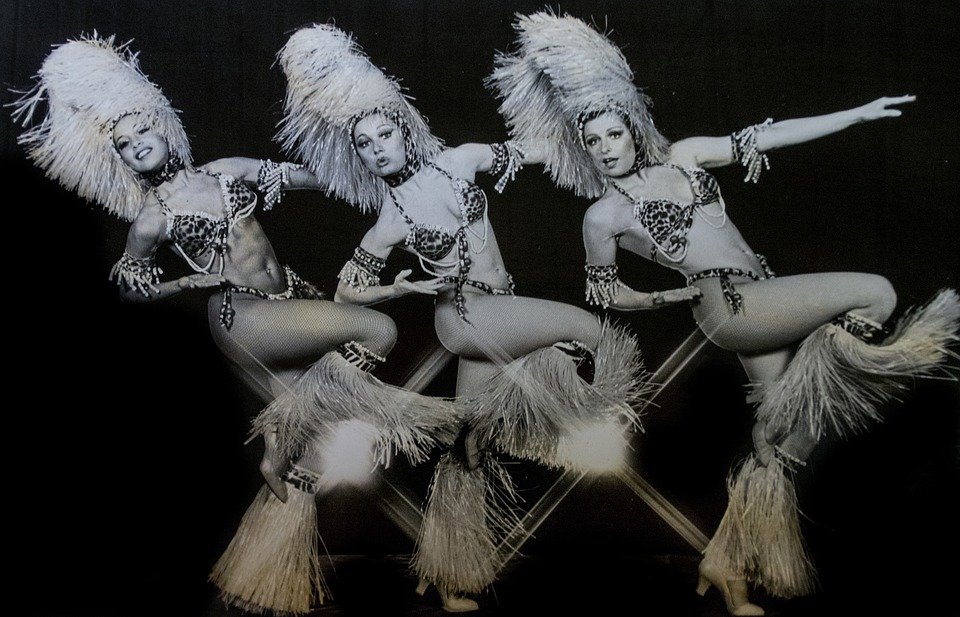 Dario Diofebi's novel Paradise, Nevada takes a look into the world of the Las Vegas working woman, including the iconic Vegas showgirl. The last traditional showgirl extravaganza, "Jubilee," was shut down in 2016 after a 34-year run, pushed out by competition from other entertainments catering to more modern and family-friendly tastes. While showgirls still work in some capacities in Vegas, the final performance of "Jubilee" was the last of a breed of major professional shows that already felt consigned to the past — a bygone era of Hollywood glamour, post-war optimism and strict gender norms. Yet the showgirl's image remains as an archetype of femininity, a gem-studded fantasy.

The Vegas showgirl's origins lie not in Nevada but New York, where Florenz Ziegfeld offered audiences his take on Parisian cabarets, such as Moulin Rouge and Folies Bergère, with the Ziegfeld Follies, a highly successful series of "revues" (theatrical productions) that began in 1907 and ran on Broadway until 1931. A consummate showman, Ziegfeld created spectacles consisting of gorgeous, scantily-clad young women that cheekily referenced cultural or topical events. By emphasizing the show's European origins, he leant an air of sophistication to these titillating performances, drawing in the urbane and affluent crowd. The focus of the shows was always on beauty and suggestibility rather than talent or outright sex — Ziegfeld's girls dressed in fine furs and jewels, and were required to do little onstage other than walk or sit. Though the job seems easy compared to what was expected of showgirls later on, some found it restrictive. Paulette Goddard, a Ziegfeld girl who later became a celebrated Hollywood actress, said of her experience, "girls were far more frivolous then because…nothing was expected of them. I could tap [dance] but I was never given the chance."

During the 1950s, when Las Vegas was booming, showgirls emigrated to the casino. Their performances began as playful bookends for the headlining act but soon became integral to the casinos' modus operandi: to keep customers gambling by keeping them inside. Headdresses got higher, crystals more numerous and performances more demanding — at one show at the Sands casino in 1952, the total cost of the showgirls' attire was more than the salary of the headlining act. These were the glory days of the showgirl, when she sashayed amongst the rich and famous — the likes of Frank Sinatra, Sammy Davis Jr. and Cary Grant. Competition between the casinos resulted in the first topless and nude showgirl performances, beginning with the Lido de Paris troupe in 1958. Initially the law stated that a girl could only appear nude if she stood completely still, but this requirement was soon relaxed, and various degrees of nudity became an accepted part of showgirls' routines.

By the 1980s, showgirls were expected to be highly trained professional dancers, with many coming from the worlds of ballet or classical dance. Performing complicated choreography in heavy costumes required a level of fitness on par with professional athletes — except, unlike athletes, they had to look glamorous. Height restrictions also became de rigueur, reinforcing the showgirl's image as a glorious Amazonian creature (with the minimum height falling around 5'8", and many girls 5'10" and up).

The end of the showgirl industry came with the corporatization of Las Vegas and the increasing availability of more explicit forms of adult entertainment in the city. During the 1990s and the turn of the century, many Vegas casino owners began to distance themselves from the "sin city" image, moving towards a more family-oriented vision. Corporate interests began to shift to entertainments that could be money-earners themselves, rather than bait to lure in gamblers. This led to a preference for musicals, high-concept performances full of special effects and the popular Cirque du Soleil over showgirl performances. Also, as the sexual conservatism of the mid-20th century fell away, the subtle, sensuous sexuality of the showgirl appeared tame in comparison to what was on offer elsewhere. Too risqué for the family crowd but not risqué enough for the adults, showgirls had lost their audience. Though they were seen as living legends, the absence of a target market saw dedicated showgirl productions gradually fade away.

Like many expressions of femininity, the Vegas showgirl walked the thin line between high glamour and self-objectification, sexual liberation and catering to the male gaze. This tension was part of her mystique; she wielded her carefully crafted desirability like a weapon, remaining unattainable and in control. In many ways, she was a product of the sexual conservatism of her day, which makes mourning her loss somewhat complicated. However, it's undeniably true that Vegas seems to sparkle a little less without her.

The silent video below features showgirls performing at the Hotel Tropicana in 1965.
Women in showgirl costumes, via Pixabay
Filed under Music and the Arts
This article relates to Paradise, Nevada. It first ran in the June 9, 2021 issue of BookBrowse Recommends.
This review is available to non-members for a limited time. For full access become a member today.
Membership Advantages
Reviews
"Beyond the Book" articles
Free books to read and review (US only)
Find books by time period, setting & theme
Read-alike suggestions by book and author
Book club discussions
and much more!
Just $45 for 12 months or $15 for 3 months.