Early Anesthetics
This article relates to The Girl in His Shadow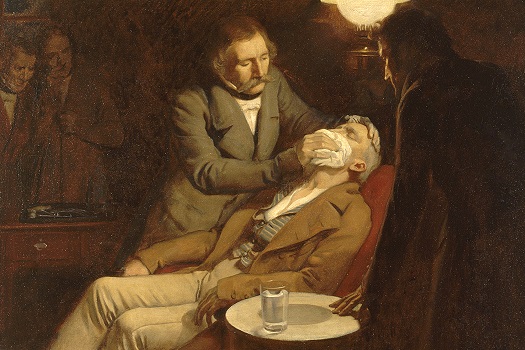 In The Girl in His Shadow by Audrey Blake, Nora and Daniel use diethyl ether, referred to simply as "ether," to render a patient unconscious in order to perform a surgical procedure on him. While the procedure is ultimately successful, the characters are still unsure of the exact effects of the drug. Nora and Daniel's study of and experimentation with ether is reflective of the murky medical knowledge of the substance available to physicians at the time. Ether ultimately became the first general anesthetic to see wide recorded use in surgery.

Before general anesthetics, or drugs that allow for the controlled induction of total unconsciousness, those performing invasive medical procedures such as surgery relied on sedatives (substances that promote relaxation) and analgesics (pain relievers) — including alcohol, opium and various herbal medicines — to reduce pain and discomfort in patients. The first known use of a general anesthesic during surgery took place in Japan in 1804. The anesthetic was an herbal mixture containing the plants monkshood and thorn apple that physician Seishu Hanaoka gave to a patient undergoing a partial mastectomy. However, this form of anesthesia never came into use outside of Japan.

Diethyl ether was first prepared as a chemical compound by the Prussian botanist Valerius Cordus in 1540. Its potential as an analgesic and sedative was explored in a report by English scientist Michael Faraday in 1818, but during the first half of the 19th century it was mainly used as a recreational drug. It was sold as an alternative to alcohol, and people attended "ether frolics," parties where the substance was inhaled. Inhalation could eventually lead to unconsciousness, but it produced a feeling of euphoria before that point was reached.

Crawford Williamson Long, a physician practicing in Georgia in the United States, was the first to employ ether as a general anesthetic for the purpose of performing surgery in 1842, when he used the substance to anesthetize a patient, James M. Venable, before removing a tumor from his neck. Long and Venable were both familiar with the recreational use of ether, which may have been why they agreed to try it for this purpose. However, Long delayed publishing the results of the procedure until 1848, by which time a Boston dentist named William T.G. Morton had already demonstrated the use of ether as an anesthetic in public in 1846. For this reason, Morton is commonly (though inaccurately) credited with being the first to use ether to anesthetize a patient.

Ether subsequently began to see wide use in medical procedures, including on wounded soldiers during the American Civil War. It remained a standard form of general anesthesia until it was replaced in the 1960s by fluorinated hydrocarbons, which are safer for use in a medical setting and less likely to produce certain side effects, such as nausea and vomiting.

While ether is no longer typically used as an anesthetic in the United States, Britain and many other countries that have reliable access to modern medicine, it is still sometimes employed for this purpose in poorer regions because it is relatively cheap to produce. The main drawback to its use is that it is highly flammable and explosive, and can therefore be dangerous.
The first use of ether in dental surgery, painting by Ernest Board, 1846
Filed under Medicine, Science and Tech
This article relates to The Girl in His Shadow. It first ran in the June 9, 2021 issue of BookBrowse Recommends.
This review is available to non-members for a limited time. For full access become a member today.
Membership Advantages
Reviews
"Beyond the Book" articles
Free books to read and review (US only)
Find books by time period, setting & theme
Read-alike suggestions by book and author
Book club discussions
and much more!
Just $45 for 12 months or $15 for 3 months.