Transphobia in Gender-Critical Feminist Ideology
This article relates to Detransition, Baby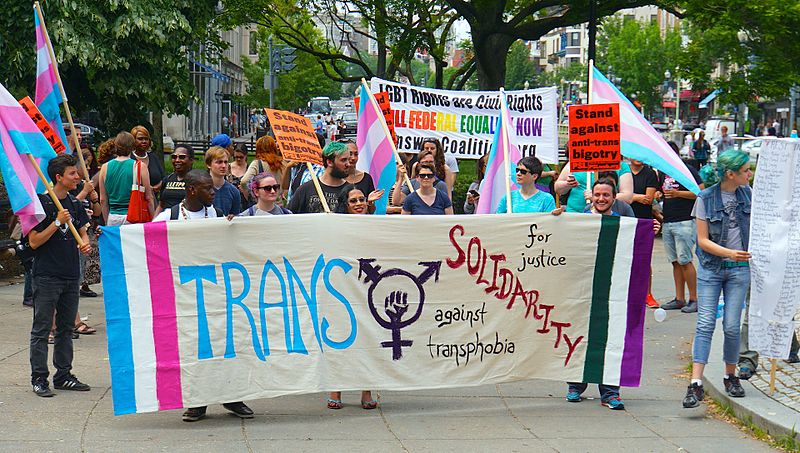 In Detransition, Baby, Torrey Peters draws attention to the views of feminists who discriminate against transgender women through the thoughts of Reese. "In old books she had read," Peters writes, "Reese remembered women saying that if your husband doesn't beat you, he doesn't love you, a notion that horrified the feminist in Reese but fit with a perfect logic in one of the dark crevices of her heart. And yeah, liberal feminists—especially the trans-hating variety—would have a field day with her. She supposed that they would accuse her of misogyny, of being a secret man, a Trojan horse in slutty lingerie who sought to recapitulate under the guise of womanhood all the abusive tropes that they, in the second wave, had sought to put in the past. But you know what? She didn't make the rules of womanhood; like any other girl, she had inherited them."

As discussions of gender transitioning become increasingly mainstream, gender-critical feminists of the kind Reese is referring to (commonly known as TERFs, or Trans-Exclusionary Radical Feminists) have also been receiving increased media attention. A splinter group of feminism, this small but vocal cohort has demanded the exclusion of trans women from women-only spaces. In this article, I'll be looking at some common arguments of gender-critical feminists and providing critical responses.

According to gender-critical feminists, there are essential differences between the "biological female experience" and "mere" self-identification with the female gender. One such difference, in their view, is that trans women do not have the same history of sex-based discrimination or submission because they were not socialized as women from birth. They claim that to transition into womanhood by "choice" is not the same as having those gender norms thrust upon you and results in an entirely different experience. Using this reasoning, they argue that trans women should be excluded from women-only spaces to preserve a place for other women to express their shared struggles and sense of identity.

There is a certain irony to the idea that being labeled female at birth constitutes a fundamentally unique experience, as "biology is not destiny" used to be a catchphrase of the feminist movement. Indeed, this belief disregards the diversity of women's lives. As intersectional feminists have pointed out, even cisgender women, whose gender matches the gender they were assigned at birth, have vastly different experiences dependent on race, ethnicity, religious orientation, sexuality and economic background. A shared (perceived) gender category does not guarantee any singular outcome or treatment. Some gender-critical feminists have argued that the shared experience of womanhood is the ability to conceive a child — but even among cisgender women this would disregard all of the women who cannot have children for medical reasons.

Another point gender-critical feminists often bring up is the performance of gender. They sometimes claim that the performance of femininity by trans women is stereotypical, reinforcing an image of womanhood that is archaic and designed for the male gaze.

However, there is an obvious impetus for trans women to inhabit feminine stereotypes to avoid being misgendered and having their status as women questioned. Furthermore, the idea that all trans women behave according to a model of high femininity is largely the result of media focus on those who do conform to such an image. There are many who do not fit this mold.

In any case, high feminine performances by trans women are not a sign of the hardening of gender stereotypes or of greater complicity in those stereotypes than cisgender women. They are merely expressions of roles that are already there. Carol Hay, an Associate Professor of Philosophy at the University of Massachusetts, makes the point that criticizing trans women for enacting feminine stereotypes is a bit like throwing stones in a glass house, as cis women such as herself do the same constantly: "…when I present myself in ways that I know that others around me will read as female," she writes, "I'm not only going along with but actually affirming their conventional beliefs about what women are like."

An awareness of the inherent performative aspects of gender is liberating, as with this awareness gender becomes, rather than a central and immutable feature of identity, more like a costume that you are free to play with, adorn or take off altogether. Referring to drag performance, Judith Butler writes in Gender Trouble: Feminism and the Subversion of Identity, "part of the pleasure, the giddiness of the performance is in the recognition of a radical contingency in the relation between sex and gender.…In the place of the law of heterosexual coherence, we see sex and gender denaturalized by means of a performance which avows their distinctness and dramatizes the cultural mechanism of their fabricated unity."

An awareness of the experiences of trans women may help cis women to see the extent to which they perform their own gender, and how gender stereotypes are ridiculous fabrications that they can allow themselves to take less seriously. In Detransition, Baby, Peters writes, "If only cis heterosexuals would realize that, like trans women, the activity in which they are indulging is a big self-pleasuring lie that has little to do with their actual personhood, they'd be free to indulge in a whole new flexible suite of hot ways to lie to each other."

As trans women and other trans people continue to make headway towards greater recognition and equality, it is likely that the gender-critical feminist backlash will continue to provoke transphobic discrimination and prejudice. However, there are many feminists, both radical and not, who believe that trans women contribute just as much to progressive ideas of womanhood as cis women do.
First trans solidarity rally and march in Washington DC in 2015, by Ted Eytan (CC BY-SA 2.0)
Filed under Society and Politics
This "beyond the book article" relates to Detransition, Baby. It originally ran in February 2021 and has been updated for the October 2021 paperback edition. Go to magazine.
This review is available to non-members for a limited time. For full access become a member today.
Membership Advantages
Reviews
"Beyond the Book" articles
Free books to read and review (US only)
Find books by time period, setting & theme
Read-alike suggestions by book and author
Book club discussions
and much more!
Just $45 for 12 months or $15 for 3 months.