The Legacy of Ireland's Curses
This article relates to The Butchers' Blessing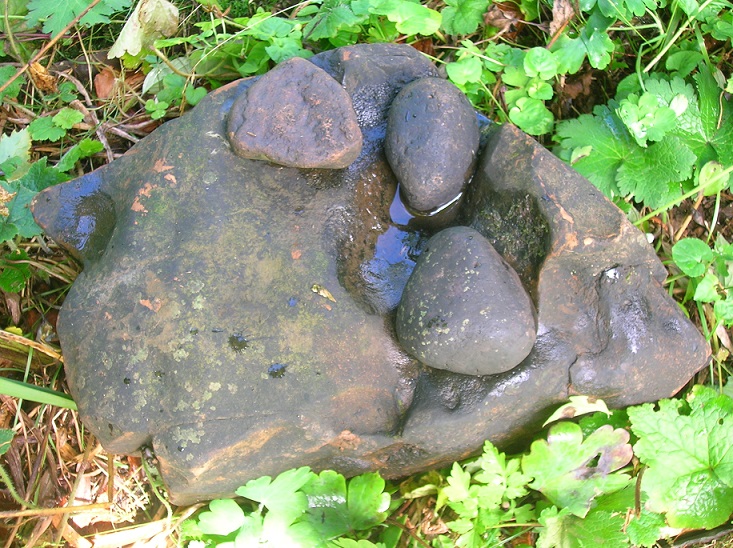 In Ruth Gilligan's novel The Butchers' Blessing, we meet a small yet devoted group of people who strive to uphold historic, ritualistic methods of cattle slaughter in 1990s Ireland. They do this in accordance with their continued belief in the power of the so-called "Curse of the Farmer's Widow." Born of an ancient folktale of unknown origin, the curse is said to stem from the grief of a bereaved wife and mother. Having lost her husband and seven sons to the brutality of war, she vowed to poison the land of any farmer who failed to honor her grief, demanding that eight men be present for the killing of each animal (one to pay respect to each of the loved ones she lost).

Although this particular scenario is fictional, Gilligan likely drew inspiration from the legacy of Ireland's rich folkloric canon to form the tale, and the country's respect for these types of traditions is still very much alive. Curses play a particularly important role in many such stories. In fact, the old Irish word for a curse, Piseóg (pronounced pish-ogue), has become largely synonymous with all old-world traditions, so important is the ancient magic to the nation's cultural heritage. Though some were invoked to bring protection or healing, most curses were intended to bring hardship to the conjurer's enemies, or to deter undesirable behavior by encouraging compliance with widely held morals.

Before its meaning evolved to be more all-encompassing in this way, the Piseóg was a curse used to bring misfortune to another, or more specifically, to steal their good fortune. Believing luck to be a quantifiable, limited resource, people would invoke the power of a Piseóg to claim their share before it ran out. Though the words were considered powerful enough on their own, an object such as an egg was sometimes used as a catalyst (similar to a doll in Voodoo traditions). This could be left outside the home of your victim, letting them know they had been marked by a curse and thus inciting fear.

Other recognized curses in Irish folklore include:
The Geis: A curse that takes the form of an oath, with dishonor or death befalling those who break its bonds.
The Súgán (pronounced sue-gawn): An intricately woven rope made of straw. By concentrating on the curse's intention as the rope is woven by hand, the spell is cast.
Bullauns: These unassuming stones rest in the smooth, bowl-like depression of a larger stone. In pagan times, it was believed that turning the smaller stones counterclockwise while reciting a prayer could call down a curse. With early Christianization, the stones took on more positive connotations, with rainwater that pooled in the bowls thought to have healing properties.
The Mallacht: A spoken word curse, this was typically used by Druids and Bards to summon the power of the Devil to harm their enemies during battle.
The Caip Bháis (pronounced kibosh): Coming from the old Irish word for candle-snuffer, this much-feared curse was used specifically to summon death. The exact origins of the phrase are unclear, but tracing its Gaelic root suggests possible links to an old name for the headpiece donned by judges when they sentenced someone to death, or a covering that was used to conceal the face of a corpse. The word kibosh is commonly used today to refer to an action or event that brings an abrupt end to something, not unlike the aim of the curse itself.
But why was the belief in curses so strong, and why do many people (in Ireland and throughout the world) continue to believe in their power to this day? The influence of society and tradition are strong, with many of us inheriting views held by previous generations. This explains why rural communities often retain closer ties to their cultural past, having experienced less direct influence from the rapid modernization that constantly evolves day-to-day life in urban areas. From a psychological perspective, fear is also a major factor: be that fear of the implied repercussions inherent in the curse itself, or fear of being ostracized for questioning the validity of a curse's power, thus challenging the status quo.

It has also been suggested that those who are already open to believing in curses are likely to subconsciously fuel their own belief by seeking out affirming evidence. This is tied to the human desire to compartmentalize and apply order to the apparent unpredictability of our lives. With perceived ill omens and bad luck attributed to the influence of a curse (rather than random luck), faith in its power becomes a self-fulfilling prophecy.

With a long-held passion for storytelling that continues to thrive among Ireland's rural communities, it's easy to understand why some residents maintain lingering respect for ancient curses.
Ballaun stones
Filed under Places, Cultures & Identities
This "beyond the book article" relates to The Butchers' Blessing. It originally ran in February 2021 and has been updated for the November 2021 paperback edition. Go to magazine.
This review is available to non-members for a limited time. For full access become a member today.
Membership Advantages
Reviews
"Beyond the Book" articles
Free books to read and review (US only)
Find books by time period, setting & theme
Read-alike suggestions by book and author
Book club discussions
and much more!
Just $45 for 12 months or $15 for 3 months.