The Apple in Religion and Myth
This article relates to Truthtelling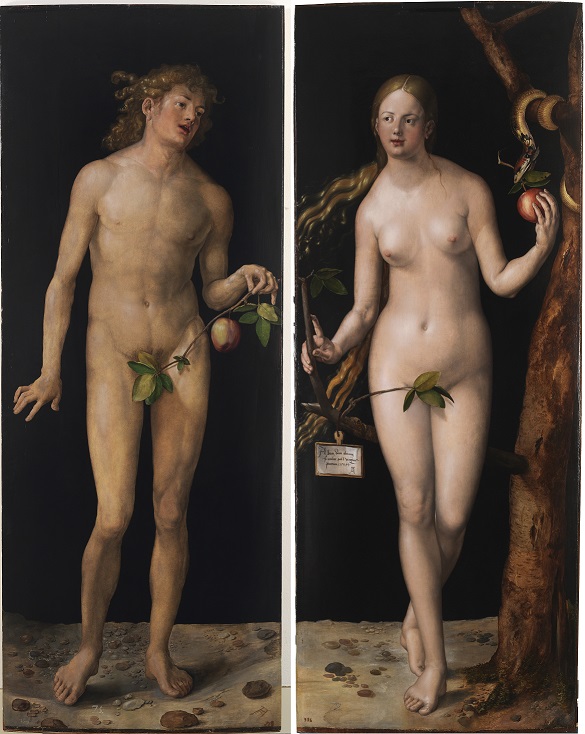 The unnamed mother in Lynne Sharon Schwartz's story "Apples" rejoices when her picky daughter delights in a new kind of apple that makes her "elated and energetic and enthusiastic." The mother is so impressed she mentions to the pediatrician that the apple might be magical.

This character is certainly not the first to attribute supernatural properties to an apple. Though there are thousands of types of fruit in the world, apples are by far the most featured in myth and folklore. They've been thought to do everything from blessing a New Year to bringing about the fall of man.

Of course, the most infamous apple is the one Eve eats in the Bible's book of Genesis. While the forbidden fruit may or may not have actually been an apple, the association is unshakably strong in literature and art. A pair of oil paintings by Albrecht Dürer completed in 1507 depict Adam and Eve with an apple, the round fruit mirroring the curves of Eve's body. The apple also appears in renderings of the Holy Family, imagery that was meant to symbolize the forgiveness of original sin. Rubens depicted this in his c. 1632 painting "The Holy Painting Under an Apple Tree," which features the baby Jesus receiving an apple branch.

Similar stories occur in other belief systems. In the Rigveda, a Hindu religious text that predates the Old Testament, there is a story about two birds, one of which is eating an apple. This bird represents humankind, while the bird that is not eating represents the divine. Apples appear in a few Greek myths, symbolizing chaos in a story about the discord goddess Eris. Pouting because she wasn't invited to a wedding, she exacts her revenge by throwing a golden apple into the wedding party and delighting as three goddesses fight over it. In some versions of the myth, this incited the Trojan War.

In the Greek myth of Hercules' labors, Hercules is tasked with fetching three immortality-granting golden apples from the Garden of the Hesperides. He succeeds, only to have Athena swiftly take them from him. In Norse mythology, apples also bestow immortality to those who eat them. The goddess Iðunn has possession of them and she is tricked away by Loki, who doesn't realize that the power of eternal life lies in the fruit, not with the goddess.

But apples can be very good things too. During Rosh Hashanah, Jews enjoy them with honey for a sweet New Year. They're also used in myriad ways by Wiccans. Cutting one in half widthwise reveals a pentacle, making it a sacred symbol of a bond with the Goddess. Other rituals call for apples to help in matters of love, fertility and psychic enhancement. One such love spell requires the user to roll an apple core in love-drawing herbs (such as cinnamon or jasmine) and leave it at the closest crossroads.

The omnipresence of apples in these stories is connected to the history of the word; in Old English, Dutch and French, "apple" originally referred to any fruit. As cultures evolved around Europe, other languages incorporated "apple" for other fruits as well. For example, the Norwegian word for an orange is "appelsin." The French refer to tomatoes as "pommes d'amour" ("apples of love") (some say this is because of a belief that tomatoes have aphrodisiacal properties, others note that the word may have come from the Italian "pomodoro"). This even extends to vegetables, as the French call potatoes "pommes de terre" ("apples of the ground"). Perhaps the evolution of language is responsible for the prevalence of magic apples.

Of course, it's also entirely possible that they really do have magical powers; I hear they're pretty good at keeping doctors away.
Adam and Eve by Albrecht Dürer, 1507
Filed under Cultural Curiosities
This "beyond the book article" relates to Truthtelling. It originally ran in November 2020 and has been updated for the November 2021 paperback edition. Go to magazine.
This review is available to non-members for a limited time. For full access become a member today.
Membership Advantages
Reviews
"Beyond the Book" articles
Free books to read and review (US only)
Find books by time period, setting & theme
Read-alike suggestions by book and author
Book club discussions
and much more!
Just $45 for 12 months or $15 for 3 months.