Social Class and the Iranian Revolution
This article relates to Aria
Nazanine Hozar's debut novel Aria opens in 1953 Iran and concludes nearly three decades later in 1981, two years after the Iranian Revolution and the establishment of the Islamic Republic. Her narrative weaves together threads from across mid-20th century Iran's complex and diverse social, economic and religious groups. Class stratification during this time is central to the events of the novel and serves as the backdrop against which they unfold.

The revolution was rooted in Islamist ideology and figureheaded by cleric Ayatollah Ruhollah Khomeini. Khomeini's revolutionary movement made three promises to the citizens of Iran: independence from the authoritarian state of Shah Mohammad Reza Pahlavi, freedom and democracy, and social justice. These promises were responses to the stark social and economic divisions that permeated pre-revolutionary Iran.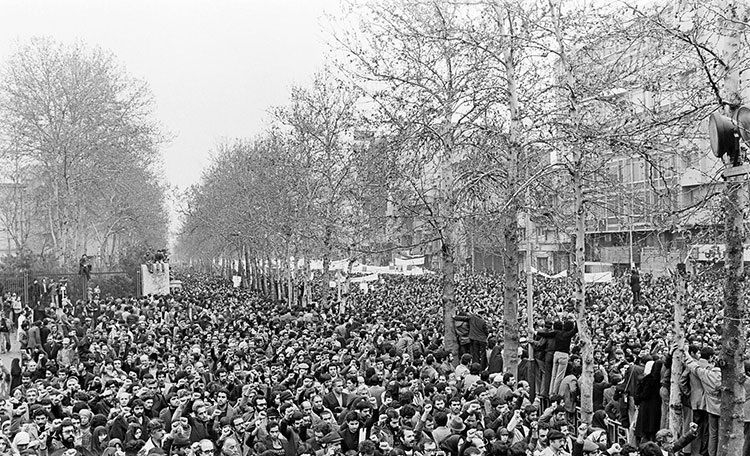 Disparity in incomes, elite favoritism, and Western cultural and political influences all played into the growing discontent that fueled backing for the revolution. Wealth was concentrated among Iran's capitalist classes, which consisted of a bourgeoisie and an exclusive elite class loyal to the Shah. This elite class and the Shah's monarchy also held a tight grip on power. Maintenance of this power relied heavily on violent political repression by SAVAK, the regime's secret police force, which was supported and trained by Israel and the US.

Throughout the 1950s and '60s, the monarchy took a capitalist modernization approach that favored the elite and exacerbated divisions between the mostazafin (or the "downtrodden," the economically and socially disenfranchised population under the Shah's rule) and the wealthy. Central to this approach were land reform policies beginning in the 1960s that aimed to commodify agricultural production and made rural producers reliant on the cash economy.

The monarchy's policies not only had adverse impacts on people in rural areas, but also posed a threat to bazaaris – merchants, moneylenders, tailors, artisans and other vendors – in towns and cities. The country's movement toward economic modernization sought to develop and grow enterprises that competed with small-scale vendors, which inspired militant opposition to the Shah among the bazaaris.

Discontent from across social classes found a natural home in the ideology of Shi'a Islamic clergy, who themselves felt threatened by the Shah's policies. Clergy members held close ties with mostazafin in rural areas and bazaaris, and were also negatively impacted by the monarchy's land reforms, which disrupted the rents they collected from charitable land endowments and posed a threat to their economic stability. Islamist forces loyal to Khomeini mobilized the mostazafin using Shi'a ideology with a focus on revolutionary struggle. This mobilization resulted in the cohesion of a social base for Islamist political power, which led to the eventual success of Khomeini and his backers in toppling the Shah's regime.

This catalyzation of discontent into revolution was underpinned by a Marxist-Islamist framing. In its populist approach, the revolution focused on providing basic utilities and infrastructure. Since the revolution, Iran has experienced a reduction in poverty and increases in Human Development Indicators such as literacy, but economic precarity, state violence and inequality continue to plague the country.
Protestors during the anti-Shah Ashura demonstrations in Tehran on December 11, 1978
Filed under People, Eras & Events
This "beyond the book article" relates to Aria. It originally ran in September 2020 and has been updated for the June 2021 paperback edition. Go to magazine.
This review is available to non-members for a limited time. For full access become a member today.
Membership Advantages
Reviews
"Beyond the Book" articles
Free books to read and review (US only)
Find books by time period, setting & theme
Read-alike suggestions by book and author
Book club discussions
and much more!
Just $45 for 12 months or $15 for 3 months.