Mathinna and the British Treatment of Aboriginal Australians
This article relates to The Exiles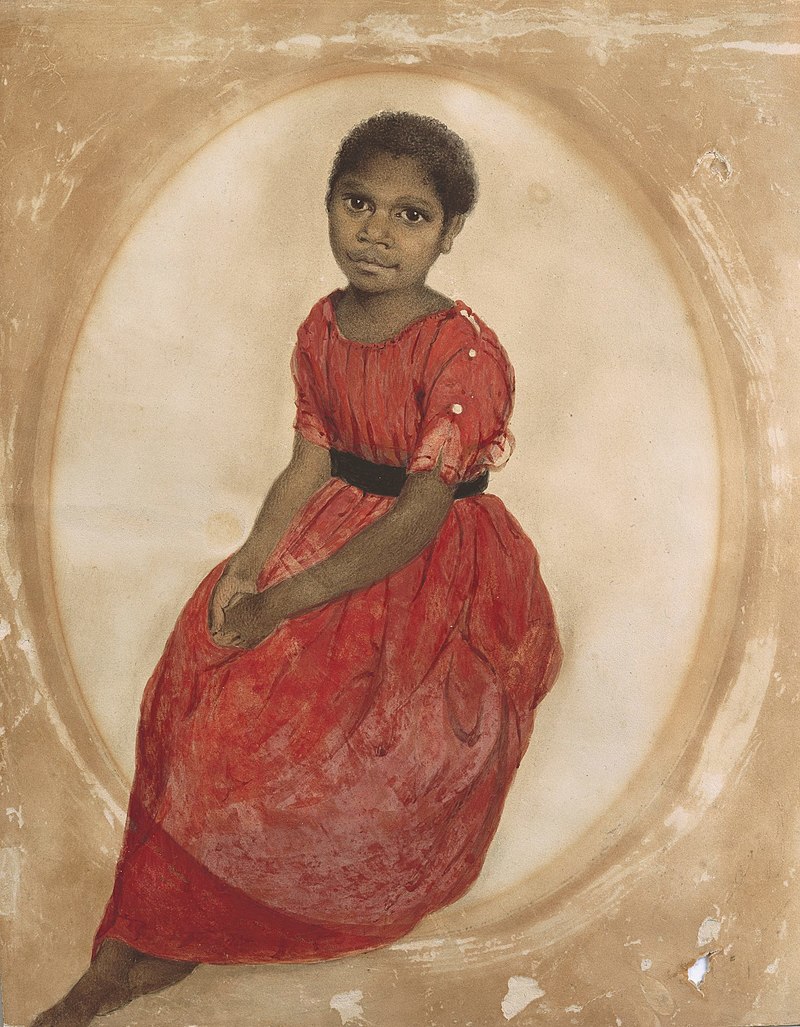 In The Exiles, Christina Baker Kline tells the stories of three women caught up in the British colonization of Australia and the nearby islands (which today form the Commonwealth of Australia). One of these stories is that of a young Aboriginal girl named Mathinna. Although Kline has embellished on what is known about Mathinna's life to some degree, she was a real girl taken from her family to live with the governor of Tasmania John Franklin and his wife in the 1840s in the hopes that she could be "civilized." Tasmania is an island 150 miles south of mainland Australia about the size of West Virginia. It was called Van Diemen's Land at the time, after the governor-general of the Dutch East Indies Anthony van Diemen. Mathinna's forced adoption is just a fragment of the larger tragic picture of violence and abuse inflicted on the Aborigines by the British settlers.

Britain had begun colonizing Australia in 1788 with the establishment of the first penal colony on the continent, and the following decades saw numerous ships bringing both prisoners and settlers. Large swaths of tribal land were given to settlers, leading to displacement and the loss of traditional hunting grounds for the Aborigines, who also found themselves running short of food as native game including kangaroos and seals were over-hunted by settlers. By 1824, the situation had reached a boiling point, and the tribes began to retaliate by killing settlers. Four years later, the British declared martial law, and roving bands of settlers set out to capture the Aborigines, although more were killed than captured. Into this conflict stepped George Augustus Robinson, a British immigrant to Australia who became known for his philanthropic work. Robinson was appointed conciliator between the Aborigines and the settlers, and in 1830 began several missions in an attempt to establish friendly contact with the native tribes. Although he was able to persuade some Aboriginal peoples to surrender, he was largely unsuccessful, and military forces were brought in to capture the remaining tribes.

Those who surrendered or were captured were sent to live on the much smaller Flinders Island, northeast of Van Diemen's Land. The settlement there was called Wybalenna, which translated to "Black Man's Island" in the language of the largest Aboriginal nation at the settlement. Aborigines held here were educated in British customs so that they could become "civilized" and forcibly converted to Christianity. Most of those kept on the island were adults, as many children were taken away from their families and sent to what were known as "Orphan Schools" on Van Diemen's Land. These schools were depressing places overflowing with children, many of whom would die from illness, mistreatment or malnourishment.

Originally known as Mary, Mathinna was given a more exotic name by the Franklins upon her arrival at their home in 1840. Her next few years are depicted in The Exiles, which narrates an imagined version of her time at the governor's house and her discomfort and confusion at being forced to conform to a foreign culture. Unfortunately, Mathinna's life after the time described in the novel was similarly painful. When the Franklins returned to England in 1843, Mathinna returned to the Orphan School, and later ended up on Flinders Island. In 1847, the Wybalenna settlement was closed, and its residents were moved to a former convict station in Oyster Cove, located near the southern tip of Van Diemen's Land. Mathinna was one of these residents.

Being forcibly assimilated at a young age, Mathinna had lost touch with her Aboriginal culture, and by the time she was returned to her people, she was seen as an outsider. Many of the people she knew before being taken from her home had since died. There are varied accounts of Mathinna's death, but the most likely version is that she left a pub one night in the early 1850s and passed out in a puddle and drowned. She would have been in her late teens at the time.

Perhaps because of the tragic nature of her tale, Mathinna's story has been kept alive as a reminder of the suffering of the Aboriginal people. In 1954, Australian ballerina Laurel Martyn produced a ballet based on Mathinna's life. In 2008, her story was taken up by the Bangarra Dance Theatre, an indigenous Australian contemporary dance company, who also produced a Mathinna-inspired ballet. That same year, famed Australian novelist Richard Flanagan wrote Wanting, which features Mathinna as one of the main characters.

Although each of the women in The Exiles finds herself enduring difficult circumstances, the knowledge that Mathinna is not a work of fiction makes her story even more tragic. Kline masterfully uses this character as a window into the darker side of Australia's past and the suffering endured by the native people displaced from their lives.
Matthinna painting by Thomas Bock, 1842
Filed under People, Eras & Events
This "beyond the book article" relates to The Exiles. It originally ran in October 2020 and has been updated for the July 2021 paperback edition. Go to magazine.
This review is available to non-members for a limited time. For full access become a member today.
Membership Advantages
Reviews
"Beyond the Book" articles
Free books to read and review (US only)
Find books by time period, setting & theme
Read-alike suggestions by book and author
Book club discussions
and much more!
Just $45 for 12 months or $15 for 3 months.