The 1992 "Pepsi Riots" in the Philippines
This article relates to The Son of Good Fortune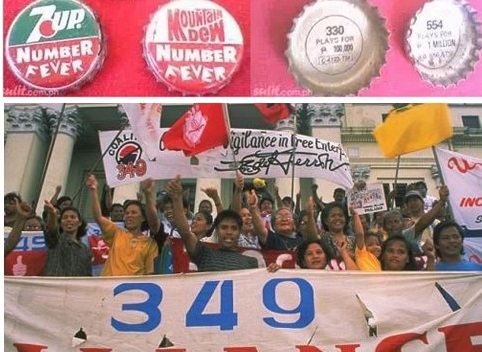 In The Son of Good Fortune by Lysley Tenorio, a friend of Maxima and Excel's named Roxy recalls the 1992 Pepsi Riots in the Philippines, saying, "Pepsi kills, believe me." When Excel comments that he has never heard of the riots, Roxy retorts, "Know your history." Excel, who was born on a plane between the Philippines and the U.S., believes that as someone who is neither fully Filipino nor American he has no need of either country's history. However, Roxy's reference to the riots, the violent result of Pepsi's mismanagement of its "Number Fever" contest, subtly calls attention to how the histories of the two countries are inextricably intertwined. It also leaves room for reflection on the consequences of American capitalism and commercialism around the world, as well as the level of responsibility corporations should take when their actions prove damaging.

The Pepsi Number Fever contest was a marketing ploy cooked up by PepsiCo in an attempt to surpass sales of Coca-Cola in the Philippines in the early 1990s. Caps on bottles of Pepsi were marked with numbers, and winning numbers corresponding to different levels of prizes were announced on television every night. Most prizes only consisted of a modest amount of cash, but it was possible to receive a number corresponding to a grand prize of one million pesos, or the equivalent of around $68,000 today. At the time, when many Filipinos were unemployed and living in poverty, such an amount was considered significant and potentially life-changing. This all set the stage for a devastating letdown when, due to a computer error, the grand prize winning number of 349 was printed on 800,000 bottle caps rather than just the two that were intended.

On May 25, 1992, when the number was announced as the one million pesos winner, thousands upon thousands of people believed they had won the prize (nearly 500,000 eventually tried to redeem winning bottle caps). If each winner had actually been awarded the amount owed, Pepsi would have been faced with the prospect of doling out billions of dollars. When company executives realized what had happened, they held an emergency meeting, where they decided to announce that there had been an error and to offer each cap holder the much smaller amount of $18-$20. This resulted in widespread anger and resentment, as many people felt that the company had unfairly raised their hopes only to back out of an agreement they had promised to honor.

In uprisings following the Number Fever incident, more than 30 Pepsi delivery trucks were attacked or vandalized. Explosives were thrown at corporate offices and several people were reported to have died in the chaos, including a schoolteacher and a young girl who were killed by a grenade. Not all of those protesting Pepsi's actions were violent, however, as some developed organized tactics such as marching, creating anti-Pepsi literature and calling for boycotts against the company. Though Pepsi generally avoided responding to the protests and complaints, they were forced to contend with lawsuits and criticism from the Filipino government; one senator, Gloria Macapagal Arroyo, described the company's actions as "negligent."

Pepsi Number Fever was predated by a long history of American involvement in the Philippines, including military occupation and election interference. As the campaign was launched by an American company in the country, the unrest that followed was tied up with anticolonial resentments already in place. A prominent protest leader, Vicente del Fierro Jr., said following the incident, "It's about Third World countries being exploited by multinationals."

While many of the suits filed against the company were soon thrown out, and Pepsi had begun to recover its sales numbers in the Philippines by 1994, the impact of the Number Fever error did not fade quickly. It wasn't until 2006 that the company was cleared of all criminal charges with regard to the mistake, and as Tenorio's novel makes clear, the specter of the riots still looms. Paciencia Salem, a participant in the protests, stated at the time, "Even if I die here, my ghost will come to fight Pepsi...It is their mistake. Not our mistake. And now they won't pay. That's why we are fighting."
Pepsi protests in the Philippines, courtesy of Digital Marketing Adelaide
Filed under Society and Politics
This "beyond the book article" relates to The Son of Good Fortune. It originally ran in August 2020 and has been updated for the April 2021 paperback edition. Go to magazine.
This review is available to non-members for a limited time. For full access become a member today.
Membership Advantages
Reviews
"Beyond the Book" articles
Free books to read and review (US only)
Find books by time period, setting & theme
Read-alike suggestions by book and author
Book club discussions
and much more!
Just $45 for 12 months or $15 for 3 months.