Royal Succession in the Ottoman Empire
This article relates to God's Shadow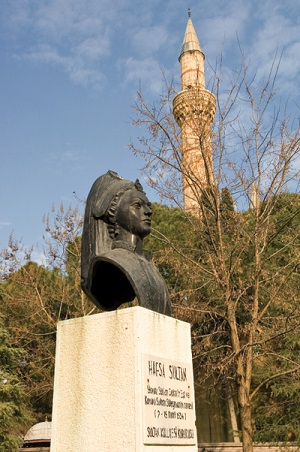 When we think about royal succession, we typically think of princes, and European history is rife with dramatic steps that monarchs took to ensure they had a male heir. But this devotion to primogeniture, or the succession of the oldest son, was not universal in the early modern world. So, while Henry VIII was upending his entire kingdom to produce a son, on the other side of Europe the Ottoman Empire had numerous male heirs in nearly every generation, thanks to its custom of concubinage.

With one notable exception, as we will see, Ottoman sultans did not marry; instead they had a harem, consisting of slave women who could become their concubines. Long fetishized in the West, the harem was actually "…by definition a sanctuary or sacred precinct. By implication, it is a space to which general access is forbidden or controlled and in which the presence of certain individuals or certain modes of behavior are forbidden," as Leslie Peirce explains in The Imperial Harem. A sultan's mother and sisters lived in the harem, and it wasn't the hypersexualized place of Orientalist lore.

This custom ensured a steady supply of sons. When a concubine gave birth to a boy, her sexual relations with the sultan ended, and her sole focus was preparing her son to take the throne, if he survived childhood. Until 1574, over 200 years into the empire's dynasty, sons of sultans battled each other to the death via their personal armies, and only the survivor became sultan. A potential heir's mother was his trusted protector and advisor from youth through his training period as a provincial governor. The mother's coalition building was also vital for a son to survive the bloody succession battle.

Another result of this custom was that women attained significant political power, albeit out of the public eye. As regents with the title "valide sultan," mothers of sultans were often leaders in their own right, with wealth and patronage at their disposal. The fact that concubines were slave women, captured during military conquests around Eastern Europe and Anatolia, makes their ascent to power even more remarkable.

For example, Hafsa Sultan, mother of Suleyman the Magnificent (1520-1566), was "beloved within the palace as well as outside of it," as Alan Mikhail relates in God's Shadow, and "…she became the first in a string of powerful mothers who governed alongside their sultan sons."

Then, Suleyman married his favorite concubine, Hurrem, which was a shocking break with tradition but represented a milestone for female political power in the Ottoman Empire. Hurrem not only lived essentially as an empress, but she worked to ensure the succession of one of her sons over Suleyman's oldest son by a concubine who had preceded her.

Well into the 17th century, powerful valide sultans continued to dominate Ottoman politics, including Safiye, Kösem and Turhan Sultan, all of whom were political leaders alongside their sons. They also sponsored the building of mosques and public works such as libraries and soup kitchens. They provided occasions for celebrations and public displays of pomp and power as they moved between their castles in Istanbul and surrounding cities, which sultans themselves increasingly avoided as time went on. And, as Peirce explains, their "patronage of scholars as well as calligraphers, artists, architects and other craftsmen had the function of enhancing the image of the court as a discriminating consumer and promoter of culture."

Eventually, the violent fratricidal struggle of Ottoman succession ended, and the position of the valide sultan changed too. In 1574, the murdering of multiple sons, some just toddlers, shocked the residents of Istanbul and led to the end of this practice. Concurrently, mothers of royal sons lost much of their political power.

Yet, the role of women in the empire's leadership framework remains one of its most important — and least understood — features. And, by not focusing solely on one nuclear family to produce the dynasty's heirs, the Ottomans had many more potential successors than a number of their royal European counterparts — there was a direct line from Osman I in the 14th century all the way to the end of the Ottoman dynasty in 1924.
Bust of Hafsa Sultan in Manisa, Turkey
Filed under People, Eras & Events
This "beyond the book article" relates to God's Shadow. It originally ran in August 2020 and has been updated for the August 2021 paperback edition. Go to magazine.
This review is available to non-members for a limited time. For full access become a member today.
Membership Advantages
Reviews
"Beyond the Book" articles
Free books to read and review (US only)
Find books by time period, setting & theme
Read-alike suggestions by book and author
Book club discussions
and much more!
Just $12 for 3 months or $39 for a year.