Norway's Halden Prison
This article relates to Waiting for an Echo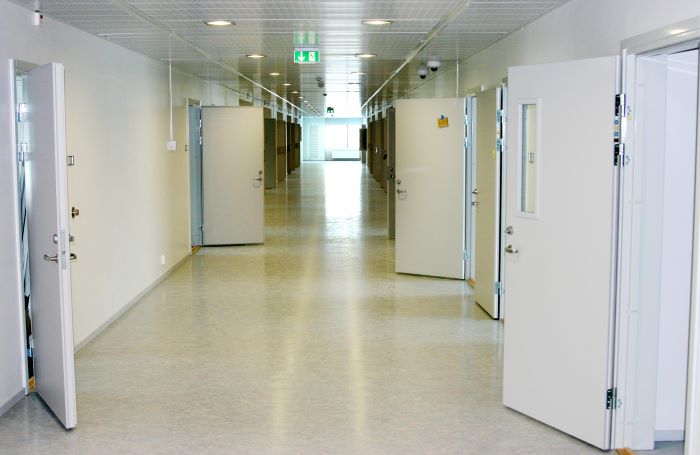 Since its opening in 2010, Halden Prison, located in Norway's Østfold region, has been held by many who believe in the necessity of prison reform to be a model institution due to its humane treatment of inmates and emphasis on rehabilitation. In Waiting for an Echo, Dr. Christine Montross visits Halden for a tour and contrasts the facility with the detention centers she has investigated in the United States.

Staff at Halden operate under a system referred to as "dynamic security," in which guards circulate around the prison interacting and developing relationships with inmates rather than surveilling from a fixed location. In Waiting for an Echo, Montross is shown a "seclusion room" by the prison's governor Are Høidal that contains a bed outfitted with restraints to be used "only if someone was cutting himself or seriously trying to take his life." He goes on to note that the room has never been used. In an interview with the BBC, Høidal states that they prefer the term "officer" over "guard," and that the officers see themselves as more than just authority figures: "[O]f course we make sure an inmate serves his sentence but we also help that person become a better person. We are role models, coaches and mentors." He goes on to say, "In Norway, all will be released — there are no life sentences... So we are releasing your neighbour. If we treat inmates like animals in prison, then we will release animals on to your street." With regard to the potential for conflict among the Halden population, one officer explains, "My first defence is my voice and our social connection with the inmates. We defuse situations before they happen."

The prison features carpentry workshops, a garage where inmates can learn to repair cars, a graphic design studio, and diploma or certificate-oriented educational programs. Inmates participate in yoga classes and even silent retreats that serve therapeutic purposes, instilling them with a sense of calm and providing coping skills for managing difficult emotions. There is ample drug addiction counseling, along with anger management classes and other mental health resources. When questioned about the level of comfort in the prison, Høidal clarifies:
In Norway, the punishment is just to take away someone's liberty. The other rights stay. Prisoners can vote, they can have access to school, to health care; they have the same rights as any Norwegian citizen. Because inmates are human beings. They have done wrong, they must be punished, but they are still human beings.
Some critique the Norway prison system by suggesting it's too expensive; according to the Vera Institute of Justice, as of 2015, Halden spends more than $93,000 per year on each inmate while U.S. prisons spend an average of $31,000 per inmate. This criticism fails to take into account the sizes of the prison population in each country. Norway's incarceration rate was 73 per 100,000 in 2016, while in the U.S. the rate was approximately 655 per 100,000 at the end of the same year. The recidivism rate in Norway is one of the lowest in the world at about 20 percent, while U.S. recidivism is at around 70 percent. In Norway, people are incarcerated for shorter periods of time (as Høidal mentions, there are no life sentences), and the emphasis on rehabilitation, education and job training, among other factors, ensures that they are less likely to reoffend. With fewer people ending up right back in prison, less money is spent in the long run. According to the New York Times, if the USA dropped incarceration to Norway rates, we could spend the same amount per inmate as Norway and still save $45 billion per year.

Dr. Montross points out that, in addition to the emphasis on rehabilitation, the Norwegian model of incarceration differs from many other models in that the focus is on community. "The community is responsible for the inmate, even if he is in prison," Høidal explains, "The community cannot forget that person." Halden is a community in and of itself where the population is treated with respect and dignity, and provided with the tools necessary to succeed upon release.
Halden Prison interior. Source: Justis- og beredskapsdepartementet (CC BY 2.0)
Filed under Society and Politics
This "beyond the book article" relates to Waiting for an Echo. It originally ran in August 2020 and has been updated for the July 2021 paperback edition. Go to magazine.
This review is available to non-members for a limited time. For full access become a member today.
Membership Advantages
Reviews
"Beyond the Book" articles
Free books to read and review (US only)
Find books by time period, setting & theme
Read-alike suggestions by book and author
Book club discussions
and much more!
Just $45 for 12 months or $15 for 3 months.