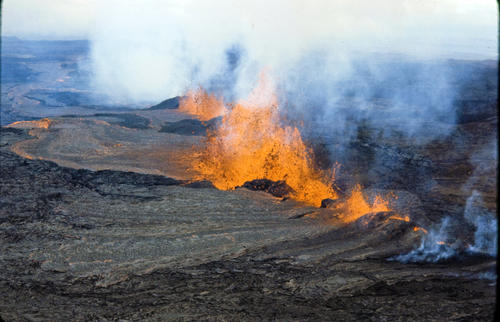 Mauna Loa comprises more than half the landmass of the Big Island, the largest in the chain of islands that make up the state of Hawaii. The world's largest active volcano, it stands at 13,678 feet above sea level but reaches an astonishing 30,000 feet from the seafloor. To put this into perspective, this makes Mauna Loa's total height greater than that of Mount Everest, and amounts to such a vast size that the ocean floor actually bends beneath its weight.

Mauna Loa is categorized as a "shield volcano," recognizable for their broad, gently sloping mounds as opposed to sharp peaks. This is caused by high-volume lava flows that travel long distances from the point of eruption, snaking across the earth and solidifying over time to form the landscape. This also makes Mauna Loa's summit accessible for hikers, though permits are required and only experienced mountaineers are encouraged to attempt the climb.

Geologically speaking, Mauna Loa is not a particularly old volcano. To have ...