The Democrats, Race and the 1994 Federal Crime Bill
This article relates to How to Be an Antiracist
In How to Be an Antiracist, Ibram X. Kendi recalls his adolescence during the 1990s, frequently referencing comments made and policies enacted by President Bill Clinton. Author Toni Morrison famously called Clinton the "first Black president," a fairly controversial comment that was nevertheless frequently repeated by Clinton supporters who interpreted it as a straightforward compliment. Morrison was referring to the president's background growing up in poverty as the child of a single mother and the way he was vilified for engaging in sexual misconduct while in office, but many embraced the notion that he was a friend and ally to Black Americans.

Yet, as Kendi points out, Clinton often failed the Black community and did so in a manner that deeply tarnished the Democratic Party, the effects of which are still visible today. Perhaps the most obvious example of this is the Violent Crime Control and Law Enforcement Act of 1994, written by then Delaware senator Joe Biden and signed into law by Clinton. It was the most expansive crime bill in U.S. history, increasing the number of offenses that could be punishable by the death penalty, escalating sentences for drug offenses and granting $14 billion in additional funding to police departments across the country. Another $12.5 billion was allocated for the construction of new prisons with the stipulation that states pass "truth-in-sentencing" laws to receive the funding. These laws required inmates to serve at least 85 percent of their sentences before being considered for release.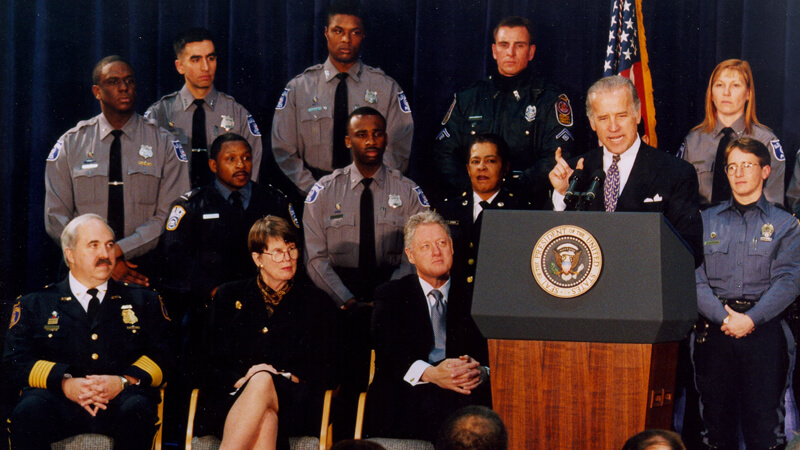 Many view the 1994 federal crime bill as a piece of political gamesmanship designed to demonstrate that the Democrats were as tough on crime as their Republican peers. The party's 1996 platform heavily touted the passage of the bill and its "tough punishment" for offenders, phrasing that remained in the platform for years to come. When Biden ran for the 2008 presidency, he referred to the bill as his "greatest accomplishment." Needless to say, since Black people are more likely to be targeted by law enforcement and to be incarcerated as well as given harsher sentences than their white counterparts, this bill and the party's tough-on-crime stance have rightfully given many Black voters (and progressives in general) pause with regard to voting for a Democrat.

In 2016, while campaigning for his wife Hillary Clinton during her run for president, Bill Clinton was confronted by Black Lives Matter protesters bearing signs that read, for example, "Clinton Crime Bill destroyed our communities." He defended the bill, claiming it was responsible for a reduction in violent crime. This occurred about two months after Hillary herself was challenged by protesters over her use of the term "superpredators" in a 1996 speech in support of her husband's second term, another example of the Democrats' tough-on-crime posturing. "We need to take these people on," Clinton declared in the speech, "...they are not just gangs of kids anymore. They are often the kinds of kids that are called superpredators. No conscience. No empathy. We can talk about why they ended up that way but first we have to bring them to heel." This term, also mentioned in How to Be an Antiracist, was coined in 1995 by criminologist John DiIulio, who, along with many of his peers, predicted a major increase in youth-perpetrated crime in the coming years. The threat never materialized (youth crime rates declined over the following years) and DiIulio later expressed regret over the claim. Clinton's comments, meanwhile, almost certainly did considerable harm to her 2016 campaign.

Joe Biden's 2020 presidential campaign drew heat from activists for his association with the 1994 bill, but he ran on a criminal justice plan that would roll back some of the provisions that remain in effect. According to an Associated Press poll, nine out of 10 Black respondents voted for him. The AP points out that this is about on par with how Hillary Clinton fared in 2016, but greater numbers of Black voters, particularly in cities like Detroit, Philadelphia and Milwaukee, turned out to vote in 2020. Biden also won the state of Georgia, the first time a Democratic presidential candidate has done so since 1992 (when Bill Clinton won the state). Biden's success in Georgia is partly attributed to the work of voting rights activist Stacey Abrams.
Joe Biden speaking at the signing of the 1994 Violent Crime Control and Law Enforcement Act
Front center left: Attorney General Janet Reno
Front center: President Bill Clinton
Left and back: Law enforcement officials
Filed under People, Eras & Events
This "beyond the book article" relates to How to Be an Antiracist. It originally ran in June 2020 and has been updated for the January 2023 paperback edition. Go to magazine.
This review is available to non-members for a limited time. For full access become a member today.
Membership Advantages
Reviews
"Beyond the Book" articles
Free books to read and review (US only)
Find books by time period, setting & theme
Read-alike suggestions by book and author
Book club discussions
and much more!
Just $45 for 12 months or $15 for 3 months.