Purim
This article relates to The Book of V.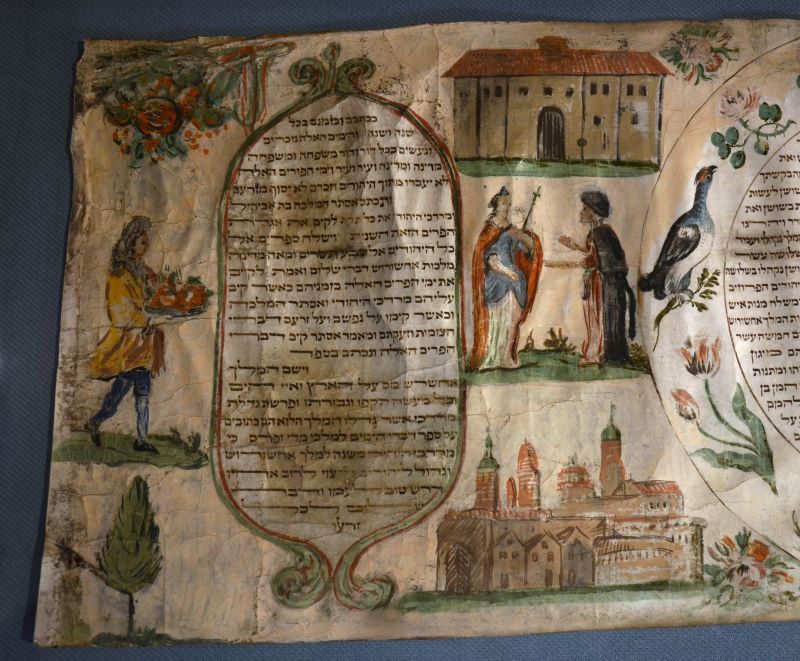 In The Book of V., Lily is a wife and mother living in modern-day Brooklyn and struggling to find her purpose in life. As she works to manage her relational roles, she is also working to understand her Jewish heritage and particularly the story of Esther, a young Jewish woman in ancient Persia who became queen and used her influence to save her people from being killed. Although Lily finds fault in the overt patriarchy of the story, her two daughters see the young woman as a heroine and demand to hear about her repeatedly as the festival of Purim approaches. Purim, which celebrates Esther's actions, is one of the most important Jewish holidays and includes a number of long-held traditions.

Also known as the festival of lots, Purim is a Jewish celebration dating back to the 5th century BCE. The holiday commemorates Esther's saving of the Jews from Haman, the royal vizier who demanded they all be killed in retaliation for one Jewish man's refusal to bow before him. The name "Purim" comes from the lots cast by Haman to determine the date on which to exterminate the Jewish people; the lots revealed his plan should be carried out on the 13th day of the Hebrew month of Adar, which roughly corresponds to the month of March in the Gregorian calendar. However, Esther's intervention saved the Jewish people, and on the following day—the 14th day of Adar—they celebrated.

Modern celebrations of Purim continue to be held on this same day, and the holiday is seen as a time of joy and happiness as well as a celebration of being Jewish. There is a period of fasting before the festival begins—an acknowledgement of Esther's days of fasting and prayer (along with the rest of the Jewish population) leading up to her attempts to thwart Haman—but Purim itself is filled with food and drink as well as several mandatory observances. These mitzvot, or obligations, include readings of the Megillah (or "scroll") containing the story of Esther, gifts of cash to at least two people in need, gifts of two "portions" of food to someone in the community and a Purim feast.

The Megillah is read once the evening before Purim officially begins and again the following day. Purim celebrations may also incorporate a Purim Play, or Spiel. These productions involve an acting out of the events in Esther's story and today often include songs, comedy, costumes and modern cultural references or may even be themed after popular books and movies. Regardless of whether the story of Esther is read or performed, it's customary for audience members to react negatively to Haman's name, which is mentioned a total of 54 times. The audience yells, boos, stomps their feet and uses ratchet noisemakers known as graggers to drown out the name. This is done according to a command to blot out the memory of Amalek, of whom Haman was a descendant. It's also customary for children to wear costumes to attend the Purim Spiel. These costumes typically feature the main characters of the story, including Esther, her cousin Mordecai, King Ahasuerus, the former queen Vashti and Haman.

Other customs include traditional gifts such as Purim baskets, which are used to give food to neighbors, and traditional foods such as hamantaschen. Hamantaschen, which can be translated as "Haman's ears," are three-cornered pastries that may be modeled after the tri-cornered hat Haman is said to have worn. They are traditionally filled with poppy seeds, although now often made with a variety of different sweet or savory fillings hidden within the dough. The hidden nature of the filling is sometimes said to represent the hidden nature of the miracles in Esther's story that led to the Jews' deliverance.

Although the historical basis of Esther's story has been questioned, the Jewish people hold up the young woman's actions as a feat of bravery and commemorate their salvation from Haman's plot with feasting and raucous celebration on Purim. The Book of V. features a modern-day celebration of Purim that shows not only how Jews today continue to uphold their traditions but how those traditions bring them together as a culture.
Book of Esther scroll, or Megillah, from the 18th century in Joods Historisch Museum in Amsterdam
Filed under Places, Cultures & Identities
This "beyond the book article" relates to The Book of V.. It originally ran in June 2020 and has been updated for the June 2021 paperback edition. Go to magazine.
This review is available to non-members for a limited time. For full access become a member today.
Membership Advantages
Reviews
"Beyond the Book" articles
Free books to read and review (US only)
Find books by time period, setting & theme
Read-alike suggestions by book and author
Book club discussions
and much more!
Just $12 for 3 months or $39 for a year.