Are Chickens Smart?
This article relates to Barn 8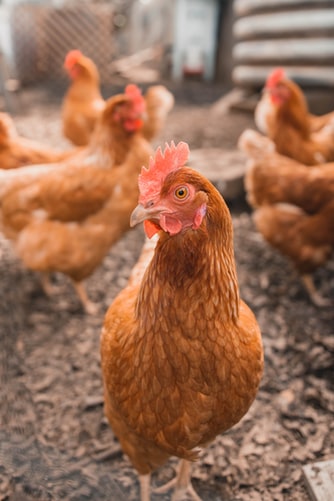 Barn 8 recounts the formulation and execution of a plan to rescue (or, depending on your viewpoint, steal) nearly one million hens from an egg farm. Interspersed with the plot are ruminations on the lives, personalities, evolution and intelligence of these animals that the author obviously regards highly. So, how smart are chickens?

A surprising number of studies have been conducted on this subject. According to an experiment done by researchers at the University of Padova in Italy, young chicks can understand numerical values well enough to conduct a semblance of basic arithmetic. Perhaps you've heard of the Stanford Marshmallow Experiment, in which children were given the option to have one marshmallow immediately or delay gratification and have two just a few minutes later? A similar test was conducted with chickens in which they could choose between being given a small amount of feed or receiving more food after waiting a matter of seconds. The birds quickly got the hang of things and chose the delayed option for the greater reward.

Chickens also have emotional intelligence. The University of Bristol in the U.K. managed to determine this by separating a mother hen from her chicks and then blowing a puff of air at each animal while they were in close proximity to one another. The hens were slightly bothered by feeling the puff of air themselves, but exhibited considerably more distress when they could see their offspring being startled by the sudden stimuli, even when the chicks did not make a sound. It's not entirely clear if this was a standard protective mother response as one sees with most animals or if the hens were actually feeling empathy, but other researchers are more definitive on the subject of chicken intelligence. Neuroscientist and animal expert Dr. Lori Marino has conducted numerous studies on chickens and declares in her article "Thinking chickens: a review of cognition, emotion, and behavior in the domestic chicken": "My overall conclusion is that chickens are just as cognitively, emotionally and socially complex as most other birds and mammals in many areas." Dr. Marino goes on to note that chickens feel "complex negative and positive emotions" and even have "Machiavellian-like social interactions."

Mother hens have also been observed distinguishing palatable from unpalatable food based on color alone and warning their chicks away from the less desirable option. Chickens have complex social hierarchies and understand whom they should and should not challenge in the pecking order. They have at least 24 different vocalizations for different purposes, from mating to calling their chicks to warning others about nearby predators.

In an interview with Mental Floss, Dr. Marino expressed the opinion that people prefer to think of animals like chickens as unintelligent because this makes eating them less morally complicated. "Chickens have a mind. They have a life," she says, "They're not just these dumb, inert objects scratching in the dust. It is like something to be a chicken." Barn 8 author Deb Olin Unferth provides a very similar assessment of the animals' intelligence, and while the novel is not a polemic, it was clearly written from a place of urgent concern about the welfare of chickens on factory farms.
Filed under Nature and the Environment
This article relates to Barn 8. It first ran in the April 22, 2020 issue of BookBrowse Recommends.
This review is available to non-members for a limited time. For full access become a member today.
Membership Advantages
Reviews
"Beyond the Book" articles
Free books to read and review (US only)
Find books by time period, setting & theme
Read-alike suggestions by book and author
Book club discussions
and much more!
Just $45 for 12 months or $15 for 3 months.