Aneurysms
This article relates to Afterlife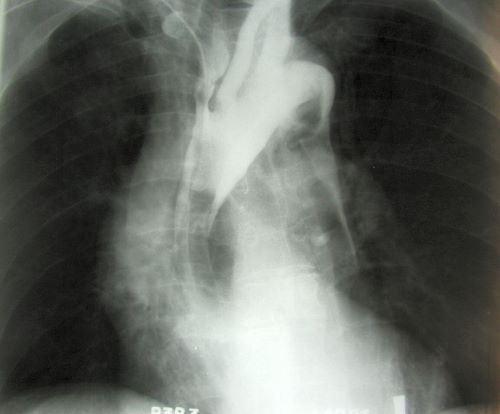 In Julia Alvarez's novel Afterlife, Antonia's husband Sam dies suddenly of an aneurysm. An aneurysm is an enlargement or bulge in an artery from a weakening of the arterial wall that can cause internal bleeding if it ruptures. Most aneurysms don't rupture, and most people who have them don't experience any symptoms at all. However, when an aneurysm does burst, the effects tend to be sudden and severe, often causing complications (such as heart attack or stroke) that result in death.

Some people may associate the word "aneurysm" only with cerebral aneurysms, and it's true that many aneurysms occur in the blood vessels of the brain, but they can occur in any area of the body. Many aneurysms form in the aorta, the main artery and largest blood vessel, commonly in the abdominal region and less commonly but still significantly in the thoracic (chest) region. According to the CDC, 30,000 people in the U.S. experience ruptured brain aneurysms every year, with around 40 percent of these cases resulting in death within a day, while aortic aneurysms, which are overall more deadly, play a role in 25,000 deaths per year.

Brain aneurysms can be caused by genetic factors, such as a predisposition for weak blood vessels. They occur most commonly in people between the ages of 35 and 60, with those over 40 showing a much higher risk. Women are at higher risk than men, as are people who smoke or who drink excessively. Some genetic conditions can also increase risk, such as fibromuscular dysplasia, neurofibromatosis and Ehlers-Danlos syndrome. Other conditions that can be contributing factors include cancers of the head and neck, polycystic kidney disease and high blood pressure. Signs of an unruptured cerebral aneurysm might include pressure behind one eye or a drooping eyelid, or numbness on one side of the body. The primary symptom of a ruptured cerebral aneurysm is a sudden severe headache.

The likelihood of aortic aneurysms increases with some of the same risk factors as cerebral aneurysms, such as high blood pressure, smoking and various genetic predispositions. Smoking is considered the main risk factor for aortic aneurysms. Unlike with cerebral aneurysms, men are more likely to experience aortic aneurysms than women, and aortic aneurysms usually occur in people over the age of 65. An unruptured aortic aneurysm may cause persistent pain in the back or abdominal region, or a pulse in these areas. Symptoms of an aortic aneurysm rupture include sudden and severe back or abdominal pain, an elevated heart rate and low blood pressure symptoms such as lightheadedness.

Diagnosis, treatment and preventative care for aneurysms varies based on many factors, including the location of the aneurysm (or suspected aneurysm), the size and whether or not it has ruptured. CT scans and cerebrospinal fluid tests can be used to detect evidence of a cerebral aneurysm rupture. MRIs can provide more detailed information about arteries for the purpose of diagnosing various types of aneurysms. Surgery may be performed to remove some unruptured aneurysms, but generally only if they are life-threatening. The chances of surviving any kind of ruptured aneurysm without surgery is low, and how quickly a patient who has experienced a rupture arrives at a hospital tends to be a crucial factor in survival. For example, people with ruptured abdominal aortic aneurysms have an overall survival rate of only 20 percent, but those who arrive at a hospital alive have a 50 percent chance of surviving.

Because most aneurysms don't rupture, it's difficult to know how common they are, but it's possible that as many as five percent of people may develop an aneurysm at some point in their lives.
Filed under Medicine, Science and Tech
This "beyond the book article" relates to Afterlife. It originally ran in April 2020 and has been updated for the April 2021 paperback edition. Go to magazine.
This review is available to non-members for a limited time. For full access become a member today.
Membership Advantages
Reviews
"Beyond the Book" articles
Free books to read and review (US only)
Find books by time period, setting & theme
Read-alike suggestions by book and author
Book club discussions
and much more!
Just $45 for 12 months or $15 for 3 months.