The Weird and Wonderful History of Weird Tales Magazine
This article relates to The Lost Book of Adana Moreau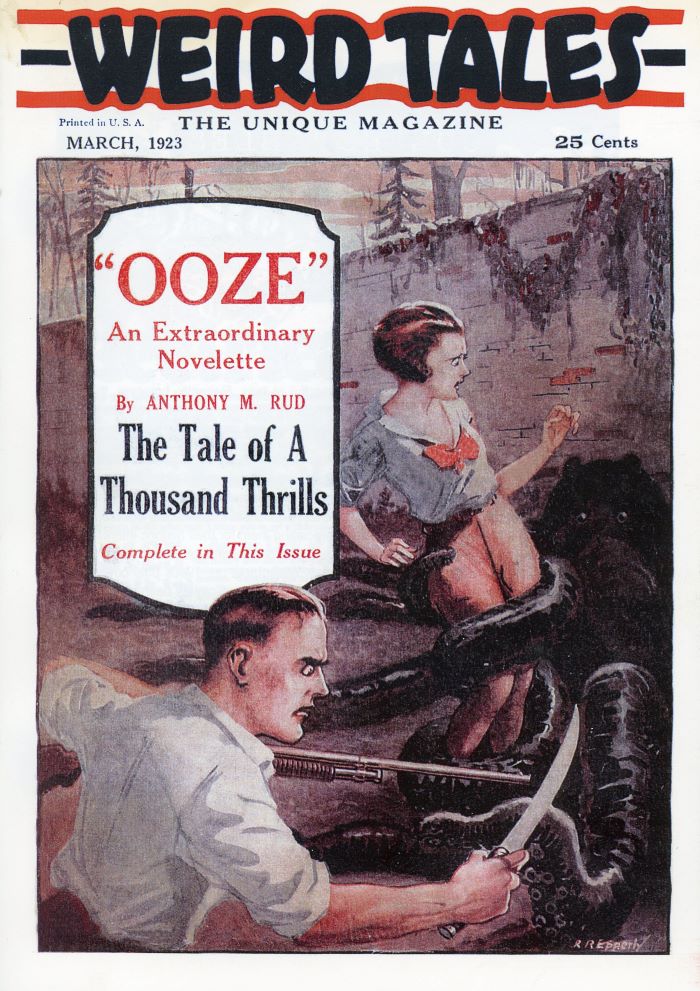 In Michael Zapata's The Lost Book of Adana Moreau, Adana Moreau's sci-fi novel Lost City is serialized in Weird Tales. This fantasy, horror and science fiction pulp magazine was a real-life publication that was founded in 1923 by J.C. Henneberger and J.M. Lansinger and that remained in print until 1954.

Over its lifetime, Weird Tales played an important role in helping launch and foster the careers of many seminal American sci-fi and horror writers, including H. P. Lovecraft, Ray Bradbury, Robert Howard, Clark Ashton Smith, C. L. Moore, Edmond Hamilton, Robert Bloch and countless others.

It was Henneberger who identified a gap in the American short story market. Plenty of quality writers, he realized, were not being published by many of the magazines of the early 1920s. Henneberger had a hunch that there was an audience hankering for more tales that embraced the weird and macabre. To help set the tone for the new magazine, he began by reprinting classic tales such as Edgar Allan Poe's "The Murders in the Rue Morgue," and even featured monthly installments of Mary Shelley's much-loved Frankenstein.

With the groundwork set, Henneberger recognized Weird Tales would need more than a few popular classics to gain readers' attention; it needed star power. He reached out to none other than world-famous escapologist Harry Houdini in the hope he would contribute something to the magazine. Houdini was interested, and provided material inspired by his own supposed adventures with Egyptology, magic and the supernatural, but the writing fell to a young H.P. Lovecraft, who had greatly impressed Henneberger with a recent submission, the macabre Poe-esque "The Rats in the Walls," which the publisher described as the best story Weird Tales had received. "Imprisoned with the Pharaohs," also known as "Under the Pyramids," a story credited to Houdini but ghostwritten by Lovecraft, was published in 1924.

Lovecraft also published work under his own name in the magazine, and has become almost synonymous with Weird Tales. While his earlier works for the publication are very much in debt to the writers he loved in his youth—such as Poe, Arthur Machen and Robert W. Chambers—Lovecraft soon developed a style that went on to encapsulate the very genre called "weird," and published many of his major works within the pages of Weird Tales, including "The Call of Cthulhu" in 1928. His so-called Cthulhu Mythos stories favor the cosmic horror of the unknown over the elements of gore and shock that were in vogue at the time. Throughout his stories, Lovecraft seeds clues to a pantheon of gigantic and monstrous misanthropic cosmic entities who populate the universe. These old gods are worshiped by esoteric cultists, and Lovecraft's protagonists are often driven to insanity trying to unravel the mysteries of the unknowable cosmos.

Another significant writer associated with the magazine is Robert E. Howard. Soon after Weird Tales was taken over by Farnsworth Wright and Popular Fiction Publishing in 1924, it began accommodating stories that fell into a larger spectrum of the fantastical, including the sword-and-sorcery category. One of the pioneers of this genre was Howard, who published his first story in Weird Tales in 1925. Howard went on to create his beloved Conan the Barbarian series for the magazine, which follows the titular Conan, a mercenary, who fights his way across fabled lands populated by evil wizards and monsters. The Conan series was published regularly between 1932 and 1936.

Several factors contributed to Weird Tales' demise. In the mid-to-late 1930s, the deaths of both Lovecraft and Howard resulted in a loss of quality story contributions. By the 1940s, there was a greater range of sci-fi and fantasy titles in circulation and competing for readers' attention, and following WWII, the entire pulp industry was in decline. To maintain a profit, Weird Tales eventually increased its cover price while reducing its page count. By the 1950s, the magazine had moved under another publishing company that went bankrupt and ultimately put an end to the once popular publication. Issue 279 was published in September of 1954 and would prove to be the swan song of the original Weird Tales. While several attempts have been made to relaunch, the magazine has never returned to its weird and wonderful heyday that spanned the '20s and '30s.
Cover of the first issue of Weird Tales magazine, featuring Ooze by Anthony M. Rud
Filed under Cultural Curiosities
This "beyond the book article" relates to The Lost Book of Adana Moreau. It originally ran in April 2020 and has been updated for the July 2021 paperback edition. Go to magazine.
This review is available to non-members for a limited time. For full access become a member today.
Membership Advantages
Reviews
"Beyond the Book" articles
Free books to read and review (US only)
Find books by time period, setting & theme
Read-alike suggestions by book and author
Book club discussions
and much more!
Just $45 for 12 months or $15 for 3 months.