Tigers in Chinese History and Culture
This article relates to How Much of These Hills Is Gold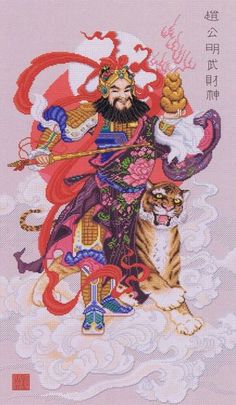 In C Pam Zhang's How Much of These Hills Is Gold, signs of and references to tigers consistently appear around its characters, although they are presumed to be in the American West where (at least in the real world) native tigers don't exist. For example, Lucy, the main character, mentions that her mother draws a tiger in the doorway of every new home when they arrive. Late in the book, there are rumors about a tiger roaming around the frontier town where Lucy lives. Paw prints that seem like they could belong to tigers randomly appear. While Zhang's novel never explicitly states that Lucy and her family are of Chinese ancestry, this is heavily implied through linguistic and cultural elements of which the tiger references are a part.

Historically, tigers have great significance in Chinese culture and the cultures of many other nations in Asia. The tiger has played a major role in symbolism, mythology, beliefs and medicine throughout the Asian continent for millennia. Considering the large cat's status as a powerful predator and its unique and stunning appearance, it isn't surprising that people there have long worshiped, feared and prized it. While tigers are endangered today, as many as nine different species could once be found across Asia, and an ancient skull resembling that of a tiger unearthed in China suggests the possibility that the animals have existed there for over two million years. Chinese rock art and statues featuring tigers have been discovered that date back to the Chinese Neolithic period, evidence that the tiger played a role in human societies, and specifically in Chinese culture, as early as 5000 BC.

Symbolism surrounding the tiger in Chinese societies is extensive and varies by region, but the animal tends to be associated with power, protection and material wealth. The Chinese God of Wealth, Tsai Shen Yeh, has often been depicted in art with a tiger. Tigers are one of the 12 animals of the Chinese zodiac; those born in the Year of the Tiger are thought to be brave, confident and trustworthy, but also potentially controlling and quick to argue. Tigers are also associated with yang, one of two cosmic energies—yin and yang—thought to be needed for balance in the universe. Yang energy, and the tiger along with it, is aligned with masculinity, the sun, fire and the season of summer. The Chinese character 王 (wang), which means "king," resembles the markings on a tiger's forehead.

Chinese medicine has long valued the blood, flesh, organs and especially the bones of the tiger, which are believed to have therapeutic and healing properties, with the earliest mention of tiger bone medicine appearing in 500 AD. Different tiger parts are still prescribed for different uses. For example, the tail is believed to cure skin diseases, the feet are used to get rid of evil spirits and tiger penis is considered an aphrodisiac. While tigers have been put in danger of extinction partially due to the demand for tiger products in Traditional Chinese Medicine (TCM), it isn't simply TCM that is responsible for their reduced numbers, but also poachers who seek to profit from the demand for the medicine.

In addition to the other numerous roles tigers play in Chinese cultural beliefs and practices, the animals are thought to be protectors, particularly of children. In How Much of These Hills Is Gold, the main characters are shown at a range of ages, but they are 11 and 12 years old when the book begins.
Chinese god of wealth Tsai Shen Yeh, courtesy of Arts and Designs
Filed under Places, Cultures & Identities
This "beyond the book article" relates to How Much of These Hills Is Gold. It originally ran in April 2020 and has been updated for the April 2021 paperback edition. Go to magazine.
This review is available to non-members for a limited time. For full access become a member today.
Membership Advantages
Reviews
"Beyond the Book" articles
Free books to read and review (US only)
Find books by time period, setting & theme
Read-alike suggestions by book and author
Book club discussions
and much more!
Just $12 for 3 months or $39 for a year.