Myles Standish and the Defense of the Plymouth Colony
This article relates to Beheld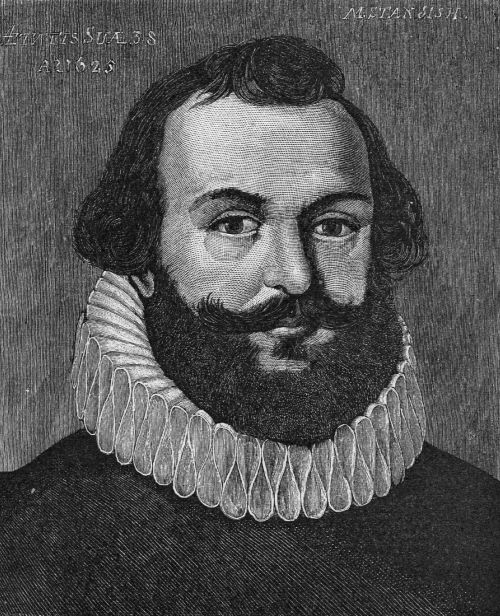 Beheld takes place in 1630 at the Plymouth settlement in what would later become Massachusetts and features several characters taken from the real-life history of the colony. One of these is Myles Standish, a decorated soldier who arrived in 1620 on the Mayflower with the first group of English pilgrims and served as Plymouth's head of defense. He was involved in several clashes with the Indigenous population, most notably the Wampanoag nation.

Standish was born circa 1584 in either Lancashire or the Isle of Man (this is a subject of debate among historians). In the early years of the 17th century, serving as a lieutenant in the English army, he was sent to Holland to support the Dutch in their Eighty Years' War against Spain. It seems he stayed on after this war ended, as he met a group of English Calvinists living in Leiden around 1620. They had fled England because of religious persecution and they planned to set out once more for unfamiliar terrain—the so-called New World. Standish agreed to go with them and serve as their military captain. He was accompanied by his wife, Rose.

Once the Mayflower landed (near present-day Cape Cod), Standish took a small group ashore to explore and find a suitable spot for a settlement. During this reconnaissance mission, the men were attacked by a group of Indigenous warriors from the Nauset tribe, part of the Wampanoag nation—arrows and gunfire were exchanged, but no one was hurt. While this is frequently referred to as the "First Encounter," the Indigenous were no strangers to European settlers at this point and had been on the receiving end of violent attacks before; they had also contracted European diseases and seen their loved ones kidnapped and sold into slavery. In their first months in the New World, many pilgrims died from illness as well, including Rose.

Shortly after the founding of Plymouth, the pilgrims formed a militia, with Standish chosen as their commander. In March of 1621, a peace agreement was made between the colony and the local Wampanoag tribe, the Pokanoket, with whom the pilgrims frequently traded. In August, the pilgrims learned of internal discord among the Pokanoket leadership in their nearby settlement. To learn more, Standish sent emissaries, one of whom was Tisquantum, a.k.a "Squanto," from the Patuxet tribe. (Tisquantum was able to facilitate communication between the settlers and the Pokanoket because he had been kidnapped by an English explorer years earlier and later came to live among the Pokanoket.) Word came back that Tisquantum had been taken hostage, so Standish took a group of his men to the settlement and attacked in the dead of night. Some Pokanoket were wounded, Tisquantum was rescued, and the tribe signed a new peace accord.

In March, 1623, the leader of the Pokanoket informed Plymouth residents of an impending attack by warriors of the Massachusett tribe. Standish rallied a group of his men and went to the Massachusett settlement of Wessagusset to confront the leader of the warriors, a man called Pecksuot. Standish managed to get Pecksuot alone, claiming he had come on a trading mission. Standish stabbed Pecksuot to death and then he and his men engaged with other warriors just outside of Wessagusset. Another Massachusett warrior, Wituwamat, was also killed, and Standish and his men returned to Plymouth with his severed head.

Standish also battled French colonists in 1635 over a settlement founded in present-day Maine. This time, Standish and his men set out in a ship, the Good Hope, planning to fire its cannons at the French. However, they fired too early and ultimately abandoned the mission.

While he still played a role in strategy and organization, Standish largely ceased fighting after the failure at the French settlement, retiring to tend his farm in nearby Duxbury. He continued to be a respected member of the Plymouth community until his death in 1656, presumed to have been a result of complications from kidney stones.

Standish was immortalized in Henry Wadsworth Longfellow's poem "The Courtship of Miles Standish," and the Myles Standish Monument was erected in Duxbury in the late 19th century. There is also a town in Maine that is named for him. However, some historians have rightly pointed out that monuments and poems exalting this man's honor and legacy are in rather poor taste when one considers his brutally violent record as the defender of Plymouth.


Alleged 1625 portrait of Myles Standish by unknown artist, from Memorial History of Boston, vol. I (published 1885)
Filed under People, Eras & Events
This "beyond the book article" relates to Beheld. It originally ran in March 2020 and has been updated for the October 2021 paperback edition. Go to magazine.
This review is available to non-members for a limited time. For full access become a member today.
Membership Advantages
Reviews
"Beyond the Book" articles
Free books to read and review (US only)
Find books by time period, setting & theme
Read-alike suggestions by book and author
Book club discussions
and much more!
Just $12 for 3 months or $39 for a year.