Kristallnacht
This article relates to A Bookshop in Berlin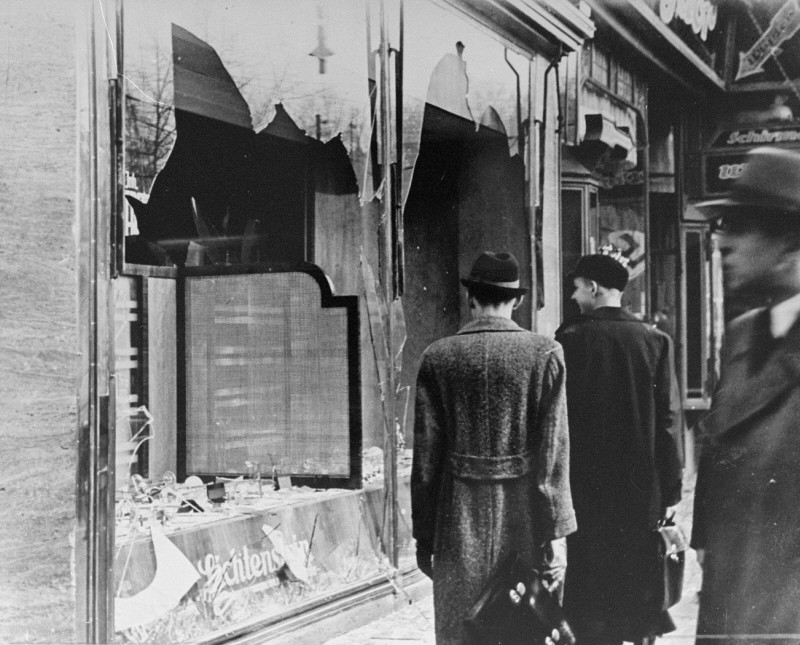 In her memoir A Bookshop in Berlin, Francoise Frenkel describes how Kristallnacht ("crystal night") was the impetus for her emigration out of Germany. Also called "the Night of Broken Glass" and the November Pogroms, the events that unfolded on November 9 and 10 of 1938 formed the first mass, violent, state-mandated action against Jewish people under the Nazi regime. For this reason, many consider it to be the start of the Holocaust. It resulted in the destruction of at least 7,000 Jewish businesses, 1,400 synagogues and countless Jewish homes. 30,000 Jewish men from major cities across Germany and parts of German-controlled Austria were deported to concentration camps.

The purported cause of Kristallnacht was the assassination of Ernst vom Rath, a German diplomat working at the embassy in Paris. On November 7, 1938, Hershel Grynszpan—a Polish-Jewish teenager whose impoverished family had recently been deported from Germany—shot vom Rath, apparently hoping the assassination would alert the world to the human rights injustices unfolding in Europe. Upon arrest, Grynszpan declared that "Being a Jew is not a crime. I am not a dog. I have a right to live and the Jewish people have a right to exist on earth. Wherever I have been I have been chased like an animal." However, the Nazis argued that this was proof that Jewish people had constructed a worldwide plot against Germany.

Regardless of the assassination, a planned attack against the Jewish people was at that point all but inevitable, the result of years of political, economic, legal and social targeting that brewed within the German government and population after World War I. For example, the Nuremberg Laws (1935) denied Jews German citizenship, stripping away the right to vote, take office or work in various professions such as medicine, law and education. These laws also prevented marriages of "suspect" people viewed as inferior by the state—Jews, Romas, Afro-Germans, homosexuals, the disabled and anyone categorized as a political dissident. Other legislation outlawed kosher practices and restricted access to public works. A number of economic attacks—boycotts, harsh taxes, the denial of health insurance and benefits, and forced asset-selling—were launched, too.

Although incidents of assault against Jewish people erupted throughout Germany prior to Kristallnacht, the riots were proof that the state itself could further push towards the extermination of various undesired people in an official capacity. On November 9 and 10, local police forces and fire stations refrained from protecting persecuted people, abiding by telegraphed orders from the Gestapo—the secret state police of Nazi Germany. The majority of citizens either joined in on the attacks or refused to intervene. Even in the aftermath, there was compliance with the state-sanctioned xenophobia, anti-Semitism and violence, as insurance companies were restricted from compensating Jewish people for property damage. An "atonement fee" was levied against the Jewish people on their assets as well.

According to estimates from the Jewish Virtual Library, prior to Adolf Hitler's rise as Chancellor of the state, there were around half a million Jewish people in Germany. A year before Kristallnacht, only half remained. After Kristallnacht, more than 115,000 fled, not including those murdered on the days of the attack and those exiled to concentration camps. Kristallnacht terrorized most of the remaining Jewish people into emigrating, a culmination of the results of various anti-Semitic policies and practices that had intensified since Hitler took power.

Frenkel's memoir tells of the rapid fires, smashed glass, robbed homes and rampant assault and murder that she witnessed outside of her beloved bookshop. To hear similar first-hand accounts from survivors of Kristallnacht, watch the video below from the United States Holocaust Memorial Museum and the USC Shoah Foundation Institute.


Broken storefront windows after Kristallnacht, courtesy of USHMM
Filed under People, Eras & Events
This "beyond the book article" relates to A Bookshop in Berlin. It originally ran in January 2020 and has been updated for the August 2020 paperback edition. Go to magazine.
This review is available to non-members for a limited time. For full access become a member today.
Membership Advantages
Reviews
"Beyond the Book" articles
Free books to read and review (US only)
Find books by time period, setting & theme
Read-alike suggestions by book and author
Book club discussions
and much more!
Just $12 for 3 months or $39 for a year.