Nuclear Disarmament and World Peace
This article relates to Life Undercover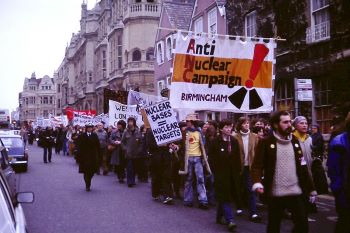 In Life Undercover, CIA recruit Amaryllis Fox is tasked with disrupting the trade in black-market weapons of mass destruction, including nuclear materials. Since the first (and, to date, only) nuclear bombs to be used in war were dropped on the Japanese cities Hiroshima and Nagasaki in 1945, the world has experienced a proliferation of deadly weapons as the availability of raw materials and technology needed to build large-scale destructive devices has increased.

The United States developed and tested the first nuclear weapons during World War II, deploying atom bombs on Hiroshima and Nagasaki in August of 1945. Japan subsequently surrendered, ending WWII conflict in the Pacific. Although the nascent United Nations called for an end to nuclear weapons in 1946, the U.S.S.R. tested its first nuclear device in 1949.

Global nuclear threats spread during the 1950s. The U.K. tested its first nuclear weapon off the coast of Australia, and the U.S. rolled out a hydrogen bomb (H-bomb), which was 500 times more powerful than the A-bombs dropped in Japan. Nuclear tests in the South Pacific contaminated the region. Even while these weapons were being invented and tried out, scientists—including Albert Einstein—warned of the dangers to the earth and humanity. Diplomats managed to negotiate an international truce to prevent nuclear weapons from being used in Antarctica. But the growing concern for nuclear waste disposal and contamination failed to prevent escalation of nuclear technology.

The Soviet Union tested a mega-bomb, which was more than 1,500 times more powerful than the bombs dropped on Hiroshima and Nagasaki combined, in 1961. France also entered the nuclear age by testing bombs in the Sahara during the early 1960s. The world came to the brink of nuclear war when the U.S.S.R. retaliated against the United States' installation of nuclear missiles in Europe by placing missiles in Cuba, close enough to destroy the U.S. if deployed. This became known as the Cuban Missile Crisis; war was narrowly avoided through negotiations between American President John F. Kennedy and Nikita Khrushchev, leader of the Soviet Union. By the end of 1964, China had developed and tested its own nuclear weapons.

Complex political tensions between the U.S. and Russia, along with their allies, continued throughout the next several decades, and other countries developed nuclear arms during this time, too. This happened despite diplomatic attempts to negotiate a Nuclear Non-Proliferation Treaty, whereby nations without nuclear weapons could agree to stay nuclear-free, and nations with nuclear weapons could make gestures toward disarmament. In 1974, India carried out an underground nuclear test code-named "Smiling Buddha." A mysterious nuclear test explosion in the Indian Ocean in 1979 is believed to have been an Israeli and South African collaboration.

However, global anti-war and anti-nuclear protests emerged as well. In 1982, more than one million anti-war protesters gathered in Central Park during a United Nations special session on disarmament. The Greenpeace vessel Rainbow Warrior was involved in protesting French weapons testing in the South Pacific. Additionally, growing concern surrounding nuclear power plants has provoked civil disobedience actions across the United States and Europe from the 1980s to the present day.

Partly in response to peace activism, the South Pacific Nuclear Free Zone Treaty, which banned nuclear weapons in the area, was established in 1985. Another effort to dismantle the nuclear menace was a summit in Iceland in 1986 where U.S. President Reagan and Soviet President Gorbachev made gestures toward disarmament. By the 1990s, many nations self-declared as nuclear-free zones, including most of Africa and Southeast Asia. Former Soviet states Belarus, Ukraine and Kazakhstan agreed to have their nuclear weapons returned to Russia and dismantled. In the meantime, India continued to develop nuclear capability and Pakistan armed up in response, while North Korea conducted its first nuclear test in 2006.

Today, countries with nuclear arms or who are believed to possess nuclear arms include the United States, Russia, the United Kingdom, France, China, Israel, India, Pakistan and North Korea. There are additionally increasing concerns—as described in Amaryllis Fox's memoir—that rogue (non-state-sponsored) entities with nuclear capability might clandestinely develop small "suitcase bombs" and detonate such weapons basically anywhere. This fear is fueling a new age of military response and weapons development to counteract terrorism, contributing to a vicious cycle that—despite numerous global treaties, attempts at diplomacy and organized citizen protests—produces scant hope of realizing a nuclear-free planet.

That said, in 2017, the new international Treaty on the Prohibition of Nuclear Weapons was signed and ratified by many nations on Earth. Notable non-signatories include the U.S., Australia, the U.K., Saudi Arabia, North Korea, Japan, Iran, Russia and India. In the meantime, high-profile individuals, including the Dalai Lama, Archbishop Desmond Tutu, Mikhail Gorbachev, Dr. Helen Caldicott and actor Harrison Ford have been leaders in calling for the abolition of nuclear weapons. Additionally, organizations such as the Nuclear Age Peace Foundation and the Nobel Peace Prize winning group International Campaign to Abolish Nuclear Weapons are building global networks of people dedicated to creating peace.
1980 march protesting nuclear weapons in Oxford, England, by Kim Traynor
Filed under Society and Politics
This "beyond the book article" relates to Life Undercover. It originally ran in January 2020 and has been updated for the September 2020 paperback edition. Go to magazine.
This review is available to non-members for a limited time. For full access become a member today.
Membership Advantages
Reviews
"Beyond the Book" articles
Free books to read and review (US only)
Find books by time period, setting & theme
Read-alike suggestions by book and author
Book club discussions
and much more!
Just $39 for 12 months or $12 for 3 months.