Hitler's Plan to Create a "Super Horse"
This article relates to Unbreakable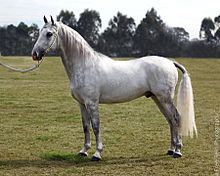 It's well known that Hitler obsessed over the purity of the so-called Aryan "master race," but many might be surprised to learn that his interest in eugenics extended to horses as well. He desperately wanted to selectively breed a line of horses that were unparalleled in strength and purity of bloodline. With snow-white coats, they would be a symbol of Aryan power, and they would also be at home on the battlefield. During World War II, in order to fulfill their leader's vision, Nazis stole priceless horses from the countries they invaded, and transported the horses to secluded stud farms in the German countryside.

Hitler's obsession with horses can be traced back to the years following World War I, when the country's equine population took a sharp decline. Before WWI, Germany had a long and illustrious history of horse racing and breeding. Going to the races was a national pastime enjoyed by many, not just the wealthy; across social classes Germans flocked to stunning horse racing tracks such as the Cologne-Weidenpesch Racecourse, and Germany dominated other European nations in the sport's continental contests. However, the Germans relied heavily on horses for battle during WWI, which resulted in devastating casualties. After the war, the state of things only worsened. The Treaty of Versailles required Germany to export horses as part of reparations for the damage wrought by the war; the Allied powers confiscated much of the losing nation's livestock. Volatile economic conditions, such as runaway inflation, also made the selling and maintenance of horses burdensome.

Upon the outbreak of WWII, Hitler was determined to restore Germany's equine population to its former glory. He was adamant that super horses were needed to help win the war and express the nation's resurgent power. Compared to Britain and France, he insisted, the Germans were severely lacking in adequate weapons and machinery. What Germany did have, however, was a huge army of foot soldiers, and he believed adding super horses to his army would help the nation succeed in combat. Through the selective breeding of horses for desirable traits such as bravery, he hoped Germany could create an exceptional breed of war horse that was unlike anything the world had ever seen. Consequently, he appointed renowned hippologist Gustav Rau to oversee an equine eugenics project. Rau had spent years helping to maintain his country's excellence in horse breeding, and he was eager to advance Hitler's mission.

To carry out orders, Rau set his sights on a famous breed known as the Lipizzan, sometimes called the Lipizzaner. Dating back to the 16th century, Lipizzans are regarded as being highly intelligent and easy to train. Muscular and broad-chested, they also tend to outlive horses of many other breeds. Through controlled inbreeding of the Lipizzan, Rau was convinced that he could create an army of perfect war horses in only three years. German soldiers were ordered to capture purebred Lipizzans, particularly stallions, from other institutions across Europe and send them to Rau's selective breeding site. Elite riding schools across Europe were a typical target supply since they tended to own the most impressive horses. Of course, this plan ignored the fact that inbreeding often leads to genetic defects.

The Nazis are infamous for their horrendous treatment of the social groups they deemed subhuman, but they spared no expense when it came to the comfort and well being of their stolen stallions and mares. The horses traveled in roomy train cars to their bucolic breeding site in Hostau, Czechoslovakia. Once there, they lived privileged and comfortable lives under the diligent care of Rau and his staff and were given the utmost attention and affection. The program was wildly successful; by 1942 Gustav Rau owned almost every Lipizzan in the world. Near the end of WWII, however, Rau's glorious horses were under threat from the approaching Russian army, which was known to slaughter the horses of those it defeated for food. In a daring rescue mission, the U.S. Army cooperated with defeated German officials in order to successfully transport 375 Lipizzans away from the site, saving them from almost certain death at the hands of the Russians. In her 2016 book The Perfect Horse: The Daring U.S. Mission to Rescue the Priceless Stallions Kidnapped by the Nazis, author Elizabeth Letts offers a compelling account of this mission, which was adapted for a 2016 Longreads article.
Photo of a Lipizzan, courtesy of Conversano Isabella [CC BY-SA 3.0], via Wikimedia Commons.
Filed under Cultural Curiosities
This "beyond the book article" relates to Unbreakable. It originally ran in October 2019 and has been updated for the January 2021 paperback edition. Go to magazine.
This review is available to non-members for a limited time. For full access become a member today.
Membership Advantages
Reviews
"Beyond the Book" articles
Free books to read and review (US only)
Find books by time period, setting & theme
Read-alike suggestions by book and author
Book club discussions
and much more!
Just $45 for 12 months or $15 for 3 months.