Thomas Edison was a prolific inventor. He held at least 1,093 patents and constantly invented new things at his famous laboratory in Menlo Park, New Jersey. Of the hundreds of ideas that sprung from his mind, here are 10 of his most important inventions: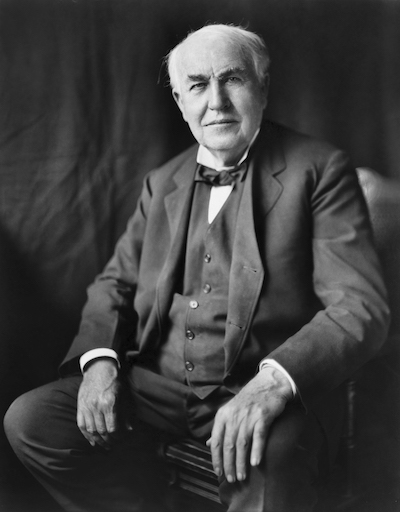 Electrical vote recorder: This device was Edison's first patent, received in 1869; it enabled legislative bodies to record votes accurately and instantaneously. The invention required each legislator to flip a switch to either a yes or a no position; then, a signal would be transmitted to a central recorder that listed the names of all legislators in two columns of metal type, labeled "Yes" and "No."
Universal stock ticker: Developed in 1871 for the Gold and Stock Telegraph Company, which later became a subsidiary of Western Union, Edison's improved stock ticker revolutionized the speed at which financial information flowed. It was the first mechanical means by which real-time stock market data was transmitted from exchange floors to brokers and investors across the country. The stock ticker received and simultaneously printed quotes for stocks, bonds, and commodities via Western Union's telegraph system.
Sextuplex and multiplex telegraph: From 1872-76, Edison worked on and patented the multiplex telegraph, which could send messages between train stations and moving trains, as well as the sextuplex telegraph, which could transmit six messages simultaneously. It saved Western Union millions of dollars in wiring. These two inventions were but a couple of the many improvements he made on the telegraph, invented by Samuel Morse in 1837. In his life, Edison earned about 200 patents for telegraph systems and devices.
Carbon microphone: The carbon microphone is a device that converts sound to an electrical audio signal inside of a telephone. Edison registered a patent for it in 1876, but a number of others came forward claiming to have invented it before him. After prolonged patent litigation, in 1892 a federal court ruled in Edison's favor.
Phonograph: Invented in 1877, this sound-recording device amazed the world. It required the user to speak into a mouthpiece; a recording needle then would indent sound vibrations onto a metal cylinder with tin foil wrapped around it. The first words recorded by Edison were "Mary had a little lamb."
Incandescent light bulb: Invented in 1879, the commercial incandescent light bulb is one of Edison's most impactful inventions. Incandescent light had first been invented in 1802 by Humphry Davy, but early bulbs burned out quickly and were too bright for practical use. Edison's version relied on a carbonized bamboo filament that could last over 1200 hours. It forever changed the way human beings lived, turning dim, candlelit evenings into a thing of the past.
Electricity distribution system: With the invention of the incandescent lamp, Edison realized he would need to design an entire electrical system to distribute power. So in 1882 he invented a system based on direct current (DC), in which an electric current flows in one direction only. In 1886 this came into competition with George Westinghouse's more complex electrical system based on alternating current (AC), in which an electric current periodically reverses direction and alternates between periods of high and low voltage. AC is far more efficient in transmitting electricity over long distances, and it is easy to change voltages (using a transformer). These advantages led AC to become the norm for electrical generation and distribution, and it is used to power most homes and businesses worldwide, while DC is typically used in low-voltage applications such as battery-driven devices and electronics.
Kinetoscope: Known in the vernacular of the time as a "peep hole viewer," the kinetoscope was a hand-cranked device invented in 1891, in which a film could be viewed by one person at a time through a peephole viewer at the top of the device. It created the illusion of movement by conveying a strip of perforated film with sequential images over a light source with a high-speed shutter. The kinetoscope was the intellectual forerunner of the kinetograph.
Commercial fluoroscope: After the discovery of X-rays by Wilhelm Roentgen in 1895, Edison went to work experimenting with them. By 1896 he had developed a medical fluoroscopic device that allowed physicians to easily use X-rays to obtain real-time moving images of the interior of an object.
Kinetograph: More commonly known as a motion picture camera, Edison received a patent for this invention in 1897. Edison's earlier experiments with the camera benefited from the photographic principles discovered by still-photography pioneers. Edison's invention, however, was the first to take motion pictures on a moving strip of celluloid film and project them onto a screen for viewing by mass audiences.

Filed under Medicine, Science and Tech

This "beyond the book article" relates to Edison. It originally ran in October 2019 and has been updated for the November 2020 paperback edition. Go to magazine.

This review is available to non-members for a limited time. For full access become a member today.

Membership Advantages

Reviews
"Beyond the Book" articles
Free books to read and review (US only)
Find books by time period, setting & theme
Read-alike suggestions by book and author
Book club discussions
and much more!
Just $45 for 12 months or $15 for 3 months.