Islamic State of Iraq and Syria (ISIS): A Brief History
This article relates to Guest House for Young Widows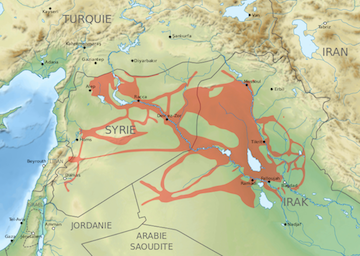 Journalist Azadeh Moaveni's Guest House for Young Widows follows thirteen young women who joined the Islamic State of Iraq and Syria (ISIS), a jihadist terrorist organization and former proto-state. ISIS aims to establish a global Islamic state, with everyone living under their interpretation of Shariah law, which enforces strict guidelines regarding diet, abstinence, dress codes, marriage, gender roles, prayer, and more. During the past decade, the group has killed thousands in its quest to conquer the world, generating international outrage among people of all faiths, including Muslims. Islam is not by its nature a religion of violence, and most Muslims decry ISIS for its practice of suicide bombing and its willingness to kill civilians.

The roots of ISIS can be traced to turn-of-the-century Afghanistan. In 1999 Jordanian jihadist Abu Musab al-Zarqawi formed Jama'at al-Tawhid wal-Jihad (Organization of Monotheism and Jihad), a militant group dedicated to overthrowing governments across the Levant and establishing a caliphate in their place. He established a training camp in Afghanistan, funded by Saudi Arabian jihadist Osama bin Laden, and he started to rapidly recruit members from among disaffected young men. In 2004, following the outbreak of the Iraq War, al-Zarqawi migrated to Iraq and pledged allegiance to bin Laden's terrorist organization al-Qaeda. He renamed his own group 'Tanzim Qaidat al-Jihad fi Bilad al-Rafidayn,' or al-Qaeda in Iraq (AQI). The members of AQI abducted and killed civilians, attacked military targets, bombed historical landmarks, and spread terror globally by posting graphic decapitation videos online.

In June 2006 al-Zarqawi was killed by an American airstrike, but in October of the same year his successor, Egyptian jihadist Abu Ayyub al-Masri, merged AQI with five other terrorist organizations with the aim of establishing an Islamic state in Iraq, and thus the organization was named the Islamic State of Iraq (ISI). In spite of its name, ISI did not at first control much of the nation's territory. From 2007 to 2009, it also suffered immense setbacks following the United States' 2007 troop surge. Dozens of its leaders were killed, and it lost much of the territory it had gained. In 2010, al-Masri was also killed in an airstrike.

In 2011 ISI started to make headway, however, under the direction of a new leader, known by the nom de guerre Abu Bakr al-Baghdadi. An elusive Iraqi-born, university-educated militant, al-Baghdadi organized an ISI offensive in Iraq, which regained lost territory and conquered new land. By 2013, it had consolidated its regional influence by coordinating its strategy with other militant groups, such as the Syrian-based al-Nusra Front. ISI captured major cities in Iraq, such as Fallujah, as well as in neighboring Syria, such as Raqqa, an ancient city on the Euphrates. The group's sphere of influence was so wide by this point that it adopted a new name: ad-Dawlah al-Islāmiyah fī 'l-ʿIrāq wa-sh-Shāmthe, alternately translated as the Islamic State of Iraq and Syria (ISIS) or the Islamic State of Iraq and the Levant (ISIL). As ISIS attained global infamy, it attracted many new jihadists, including many former prisoners and recruits from overseas.

In June 2014, al-Baghdadi declared a global caliphate, the Islamic State, and based operations in Raqqa. At the height of its power in 2015—despite opposition by the Iraq, Syrian, and American governments—ISIS controlled a region roughly the size of Great Britain. Within that area, the group oversaw all major commercial routes and disrupted civilian life. The U.N. has estimated that, by 2018, ISIS had displaced at least thirteen million Syrians and forced them to become refugees.

At the same time, ISIS used the internet to recruit fighters and young Muslim women worldwide, summoning them to abandon their homes and help establish the new Islamic State. A common recruitment tactic was to spread the jihadist interpretation of Islam through prayer groups or social media platforms, instilling a sense of duty in young Muslims to join the armed fight for an Islamic State. By 2016, terrorists acting in the name of the Islamic State were sowing violence across the globe, including in major cities in Australia, Libya, Yemen, Bangladesh, Great Britain, France, and Belgium.

Beginning in that same year, American, Iraqi, Kurdish, and Syrian-led coalition forces coordinated a massive offensive against ISIS. At the end of 2017, ISIS had lost nearly all of its seized land in Iraq and Syria. Despite its lack of conquered territory, however, ISIS remains active as a terrorist organization espousing a radical ideology, and it still exerts wide influence. ISIS affiliates have been confirmed in locations such as Somalia, Libya, West Africa, the Philippines, Indonesia, Afghanistan, and Sri Lanka. Al-Baghdadi appeared on video as recently as April 2019 and released audio in September 2019, calling upon jihadists to take action wherever they may be. A legacy of extreme military campaigns by powers such as Iran, the United States, Syria, Turkey, Russia and Israel have fanned the flames of cyclical violence and fanatical extremism; countries with autocratic, corrupt or failed governments are especially vulnerable to ISIS's violent ideology.

In late October 2019, at his hideout located in Syria, Abu Bakr al-Baghdadi evaded capture by detonating his suicide vest. ISIS confirmed his death on November 1, 2019.


This article was published on Oct 16, 2019, and updated on Nov 1, 2019 to reflect changing conditions in the region, most notably the death of Al-Baghdadi
Map of ISIS-controlled areas at the height of the group's power (2015), courtesy of Flappiefh Sémhur [CC BY-SA 4.0], via Wikimedia Commons.
Filed under People, Eras & Events
This article relates to Guest House for Young Widows. It first ran in the October 16, 2019 issue of BookBrowse Recommends.
This review is available to non-members for a limited time. For full access become a member today.
Membership Advantages
Reviews
"Beyond the Book" articles
Free books to read and review (US only)
Find books by time period, setting & theme
Read-alike suggestions by book and author
Book club discussions
and much more!
Just $12 for 3 months or $39 for a year.