Cameroon: Past, Present and Future
This article relates to When the Plums Are Ripe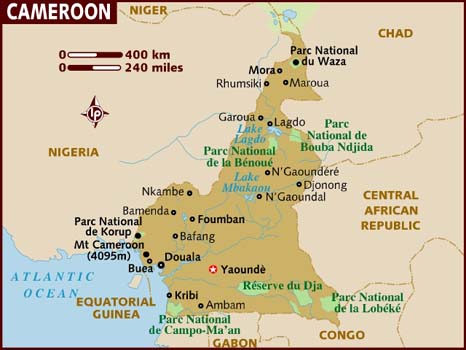 Located in West-Central Africa, Cameroon is about the size of California, with an estimated population of 25 million. The country's two main cities are Yaoundé, the capital, and Douala, a major industrial port along the Gulf of Guinea in the South Atlantic. It borders many nations: Nigeria, Equatorial Guinea, Gabon, Republic of Congo, Central African Republic, and Chad. There are two official languages: French (spoken by about 80% of the population) and English (spoken by about 20%). In addition, 238 ethnic groups such as the Fulani, Bassa, and Medumba speak their own distinct mother tongues. Camfranglais is a modern, informal dialect, popularized by musicians and urban youth. It borrows words from several languages, especially French and English.

Major exports include petroleum, cocoa, timber, natural gas, tapioca, bananas, bauxite, minerals, and processed food products. There's an emerging entrepreneurial economy, a recycling industry, internet commerce, and micro-enterprise; but over 50% of Cameroonians still rely on subsistence farming.

Climate zones include arid savannahs, mountainous hardwood forests, and tropical rainforests; these bio-diverse habitats are home to hundreds of species of birds, reptiles, and mammals. Primates such as the endangered gorilla can be found here, and other mammals include antelope and a dwindling population of elephant. Whales, dolphins, manatees, crocodiles, and turtles inhabit Cameroon's waters. Conservation of this rich wildlife is a challenge. Cameroon has some protected areas and cooperates with international NGOs to restore natural habitats negatively impacted by human activity. There's an especially exciting project, Net-Works, that salvages fishing nets that have washed up on or near the shore, and recycles them into fiber sold to clothing designers. This small-scale project is a win-win: building conservation awareness, restoring lake habitat, and creating jobs.

Cameroon has a rich history, and is full of the archaeological remains of once-prominent civilizations. These include the Sao civilization near Lake Chad, the Kotoko kingdom, the Kingdom of Bamum, the Kanem-Bornu Empire, and Mandara Kingdom. Many hunter/gatherer tribes like the Baka, on the other hand, left little or no archaeological record. Trans-Sahara traders from the north introduced Islamic culture and religion before any Europeans arrived to the area. Around 1472, Portuguese mariners dropped anchor at the mouth of what is now called the Wouri River and named it Rio dos Camarões due to plentiful shrimp. Over centuries, the name evolved to Cameroon.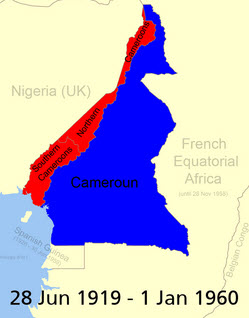 In 1884 Germans colonized the area. At the end of WWI in 1919 following Germany's defeat, the League of Nations assumed control of the colony and divided Cameroon between Britain and France. The region now known as Northwest and Southwest Cameroon was given to the British. When the Plums Are Ripe takes place in 1940 in the French-controlled area of Cameroon. After WWII, native Cameroonians under French jurisdiction pressed for independence from France, which was finally achieved in 1960. In 1961, newly independent French Cameroon annexed British Cameroon, uniting the country under a single postcolonial government.

Since 2016, the formerly British (Anglophone) area has experienced civil unrest. One issue is whether English or French will predominate in schools and government offices. An English opposition group called the Cameroon Renaissance Movement advocates for an independent state, to be called Ambazonia. President Paul Biya has deployed military troops from the Francophone capital to suppress the dissidents. Escalating violence by persons on all sides of this conflict, school closures, and disputed detention of activists has caused more than 500,000 people to become displaced from the region.

Far North Cameroon—between Nigeria and Chad—is also experiencing severe political problems. Since 2014, Boko Haram and Islamic State West Africa insurgents have terrorized civilian schools and towns, leading to widespread disruption and increasing, multinational military presence.

Despite stirrings of political unrest, Cameroon's motto is "all Africa in one nation." The tricolor flag features bands of green, red, and gold (considered to be Pan-African colors), with a yellow star in the red section. The yellow star stands for sunshine, red for unity, gold reflecting golden grasslands in the north, and green for rich rainforests. There's much potential for this vibrant nation as it meets new 21st-century challenges.
Photo of Cameroon courtesy of Lonely Planet
Filed under Places, Cultures & Identities
This "beyond the book article" relates to When the Plums Are Ripe. It originally ran in September 2019 and has been updated for the August 2020 paperback edition. Go to magazine.
This review is available to non-members for a limited time. For full access become a member today.
Membership Advantages
Reviews
"Beyond the Book" articles
Free books to read and review (US only)
Find books by time period, setting & theme
Read-alike suggestions by book and author
Book club discussions
and much more!
Just $45 for 12 months or $15 for 3 months.