WWII French Winemakers' Resistance
This article relates to The Winemaker's Wife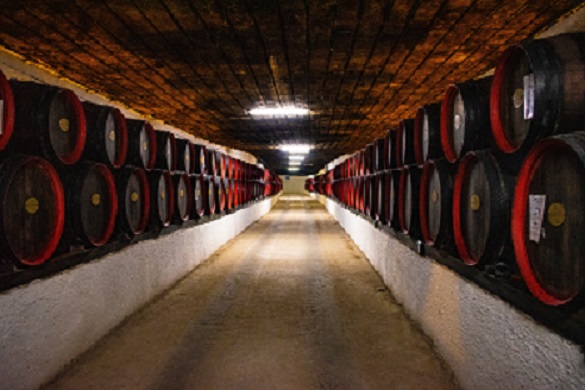 In The Winemaker's Wife, Inés Chauveau's life is turned upside down by the declaration of World War II and the Germans' arrival at her husband's vineyard. Instead of making a profit from their wines, the Chauveaus are expected to give their product to the Germans, and while Inés is prepared to do whatever it takes to get through the war with as little trouble as possible, her husband wants to fight back. His actions lead to a world of secrets, danger and betrayal, but his decision to resist reflects the stories of many real men and women in the vineyards of France during WWII.

French winemakers, also known as vintners, began preparing as soon as war was officially declared in September 1939. Many were familiar with the devastation of vineyards during the Great War, when French wine country was often in the heart of the warzone. As a result, they believed it was better to be one step ahead of the Germans, and began to find ways to save the best of their wines. The nature of winemaking inherently contributed to these preservation efforts. Wine cellars were often large and labyrinthine, making it easy for vintners to spirit away their best vintages to shadowy corners that were near impossible for any outsider to find. Some vintners also walled off sections of the cellars to create secret rooms, even relocating spiders to these walls in the hope that their webs would disguise the new construction. Wine merchants and restaurateurs also took part in these efforts. André Terrail, owner of the Tour d'Argent restaurant in Paris, managed to hide away 20,000 bottles of his finest wines by bricking over a large portion of his cellar.

When the Nazis arrived in France, the vintners and their grapes were immediately placed under the control of weinfüehrers, German men tasked with ensuring that the best of the French wines were sent back to Hitler and his followers. Often these men were part of the German wine trade, so they had some experience with how wine was made. The vast majority of wine produced in the following years was taken from the French winemakers, with the threat of jail, deportation to a labor camp, or even execution used to deter any trouble. This didn't stop the vintners from fighting back, however. Many of these men and women found small ways to retaliate against their German occupiers. Some vintners purposely mislabeled new wines to make them appear aged; the Germans would then take these "old" wines in place of the truly vintage bottles. In Paris, many restaurant sommeliers had the same idea; teaming up with Parisian carpet cleaners, they would take dust collected from old rugs and carpets and sprinkle it on newer bottles to make them appear older. Some vineyards would dilute the wine with water, or simply send off bottles full of water instead of wine. Loyal railway officials helped out the vintners, "accidentally" rerouting wine shipments bound for Hitler and then claiming they had been lost in transport.

But these small resistances weren't enough for many vintners, who sought to do more for their country and for what remained of their livelihood. Many winemakers joined the French Resistance officially and made good use of their vineyards to help the cause. Wine cellars became important not just for hiding wine, but also for hiding intelligence agents, Resistance fighters, and Jews trying to escape the Germans. Sometimes people were smuggled out in wine barrels; but because of the shape and water-tight design of the barrels, a person could not simply step inside; instead, the barrels had to be taken apart and rebuilt around the individual, a process that could take up to two hours. Weapons and papers could also be smuggled out of the country in barrels, and it was no less dangerous for those caught with illegal materials than it was for those smuggling people.

The French winemakers also helped the Resistance and the Allied forces through their wine shipments. In 1940, a large order of wine was sent to Romania, where only a small number of German forces were stationed. A few days later, the German army invaded the country, and the Allies realized that by tracking orders of wine, they could ascertain the movement of German troops. Intelligence services were then ready to react when, a year later, they received information from the French Resistance that a large order of wine had been made, with special instructions for the bottles to be packed for a hot climate. From this, the Allies determined that the Germans were expanding their campaign in North Africa.

By the end of the war, many vintners and wine merchants had been arrested, deported and/or executed for their acts against the Germans, and it's estimated that at least 1.4 billion bottles of French wine were stolen. The region and its vineyards survived, however, and managed to thrive once again when the country and its citizens had been liberated.

The Winemaker's Wife shows the perils the vintners of WWII faced, as well as a modern-day France where vintners are beloved, and the vineyards that were once ravaged by war are flourishing and producing award-winning vintages. The French winemakers, wine merchants, restaurateurs and sommeliers of WWII fought not just for their country and their families, but for something that is quintessentially French. Many years later, the efforts of these brave men and women have been recognized and appreciated by wine connoisseurs around the world.
Filed under People, Eras & Events
This "beyond the book article" relates to The Winemaker's Wife. It originally ran in September 2019 and has been updated for the March 2020 paperback edition. Go to magazine.
This review is available to non-members for a limited time. For full access become a member today.
Membership Advantages
Reviews
"Beyond the Book" articles
Free books to read and review (US only)
Find books by time period, setting & theme
Read-alike suggestions by book and author
Book club discussions
and much more!
Just $12 for 3 months or $39 for a year.