The Indigenous People of Kamchatka, Russia
This article relates to Disappearing Earth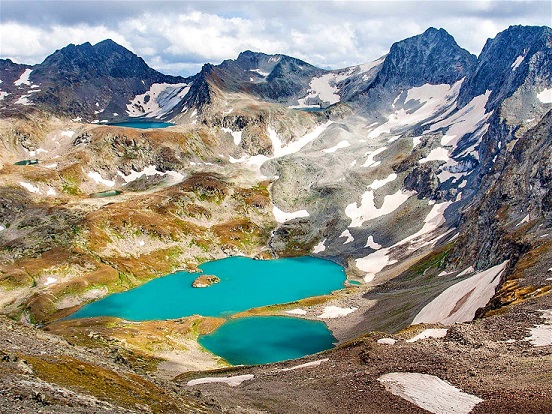 The remote Russian peninsula of Kamchatka, where Julia Phillips' debut novel Disappearing Earth takes place, is very isolated. It is located on the far east side of Russia, surrounded by the Sea of Okhotsk, the Bering Sea and the Pacific Ocean, riddled by volcanic activity from the Pacific tectonic plate, part of Earth's "Ring of Fire." While the United Nations estimates that, as of 2019, Indigenous people (also known as Aboriginals, First Peoples or Natives) comprise 5% of the global population, in Kamchatka, that number is 10%. Some of the Native groups of this region include the Koryaks, Alyutor, Chukchi, Kamchadal, Itelmens, Aleut and Even.

Each group is nuanced and distinct. For instance, the Evens—of whom there are nearly 2,500 on Kamchatka today—are relative newcomers to the peninsula. In the 17th century, pursuing new hunting grounds, a faction of the Even wandered into the desolate regions of Kamchatka, where Koryak and Chukchi lived nomadically. This split resulted in cultural differences between Kamchatka Even and those living beyond the peninsula, for the Kamchatka Even had to learn to survive in isolation. They maintain a semi-nomadic way of life, and have diversified their economic structures by merging reindeer herding, taiga hunting and fishing. They've expanded transportation modes by embracing dog sledding and horse riding, depending on the season. Adapting to new surroundings and borrowing ideas from the Koryaks, Itelmens and Yakuts, this group has grown to 2,500 people. In modernizing to a degree, some traditional hunting methods and portable dwellings have been modified. Many reside in cabins, except when camping. Many have added guns to their arsenal of hunting gear. Although approached by Christian missionaries, they retain rituals and behavioral norms embedded in their shamanistic belief system, which shape practices related to hunting, relationships with nature and festival activities.

The Koryaks have a different history and way of life, with anthropologists speculating that their ancestors have lived in, or traveled across this region for millennia, probably crossing back and forth between Asia and America during the ice age. Their cultural framework is focused on connecting independent but interrelated tribes in order to survive. As far back as the 18th century, the Koryaks had two distinct branches of economic structures and corresponding subcultures: the nomadic reindeer herders, and sedentary coastal fishers and sea mammal hunters. And from there, a variety of subgroups split off—the Karagins, Apukins, Palan, Alyutors, and so on—still uniting over shared language, large-scale reindeer herding (thousands, relative to the Evens' hundreds), sled transportation, boat transportation and settlement structures. With a mix of shamanism and animism, only a relatively small portion of the population were baptized by Christian missionaries from the 1700s to 1900s, and the Koryak have maintained a close connection with amulets, sacred places, spirit protectors and divination stones.

As described by the Arctic Network for the Support of the Indigenous Peoples of the Russian Arctic (ANSIPRA), Russian Indigenous groups often share some similar features despite their differences. There is a tendency towards nomadic or semi-nomadic lifestyles, largely because many of these groups base their livelihoods on hunting, gathering, fishing or herding. Many practice animism, a belief system that asserts every natural thing in the universe has a soul. Most belong to similar ethno-linguistic groups: Uralic, Altaic and Paleo-Siberian.

Today, Indigenous peoples struggle to preserve their cultures. The International Work Group for Indigenous Affairs states that on the Kamchatka peninsula there have been recent bans on Indigenous peoples' traditional fishing and retractions of protected Indigenous territories. Further, it is well-documented that Indigenous peoples face disproportionate challenges related to poverty and general well-being. The United Nations reports that these hardships are consequences of historical injustices, "colonization, dispossession of their lands, territories and resources, oppression and discrimination, as well as lack of control over their own ways of life." To learn more about Kamchatka's people—Indigenous, Russian and immigrant—through an interwoven mystery-thriller about two vanished girls, pick up a copy of Disappearing Earth by Julia Phillips.
Valley of the Geysers in the Kamchatka Peninsula, courtesy of Lonely Planet
This "beyond the book article" relates to Disappearing Earth. It first ran in the May 15, 2019 issue of BookBrowse Recommends.
This review is available to non-members for a limited time. For full access become a member today.
Membership Advantages
Reviews
"Beyond the Book" backstories
Free books to read and review (US only)
Find books by time period, setting & theme
Read-alike suggestions by book and author
Book club discussions
and much more!
Just $10 for 3 months or $35 for a year