The Black Panther Party
This article relates to Solitary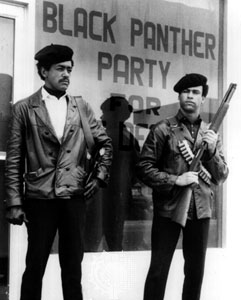 In October of 1966, Huey P. Newton and Bobby Seale of Oakland California founded the Black Panther Party for Self-Defense, which later became the Black Panther Party. Although the Party disbanded in 1982 only 16 years after its creation, it remains one of the largest and most controversial black revolutionary organizations in history. Known for encouraging militant self-defense of minority communities against the United States government, the Black Panther Party worked to establish economic, social and political equality through international socialist ideals, mass organizing and community-based programs.

The Black Panther Party had a ten-point platform and program based on members' desires and beliefs. Newton said that they strove "to serve the needs of the oppressed people in our communities and defend them against their oppressors." In the words of the Party, here is an outline of the points:
We want freedom. We want power to determine the destiny of our Black Community.
We want full employment for our people.
We want an end to the robbery by the capitalists of our Black Community.
We want decent housing, fit for shelter of human beings.
We want education for our people that exposes the true nature of this decadent American society. We want education that teaches us our true history and our role in the present-day society.
We want all black men to be exempt from military service.
We want an immediate end to police brutality and murder of black people.
We want freedom for all black men held in federal, state, county and city prisons and jails.
We want all black people when brought to trial to be tried in a court by a jury of their peer group or people from their black communities, as defined by the Constitution of the United States.
We want land, bread, housing, education, clothing, justice, and peace.
In practice, the work of the Black Panther Party involved developing a Free Breakfast for Children program, reaffirming black beauty through positive art, words and imagery, and efforts to educate minority groups through literacy programs, informational texts and community discussion. It involved pooling community resources to meet the needs of others, from medical bills to legal fees. As told by Albert Woodfox in his book Solitary, it involved achieving humane prison reform, too, from dialing down unnecessary and invasive strip searches to freeing the falsely accused.

In addition to the black-focused work done by the Black Panther Party, the organization advocated for equity and advancement of all minority groups. In fact, women played an integral role in the Party. They took on leadership roles, organized in their communities and spoke out against sexism within the organization. Other intersectional efforts surfaced in alliances through the Black Panther Party's Rainbow Coalition movement, with groups including the Young Lords, Young Patriots and the Native American Housing Committee. The Young Lords were an international, Marxist, revolutionary human rights group founded by first generation Puerto Rican immigrants. The Young Patriots were impoverished white Southern migrants intent on alleviating racist, classist oppression through antifascist, revolutionary means. The Rainbow Coalition as a whole focused on common goals related to equal opportunity: the end of white supremacy, the end of housing discrimination, the end of police violence and the end of racism.

Many people know the Black Panther Party for their militant actions, including shocking displays of public protest. On May 2, 1967, the Party gained worldwide media attention in a protest against the Mulford Act, legislation developed to restrict the right to openly carry loaded weapons. Around two dozen armed members entered the California state capitol in Sacramento and read an executive mandate in response to the legislation before being disarmed.

In addition to growing public influence and acts of protest, the Black Panther Party's association with other radical movements, such as communist and socialist movements, instilled fear in the United States government. Although the Federal Bureau of Investigation's counterintelligence program designed to silence political dissidents—COINTELPRO—launched before the Black Panther Party was founded, the group became a primary focus after the assassination of Martin Luther King Jr. According to FBI documents, COINTELPRO was created to "expose, disrupt, misdirect, discredit, and otherwise neutralize the activities of Black nationalists." Tactics involved efforts to create factionalism, including harassment, raids, infiltration and specific efforts to encourage violence, both within the Black Panther Party and between the Party and the community. Other watched groups included the Student Nonviolent Coordinating Committee, Southern Christian Leadership Conference, Revolutionary Action Movement and Congress of Racial Equality.

The Black Panther Party collapsed under the weight of discrediting media portrayals, public fears, governmental actions and internal disagreements. However, their impact on the civil rights movement was fundamental and unequivocal. To learn about one man's experiences within the Black Panther Party and prison system, read Solitary by Albert Woodfox.
Co-founders of the Black Panther Party Bobby Seale (left) and Huey P. Newton (right)
Filed under People, Eras & Events
This "beyond the book article" relates to Solitary. It originally ran in March 2019 and has been updated for the December 2019 paperback edition. Go to magazine.
This review is available to non-members for a limited time. For full access become a member today.
Membership Advantages
Reviews
"Beyond the Book" articles
Free books to read and review (US only)
Find books by time period, setting & theme
Read-alike suggestions by book and author
Book club discussions
and much more!
Just $45 for 12 months or $15 for 3 months.