Stories of shapeshifters have permeated literature and art from the beginning of civilization. Therianthropy, or the changing of a human into an animal, is perhaps the most commonly known trope of the shapeshifting genre, with illustrations of such changes dating back all the way to 13,000 BC.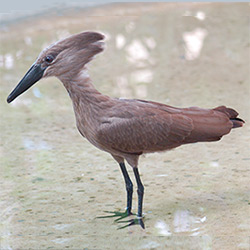 In his novel, Black Leopard, Red Wolf, Marlon James brings together many different therianthropy tropes to create an interesting kaleidoscope of the real and the imagined. The shapeshifters in the story can be heroes or monsters, they are sometimes tragic and sometimes terrifying. Beyond all else, they are rich with symbolism and imagination.

There is the Impundulu, the Lightning Bird, common to Zulu and Xhosa legends. The picture to the right is of a hammerkop, which is believed by some cultures to be a manifestation of the mythical bird. This creature can call lightning at will and often belongs to a witch or witch doctor. The Impundulu also drinks blood and, by doing so, sometimes ...