What We Know, and Don't Know, About Sleep
This article relates to The Dreamers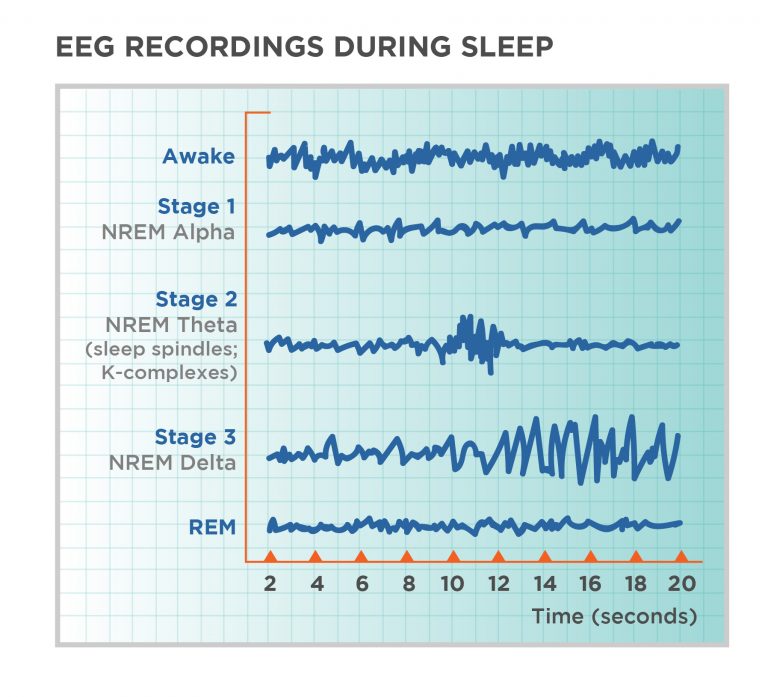 In The Dreamers by Karen Thompson Walker, an illness is spreading that causes everyone infected to go into a deep sleep with heightened brain activity that is suggestive of dreaming. Sleep and dreams are central to the novel, but there is a lot we don't know about both.

Different stages of sleep can be assessed through the use of an electroencephalograph (EEG) to measure different types of brainwaves. These waves are composed of electrical pulses synchronized across the brain's neurons, and they are differentiated by frequency of the pulses (measured in Hertz; cycles per second). Higher frequencies correspond to higher levels of alertness, while lower frequencies correspond to the deepest levels of sleep.

While sources vary on the exact number of sleep stages, consistent changes in brainwave activity have been observed. Beta waves are between 12-38 Hz and predominate during wakeful activity. When trying to fall asleep, the brain transitions to alpha waves (8-12 Hz), which cause daydreaming or dreaminess; hypnogogic hallucinations (for example, feeling like you're falling) are common. The brain continues into the theta stage, the period between wakefulness and sleep. This stage has a lower frequency (3-8Hz), and it can also be reached during deep meditation. Completing the transition from awake to alpha and then theta sleep usually takes less than ten minutes. Next, the brain experiences short periods of repeated, quick activity called "sleep spindles." Delta waves (0.5-3 Hz) are prevalent as the sleep deepens, and the brain slows its electrical activity, resulting in a deep sleep; if sleepwalking or bed-wetting occurs, it is usually in this stage. Finally, rapid eye movement (REM) sleep begins.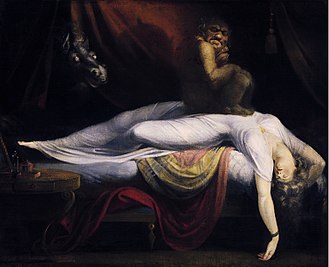 REM sleep is also known as "paradoxical sleep" because it results in increased brain activity, respiration and eye movement while simultaneously paralyzing voluntary muscles (the brain appears to be awake on an EEG). The paralysis is necessary; otherwise, dreamers might physically act out their dreams. However, some people may experience sleep paralysis if they are disturbed during REM sleep. Sleep paralysis is a mysterious condition where a sleeper wakes up and finds they cannot move. They may also believe that they see or feel some sort of creature on top of them or watching them. Quite commonly, people report demons sitting on their chests. This paralysis has been the subject of many works of art, notably Henry Fuseli's 1781 painting The Nightmare. Little is known about the cause of sleep paralysis, other than its correlations with other conditions, like narcolepsy, a disorder that causes extreme drowsiness and sudden sleep attacks.

Dreams themselves have been contemplated since ancient times, but two of the most widely known dreaming theories come from Sigmund Freud and Carl Jung. Freud believed that dreaming allowed people to process unresolved, repressed desires. Jung suggested the theory of "individuation": dreams resulted from the psyche's attempt to communicate the unconscious mind's thoughts to the conscious mind. Now, scientists question these two theories with some alternatives, like activation-synthesis hypothesis or threat simulation theory. The former suggests that electrical impulses pull random images from our mind into our dreams, and that they don't have any meaning. The latter, in contrast, suggests that dreams evolved to simulate avoidable dangers, thus allowing the waking individual to perceive real-world threats and survive them.

There are no conclusive answers to why only some people remember their dreams consistently. On average, people remember their dreams once or twice a week. Studies have shown that people are more likely to remember dreaming if they awake immediately after REM sleep, or if they produce more low frequency theta waves. Additionally, it's easiest to remember dreams if recorded immediately after waking, and those who think about their dreams are more likely to remember them. The mystery of dreams will likely continue to serve as literary inspiration for years to come.
EEG of brain waves during sleep, courtesy of Tuck
The Nightmare by Henry Fuseli
Filed under Medicine, Science and Tech
This "beyond the book article" relates to The Dreamers. It originally ran in February 2019 and has been updated for the November 2019 paperback edition. Go to magazine.
This review is available to non-members for a limited time. For full access become a member today.
Membership Advantages
Reviews
"Beyond the Book" articles
Free books to read and review (US only)
Find books by time period, setting & theme
Read-alike suggestions by book and author
Book club discussions
and much more!
Just $45 for 12 months or $15 for 3 months.