How the Cure for Tuberculosis Led to the Development of Anti-Depressants
This article relates to The Inflamed Mind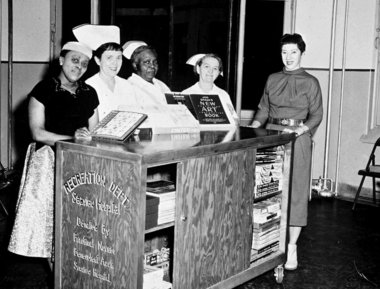 Sometimes inventions are derived by chance. In The Inflamed Mind: A Radical New Approach to Depression, Edward Bullmore notes that the first antibiotic treatment of tuberculosis (TB) led to the creation of the world's most widely used antidepressant drug: Prozac.

Tuberculosis is an infectious bacterial disease that most severely affects the lungs. Globally, just over a million people die from TB per year. While this is a substantial number of fatalities, it is a fraction of the number that died before the advent of the Bacille Calmette-Guerin vaccine. In fact, at the start of the 20th century, it was the leading cause of death in the United States, known as the "white plague." To develop an antibiotic that could treat infected people, pharmaceutical companies sought a molecule that would target and kill the root cause, a germ known as Mycobacterium tuberculosis, without causing fatality.

This process started in test tubes. Which substances could kill the bacteria? Hydrazine - a stockpiled chemical used as fuel in World War II - surfaced as the answer. That one chemical compound was broken down into hundreds of new molecules that were tested on mice that had been infected with TB. One molecule - iproniazid - halted bacterial reproduction of the germ and prolonged the lifespan of the mice. A clinical trial was established to test whether or not iproniazid could cure human patients. The clinical trial took place at Seaview Hospital, a sanatorium in the New York City borough of Staten Island devoted exclusively to TB patients. It served as an isolated facility to quarantine the infected population. Since its opening in 1913, many people viewed the facility as a death sentence, a place where those with TB wasted away. However, the 1952 clinical trial of iproniazid demonstrated that it effectively halted the progression of the disease. For the first time, patients left Seaview Hospital alive. Moreover, patients receiving the treatment became more energized, active, sociable, and hungry.

It was clear that iproniazid had massive positive effects on patients with TB. However, some scientists were intrigued by the euphoria that coincided with use. Some wrote it off as a placebo effect, and noted that the study was neither blind nor controlled. However, reports about dancing in the ward led some to think that there might be unexpected benefits to the medication. Nathan Kline was one such doctor, referring to iproniazid as a "psychic energizer." Mental health treatment at this time was largely confined to Freudian thought and psychoanalysis, so the notion that a medication could have psychological benefits was fringe.

In 1957, 24 depressed, TB-free patients were given iproniazid in a five-week clinical trial. (Though many of these patients would be classified as schizophrenic by today's standards.) The researchers reported that 18 of those patients experienced improvements in their mood and social behavior. The study was flawed; there were no experimental controls or mechanisms to minimize placebo effect. The sample size was minute. The results were far from generalizable. However, despite these limitations, the drug dispersed into wider use for depression. Within one year, a shocking 400,000 depressed people were effectively treated with iproniazid. Kline collaborated with the pharmaceutical company that produced the iproniazid - Roche - to license the drug for the treatment of depression. Within a decade, around ten other anti-depressants were on the market, treating over four million people.

Although these medications offered relief to patients with depression, there was no understanding of the mechanisms - the hows and the whys - behind their results. In fact, they defied prevailing logic that mental problems should have mental cures (such as Freudian analysis). A contemporary of Freud's, Santiago Ramón y Cajal, now known as the founder of neuroscience, believed that nerve cells are distinct, individual entities that allow for communication in the gaps between one another. This idea was confirmed with the invention of the electron microscope. Scientists reflected on how, specifically, iproniazid functions in the brain to create anti-depressant effects, realizing that perhaps the answer was its ability to enhance the signaling across the gaps between nerve cells.

In 1965, Joseph Schildkraut examined the implications of these findings and proposed that anti-depressant drugs worked by boosting the effects of adrenaline and noradrenaline in the brain. Believing that Schildkraut was only partially right, scientists at pharmaceutical company Eli Lily explored serotonin in their research as an anti-depressant target. They tested for molecules that increase serotonin transmission by limiting its absorption into the brain. This was the first clinical trial of an SSRI (selective serotonin reuptake inhibitor), but it was a failure; patients reported no change in their symptoms.

Eventually, a more effective molecule was pushed through a clinical trial, and it was remarkably successful relative to the placebo. In 1987, it was licensed as Prozac, the pioneer in a class of SSRI drugs. Prozac continues to be the most widely used anti-depressant, prescribed to 54 million people worldwide. A growing number of doctors believe that serotonin imbalance is only one of many potential causes for depression, so treatments targeting SSRIs will not help every depressed person. In The Inflamed Mind, Edward Bullmore explores cutting-edge research that suggests inflammation may be one of the other mitigating factors.


Nurses at Seaview Hospital, courtesy of silive
Filed under Medical, Science and Tech
This "beyond the book article" relates to The Inflamed Mind. It originally ran in January 2019 and has been updated for the December 2019 paperback edition. Go to magazine.
This review is available to non-members for a limited time. For full access become a member today.
Membership Advantages
Reviews
"Beyond the Book" articles
Free books to read and review (US only)
Find books by time period, setting & theme
Read-alike suggestions by book and author
Book club discussions
and much more!
Just $12 for 3 months or $39 for a year.