Women Who Ruled the Waves
This article relates to The Lady's Guide to Petticoats and Piracy
While Johnny Depp as the stumbling, coy, and flirtatious Captain Jack Sparrow may have taken over from the debonair and swashbuckling Errol Flynn as the contemporary image of a pirate, history is dotted with fearsome females who ruled the waves. They were by no means the majority – it was primarily a male profession – but female pirates span history and geography, cultures, societies, and religion, and it is on these women that author Mackenzie Lee based Sim's character in A Lady's Guide to Petticoats and Piracy. However, wading through the facts and fiction of female piracy leads to many stories that cannot be necessarily affirmed. As Laura Sook Duncombe, author of Pirate Women: The Princesses, Prostitutes, and Privateers Who Ruled the Seven Seas, said in an interview with Smithsonian.com, "Whether or not these women lived as these stories were told, these stories have endured over the centuries. Why these stories are being told the way they are and why people care about these stories says a lot about our culture and the culture these stories come from." Here are some of the historical female pirates that have captured writers' and historians' imaginations over the years.


Sayyida al-Hurra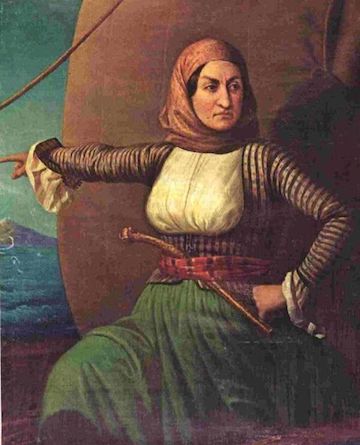 Sayyida al-Hurra, a 16th century pirate queen and the historical figure whom Sim is largely based on, was born in 1485 in Grenada. Her family fled to Morocco shortly after Grenada, the last Muslim state on the Iberian Peninsula, fell to the Catholic monarchs Isabella I of Castile and Ferdinand II of Aragon in 1491. This was the final chapter in the 780 year period known as the "Reconquista," during which the Iberian Peninsula was ruled by Muslim Arabs. Part of the religious fallout of this period included the forced conversion or expulsion of Jews from Spain, and the forced conversion, expulsion or enslavement of Muslims. Sayyida al-Hurra was married at 16 to a man 30 years her senior who was the governor of the northern Moroccan city of Tétouan located on the infamous Barbary Coast. After his death in 1515 she became governor herself and, apparently out of a desire to take revenge on the Christian enemy for the humiliation of having to flee Granada, launched her lucrative double life as a Barbary pirate.
Ching Shih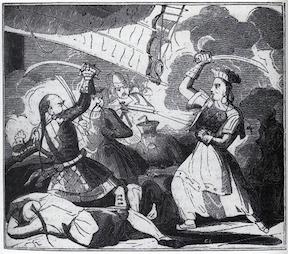 Originally a prostitute and madame in Canton, Ching Shih married a notorious pirate in 1801 who was head of a coalition of pirate fleets. After his death in 1807, Ching Shih maneuvered to take over control of the fleet which grew to be one of the largest fleets in history with its own laws and a fearsome global reputation. Estimates vary widely but some say that, at its height, the Red Flag Fleet was comprised of 1,800 ships and 80,000 crew members.
Jeanne de Clisson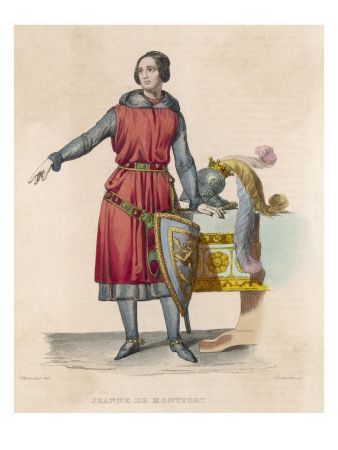 Jeanne de Clisson lived from 1300-1359 and was also known as Jeanne de Belleville and the Lioness of Brittany. After her third husband was beheaded by the French on charges of treason following the Breton War of Succession, she sold her estates and started to wreak revenge against the French king. She later headed up the Black Fleet; three warships painted black with red sails which attacked French ships in the English Channel.
Charlotte de Berry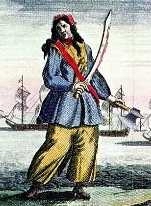 Charlotte de Berry is largely thought now to be fictional, but the story of her alleged exploits survived long after the 1836 penny dreadful by Edward Lloyd that seems to be the first reference to her. The way the story goes, Charlotte fell in love with a sailor, married him, and disguised herself as a man so she could go with him to sea. An officer discovered her identity, made unwanted advances and then killed her husband. In time, she killed him and then snuck away to work on the docks. She was kidnapped by a merchant captain who forced her to marry him, and later led a mutiny and beheaded him, replacing him as captain. As to what happens after that, well, the stories deviate, but there is much there to tease the imagination.
These are merely a few examples of the female pirates who decorate history, but it is clear that, for anyone who wants to chase the tales across the waves, real or not, these pirates were all searching for freedom.
A painting of Sayyida al-Hurra
Ching-Shih
Jeanne de Clisson
Charlotte de Berry
Filed under People, Eras & Events
This "beyond the book article" relates to The Lady's Guide to Petticoats and Piracy. It originally ran in October 2018 and has been updated for the May 2020 paperback edition. Go to magazine.
This review is available to non-members for a limited time. For full access become a member today.
Membership Advantages
Reviews
"Beyond the Book" articles
Free books to read and review (US only)
Find books by time period, setting & theme
Read-alike suggestions by book and author
Book club discussions
and much more!
Just $45 for 12 months or $15 for 3 months.